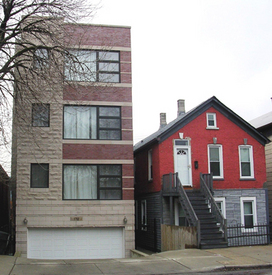 CHICAGO — "This is a global issue, part of globalization and capitalism," said Alejandra Ibanez on Nov. 10 at the opening night of an exhibition about the effects of gentrification in the Pilsen community on the city's lower west side.
The exhibit, "Contested Chicago: Pilsen and Gentrification," is being displayed at Café Mestizo, in the Pilsen neighborhood, a working-class, predominantly Mexican American and immigrant community.
Gentrification, said Ibanez, is "not a Latino or a Black thing; it creates economic challenges on the working poor and we need to engage people in cross-neighborhood dialogue to come together to work for citywide solutions."
Ibanez is executive director of Pilsen Alliance, which formed in 1998 "to improve the quality of life and preserve the rich Mexican culture of the Pilsen community," according to its literature. It also promotes grassroots leadership development, neighborhood initiative, self-determination, accountability and inclusiveness.
Buildings in Pilsen date from the late-19th century, when it served as a port of entry for Central and Eastern European immigrants. The name Pilsen comes from Western Bohemia, now part of the Czech Republic. Since the 1950s, Pilsen has become a major center of Chicago's Mexican American population.
The 2000 U.S. Census showed the population of Pilsen was 44,031, of which 89 percent of residents are Hispanic and 49 percent are foreign-born. The median income is $27,763, more than $10,000 below the city of Chicago median of $38,625.
In the past decade, Chicago has seen a real estate upsurge with the construction of high priced condominium developments causing the gentrification of many Chicago working-class communities, including Pilsen.
Sociologist Ruth Glass first coined the term "gentrification" in the 1960s to describe the process of middle-class people moving into working-class urban neighborhoods, causing an increase in property values. Ultimately this trend leads to the displacement of existing residents who cannot afford to live there anymore.
The exhibit also points out how Pilsen's zoning, which regulates both land use and building density, has made it a target for developers who buy single family homes, demolish them, and rebuild three to four story condominiums in its place without any community or city zoning board approval. This results in condo units that sell for $150,000 to $375,000 each.
Increasing property values and taxes soon follow therefore making it very expensive to both buy and stay in Pilsen. Often working-class homeowners cannot afford to pay these increasing property taxes. The costs are raised and passed on to tenants, who may be forced to move because of increased rents. Homeowners without tenants may also be forced to sell their homes just to pay their tax bills.
In March of 2006, a downsizing referendum was placed on the ballot in Pilsen, spearheaded by Pilsen Alliance with 75 percent of vote approval, indicating that gentrification is a major concern for residents. Soon after, Alderman Danny Solis of the 25th Ward, which includes Pilsen, said he would not enact the measure against the wishes of the majority who voted for it.
The exhibit was a collaboration put together by students of DePaul University's Geography Department, the Steans Center for Community based Service Learning and Pilsen Alliance. Pilsen Alliance has been working with both groups since 2004.
Professor Winifred Curran from DePaul helped with the project and highlighted that "academic research and community activism could make a difference."
The display features maps, photographs and information about Pilsen's recent transformation due to a lack of affordable housing, the struggle against displacement, community activism and the fight against the building of high priced condominiums.
Marcela Gallo, 31, is the owner of Café Mestizo, where the exhibit is being showcased. Gallo went to high school in Pilsen and has lived there for 10 years. Gallo said that "Pilsen is a very vibrant, cultural community," but issues of gentrification "affects us all, especially with property taxes going up." Gallo feels Pilsen is changing for the wrong reasons and benefiting the middle class only.
"People need to educate themselves on the issue," she said. "Working people don't know what's happening in their neighborhood."
Ibanez believes gentrification affects all working-class neighborhoods in Chicago and hopes to bring community forces together to fight for social justice in a very segregated city.
"We want to make this citywide," said Ibanez, "so people can come and inform themselves, educate and motivate, to see that something is being done."
plozano @ pww.org