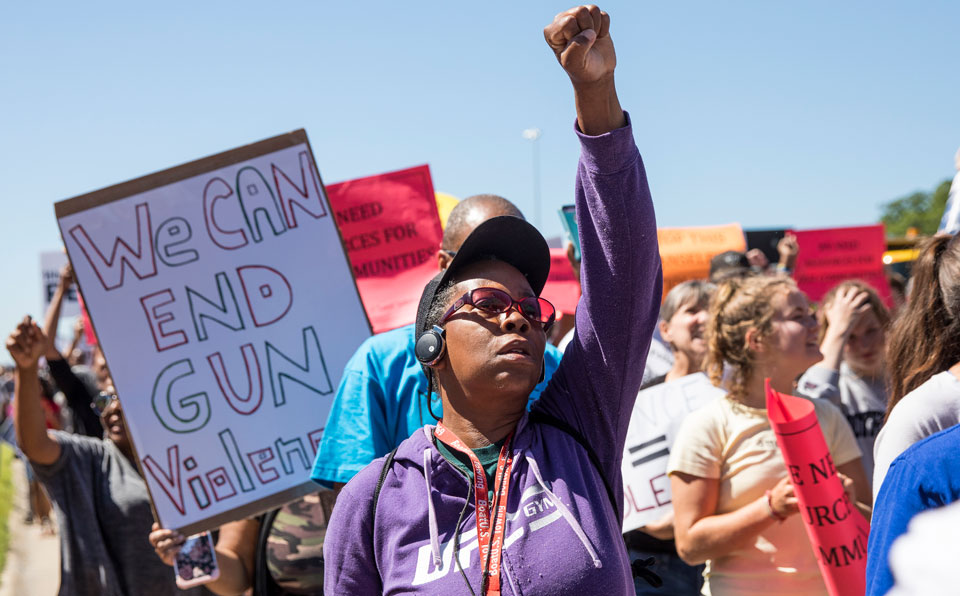 At least 72 people were shot in Chicago, 13 fatally, after a particularly violent weekend. Thirty people were reportedly shot within just a three-hour time frame, and police are still searching for suspects involved in the multiple shootings. Fatalities included a 17-year-old girl, a 17-year-old boy who was gunned down while riding his bike, as well as number of people attending a block party in Lawndale.
Chicago Mayor Rahm Emanuel wasted no time addressing the shootings that happened over the weekend. During a press conference Monday afternoon, the two-term mayor responded to the city's escalating gun violence by stating that there were "too many people with criminal records" and "too many guns on the street." Emanuel then asserted that Chicago has "a shortage of values about what is right and what is wrong."
As a native-born Chicagoan, it comes as no surprise that the warm weather begets violence of this nature. It has long been understood by residents of marginalized neighborhoods that gang activity spikes in the summer, a topic of discussion that has become a national talking point for news outlets. Nevertheless, discourse around Chicago's gun violence is often not given the nuance it deserves by the media. There is little consideration given to the institutional and systemic factors that come into play when dealing with intracommunal violence, but much more emphasis is put on individual factors that have less of an overall role.
There are a lot of things "wrong" with Chicago, but our values are not one of them. This is a city that came together after the video of Laquan McDonald's shooting was released and occupied the Magnificent Mile to demand justice. This is the city that came out in huge numbers months before the 2016 election to shut down Donald Trump's scheduled appearance at the University of Illinois-Chicago campus. This is a city whose organizers and community members mobilized to make sure the previous Cook County State Attorney, Anita Alvarez, was voted out of office following accusations that she assisted Emanuel in a city-wide cover up of police misconduct.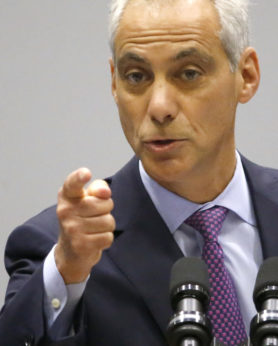 Chicago does not lack values; it lacks resources. In 2012, a year into his first term as mayor, Emanuel oversaw the devastating closure of mental health clinics that affected over 10,000 patients. Since the start of his tenure, this city has undergone the largest public school closing in CPS history. In 2013, Emanuel's hand-picked Board of Education voted to shut 49 elementary schools—a majority of which were located in Chicago's south and west side neighborhoods.
These decisions did not go unnoticed. There has been much public backlash; Black and brown youth organizers participated in a mass demonstration back in March of 2018, releasing a list of comprehensive demands for the city. Young people have appealed for more funding for schools located in Black and Brown communities and educational investments using Tax Increment Financing (TIF) money. They also asked that Emanuel re-open the mental health clinics he shut down.
In addition to healthcare and education, Chicago also suffers from a serious affordable housing crisis, with increasing displacement due to gentrification and a homelessness epidemic that city officials refuse to acknowledge. The Institute for Housing Studies at Depaul University released a research study in April 2018 that determined rentals in Cook County "remain unaffordable for the majority of low- and moderate-income households."
Housing, education, unemployment—these are all facets of our city that are being discounted in the conversation about gun violence. It is easy to reduce intracommunal violence to a "lack of moral values" instead of acknowledging the economic and social structures that have led to these conditions. How easy is it for the mayor to sit up on a podium and place all blame onto the community for the troubles it has to endure; he gets to evade responsibility for his role in all of this.
Of course none of the work required to really begin addressing gun violence will be easy. Those who say they care about Chicago's violence are going to have to be willing to do the sometimes ugly, uncomfortable work that our communities need. That means creating models of sustainability, carving space for Black and brown youth, and advocating for more employment opportunities and affordable housing options. It means divesting from police. It means being accountable to those who are most marginalized by the violent systems of capitalism.