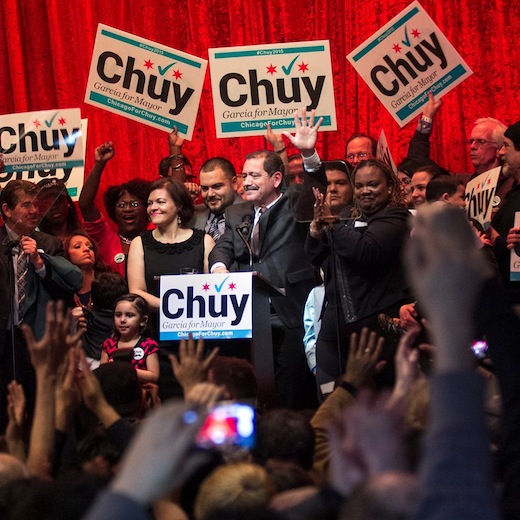 CHICAGO – Money can buy Rahm Emanuel a lot of things but it couldn't buy him love – at least not from the voters here in the Feb. 24 primary race for mayor. Emanuel failed to capture a majority of the vote Tuesday in his bid for a second term, an embarrassment for the former White House chief of staff who now faces a runoff against Cook County Commissioner Jesus "Chuy" Garcia.
Despite widespread support from business leaders, national name recognition, millions of dollars in campaign funds and a last-minute boost from President Obama, Emanuel fell short of the more than 50 percent necessary to avoid an Apr. 7 runoff against Garcia, a former alderman and state senator. With nearly all the votes counted, Emanuel had 45 percent, Garcia 34 percent, and the three other candidates divided the rest.
Dubbed "Mayor 1%" for his brazen pro-corporate agenda, focus on downtown development at the expense of neighborhoods and bullying demeanor, Emanuel earned the ire of teachers, parents and students when he forced the teachers union to strike in 2012, followed by closing more than 50 schools in 2013, most of them in African American neighborhoods. Emanuel's approval ratings plummeted after that.
Joyce Rodgers, who is retired, said she believed the school closings cost Emanuel the trust of the African-American community – and possibly the president's. "There is total disappointment (in Emanuel)," she said. "I believe that Obama's been let down, too, he's just not going to say it."
In stark contrast, Garcia billed himself as the "neighborhood guy" and reminded voters that he was an early and staunch ally of the beloved Harold Washington, the city's first Black mayor. Born in Mexico and raised in Chicago, Garcia decided to run after being asked by Chicago Teachers Union President Karen Lewis, who had been considering a mayoral bid herself before being diagnosed with a brain tumor. Garcia's narrative soon became a variation on the "tale of two cities" theme: downtown developers and giant corporations leech off taxpayers while poor and working-class communities suffer.
In a jubilant election night speech, Garcia said, "Today we the people have spoken. Not the people with the money and the power and the connections; not the giant corporations, the big money special interests, the hedge funds and Hollywood celebrities who've poured tens of millions of dollars into the mayor's campaign. They've had their say for too long.
"But today, the rest of us had something to say! The bus drivers, train operators, police officers and emergency responders, students, health care workers, retirees, block club leaders, community organizers, teachers, working moms and working dads, the people who make this great city great – we have something to say.
"We have something to say to all those big corporations and special interests who've spent all those millions to install their own Mayor: We want a change," he said. (Read the full speech here: http://www.ctunet.com/blog/speech-jesus-chuy-garcia-primary-night or watch here: http://abc7chicago.com/politics/video-jesus-chuy-garcias-full-election-night-remarks-/533439/.)
Garcia slammed the mayor for cutting schools and police while giving millions to corporate cronies, and for his inability to curb the gun violence plaguing the city, forcing many families to leave the city for the suburbs.
Quoting civil rights leader Fannie Lou Hamer, Garcia said, "We're sick and tired of being sick and tired. We are going to build a new Chicago. A Chicago that works for everyone. A Chicago that people want to move to, not run away from."
Voter frustration with Emanuel's policies trickled down to the aldermanic races where many of the mayor's allies were forced into runoffs by independent progressive candidates, including three teacher union activists. The CTU has been a major political force in the mayoral and numerous aldermanic races, mobilizing volunteers and other resources necessary for any grassroots campaign, and pushing for an elected school board, an advisory measure on Tuesday's ballot, which voters approved overwhelmingly.
In the 33rd ward, Deb Mell, a former state representative who was appointed by the mayor in mid-2013 to replace her father, Dick Mell, a longtime council power broker and unabashed defender of political patronage who is now a City Hall lobbyist, fell just short of winning the election outright with 49.7 percent, to 35 percent for high school teacher Tim Meegan and 16 percent for nonprofit consultant Annisa Wanat. Meegan ran on a program that called for a $15 an hour minimum wage, end to privatization of schools and other public assets and services and investing tax dollars into neighborhoods instead of subsidizing downtown corporate development. Mell received significant backing from the mayor's political action committee, Chicago Forward.
"It's possible that a regular guy can take on the machine and beat it," said Meegan, in a speech following the run-off announcement. "This isn't just a campaign. It's a movement."
In the 10th ward, CTU member Sue Sadlowski Garza will be heading into a run-off with incumbent John Pope.
"We pushed back against the machine. We pushed back against corporate America," said Garza.
The third candidate of the CTU trio, Tara Stamps, will face 37th ward incumbent Emma Mitts. Stamps, a public school elementary teacher on the West side, ran on a platform that included a moratorium on school closings and a $15 minimum wage.
The run-off elections are set for Apr. 7.
Also of note was the overwhelming victory of 26-year-old progressive Carlos Rosa over mayoral ally Rey Colón in the 35th ward. Rosa will become first openly gay Latino alderman in Chicago history and was endorsed by the CTU.
Teresa Albano contributed to this story.
Photo: Jesus "Chuy" Garcia waves to his supporters at an election night celebration, Feb. 24, in Chicago (via Jesus "Chuy" Garcia/Facebook)