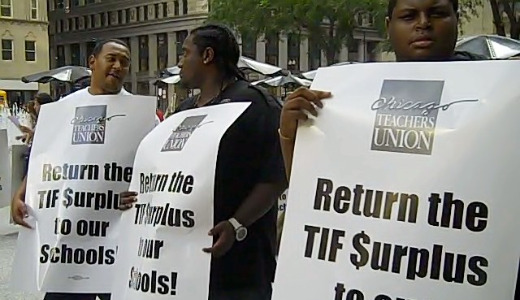 CHICAGO – Mayor Rahm Emanuel and Chicago Public Schools (CPS) sparked uproar among educators, legislators and many parents with the announcement that a record 10 schools will be "turned around" and 8 others will be closed or phased out in response to low performance.
Meanwhile CPS will radically expand its relationship to charter school operators.
The action will affect 10,000 students and result in the firing of 600 teachers, principals, building maintenance, cafeteria and other workers. All the turnarounds and closures are on the West and South Sides, predominantly African American and economically distressed communities.
The twin announcements came as new studies show the last 10 years of school reforms driven by leading corporate and financial interests, including turning increasingly to charter schools, have barely made a difference in student achievement.
Another study shows charter schools often perform more poorly than public schools.
In announcing the plans, CPS CEO Jean-Claude Brizard said they are part of a more aggressive response to the recent report that 42 percent of the city's schools were on probation for academic low performance. Critics say placing schools on probation opens the door for new rounds of closings and privatization.
Chicago Teachers Union (CTU) President Karen Lewis sharply criticized the announcement. "School closings, consolidations, turnarounds and other similar experiments do not work and do little to improve student achievement," said Lewis.
"Today's 'school actions' are the same old, ineffective, policies couched in new and exciting public relations boosting language; however, the outcomes will remain the same," notes Lewis. "Until this administration addresses the structural inequity in our schools and deals with poverty and other social impediments to learning, we'll be right back at this place again next year."
CPS will contract with Academy for Urban Leadership (AUSL) to run six of the turnaround schools and provide them with $20 million to do so.
"What we challenge is that the board is now saying that we are going to invest in a turnaround school," said Norine Gutenkanst, CTU organizing director, to the Chicago Journal. "We are going to pour millions of dollars into this school now, but we're wondering where was the millions of dollars before and why wasn't it invested before?"
Teachers at the AUSL schools will still be under the CPS-CTU collective bargaining contract.
The CTU and community groups have launched a campaign to "support our schools, don't shut them down." Over 400 people gathered to map out strategy of bringing together teachers, parents, students and community to oppose the Board's actions. An all night vigil will precede a mass rally at the next Chicago Board of Education meeting Dec. 14.
The new board action marks over 100 schools, nearly one in six, that have been "turned around" or closed since a new policy took effect in 2002 under then schools CEO and current Secretary of Education Arne Duncan. Under the policy the entire school staff is dismissed, and outside "education maintenance organizations" are often brought in to run the schools.
The CPS relationship to AUSL, the national charter operator started by Chicago venture capitalist Martin Koldyke, is being called a blatant conflict of interest. AUSL previously employed Brizard. Emanuel has a close relationship to AUSL including that the principal of AUSL's Bethune School of Excellence was a co-chair of Emanuel's mayoral campaign.
Earlier this year Emanuel doubled the number of AUSL run teacher-training academies, from seven to 14.
David Vitale, president of the Chicago Board of Trade, heads the Chicago Board of Education, whose membership is dominated by big corporate and financial interests appointed by Emanuel. Vitale previously was on the board of directors of AUSL.
In welcoming large out-of-state charter operators to Chicago, Emanuel is continuing a privatization policy begun under former Mayor Richard M. Daley.
"I want all the charter operators who don't yet operate in the City of Chicago to see this as an opportunity to now look at Chicago as a place to set up shop," Emanuel told a group of charter operators during a signing ceremony for a new "Charter Compact" backed by the Gates Foundation, which boosts the city's commitment to charter operators.
In signing the pact, which could mean millions of dollars from the Gates Foundation in additional funding for charters, Emanuel was ignoring fresh evidence that charter schools don't provide any advantage over traditional public schools. In a new report the Illinois board of education found eight of nine Chicago charter school networks do worse than traditional schools for the percentage of students who pass state standardized tests.
Photo: Chicago Teachers Union, labor and community groups are calling for restoring Tax Increment Financing (TIF) funds that are being diverted from property taxes meant for education funding. (John Bachtell/PW)