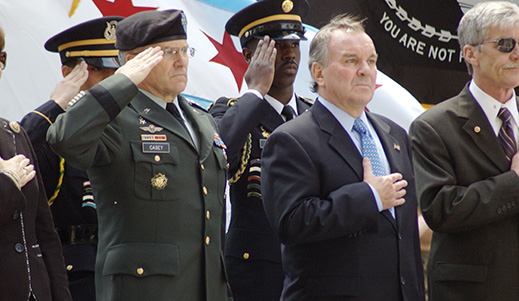 CHICAGO – With frustration mounting over the economic crisis and its devastating impact on city services, Mayor Richard M. Daley blasted US funding for military occupation in Afghanistan and Iraq. Speaking to the Feb. 9 Chicago Neighborhood Development Awards dinner, Daley pleaded for money being spent on war to be redirected to social needs.
The speech marks an about face for the mayor. The Daley administration has engaged in ugly confrontations with anti-war protesters since 2003 including the mass arrest of 800 marchers protesting the invasion of Iraq.
"Just think of all the money that we spend on wars to save the world. Today we can't save America. Why do we always have to go to war, continually, why can't we rebuild America? Why is it we have to take $300 or $400 billion . . . and then tell people we're only going to be there for a year and we're coming home . . . and then we'll declare victory," said the mayor, whose son Patrick is facing overseas redeployment.
"What is it about America?" Daley asked. "How did we start this century with 10 years of war? Ten years of war! Where are the anti-war people? I look down at the Dirksen Center (site of many anti-war protests). Where are they? They've disappeared! What happened? I thought war was evil? Where are the people who believed in their heart against George Bush. What happened?
"But don't you know it's a political issue," said Daley. "We won the election. Now we go home."
The US government has now spent $961 billion on both the Iraq and Afghanistan military occupations, including $253 billion to Afghanistan.
Daley has become alarmed over the crisis state of city finances, despite efforts to plug the gaps including massive privatization of city assets. He spoke as the Chicago Transit Authority was slashing $100 million from its budget by laying off 1,100 transit workers, resulting in service cuts on 119 bus routes and 7 train lines. Daley had demanded transit workers make wage, health care and work rule concessions which were rejected by the Amalgamated Transit Union Locals 241 and 308 who represent bus and train workers. ATU Local 241 is threatening to engage in a work to rule protest against the layoffs.
Last summer Daley forced city worker unions to reopen contracts and make concessions. Nearly 500 other public workers were laid off when AFSCME and Teamsters refused concessions, resulting in curtailing of garbage pick up and shorter library hours among other service cuts.
Daley also imposed a 6% cut in all city departments on Feb. 6, except for public safety. This came after more cuts were made in the 2010 budget to close a $520 million deficit. To close the gap, the city exhausted funds from the recent privatization of parking meters that caused a public uproar.
"It's really a realignment of America," Daley told the awards dinner. "It's not just a recession where tomorrow everyone is going to go back to work. It's not going to be like that. It's much more a restructuring of America and it's changing rapidly."
Chicago can't appeal to the Illinois state government for help. The state has a $13 billion budget deficit and can't pay its bills. It faces a backlog of $3.7 billion in bills to school districts, local governments, social service agencies and others around Illinois. And an additional $2.3 billion in short-term loans comes due next month.
Photo: http://www.flickr.com/photos/soldiersmediacenter/ / CC BY 2.0