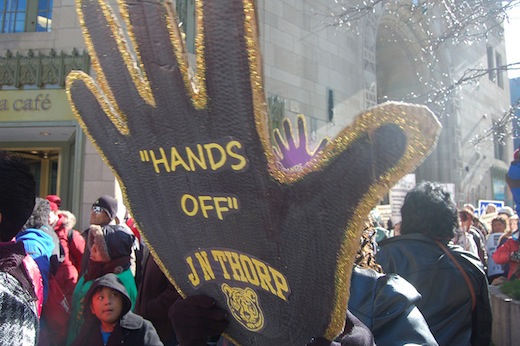 Mayor Rahm Emanuel and the Chicago Board of Education have closed or taken over dozens of schools every year, targeting African American and Latino neighborhoods. These closings take resources that our students deserve, destabilizing our communities and increasing racial inequality at Chicago Public Schools.
The Board of Ed is now considering closing 129 more schools, taking even more from the communities that have lost the most. They plan to close schools, in part, to pay for more privatized "charter schools" controlled by the mayor's supporters, taking away our community's schools, jobs and voice.
McClellan School was recently named by CPS as a school under consideration for closing. McClellan students would be forced to travel over a mile away to attend other schools. CPS does not understand the uniqueness of our school community, the staff's dedication to educating the whole child, the Magnet Autism Program and the experience of family that McClellan offers.
Check out these statistics about the student population at McClellan.
Social economic status:
93 percent poverty rate

21 percent English language learners

26 percent special needs (over the capacity of 20 percent for national average)
Academic status:
75 percent meets or exceeds standards

22 percent exceeds (which is four points higher than CPS average)
Racial demographics:
53 percent Hispanic

22 percent African American

16 percent Caucasian

4 percent Asian

4 percent Multicultural
McClellan has a diverse population; not many CPS schools enjoy the learning experience of multi-culturalism like they do!
These are some of the nonprofit organizations, universities, businesses and agencies that have become partners with McClellan:
Chicago White Sox volunteers read weekly with the students;

City Year painted over 20 murals throughout the school;

Chicago Cares completed a school makeover in 2011-2012 school year;

Southwest Organizing Project parents spend 10 hours per week in classrooms;

Good Sports/Chicago Bulls donated sporting goods;

Dating Matters provides information to middle school students;

Northeastern Illinois University – more than 10 NEIU student teachers trained at McClellan in the past 2 years;

University of Illinois at Chicago – more than 10 student teachers trained at McClellan in the past 2 years, too;

Illinois Institute of Technology provides college tutors who work in the classroom daily;

Best Buy/Target donated to the school through Chicago Cares;

Joffrey Ballet and Ravinia provide arts education to students;

Blackstone Hotel raised $2,700 for McClellan volunteers who organized the entire library;

Free Books donates books.
McClellan has moved from 66 percent of students meeting and exceeding state standards in 2010 to 74 percent of students meeting state standards in 2012. McClellan deserves an opportunity to finish what we have started. McClellan matters!
McClellan has a thriving Autism Magnet Cluster with a sensory room to enhance instruction. Children on the autism spectrum have a difficult time transitioning from one task to another. This sensory room helps them adjust to changes and calm themselves when necessary. McClellan just won a $5,000 grant from Lowe's to furnish it. McClellan matters!!!
CPS set an arbitrary rate of 70 percent occupied to be the threshold for a school closing. Any school under this rate could be on the list. This is based on all classrooms being occupied with 31 students per room. When CPS did the survey at McClellan, they didn't consider our autism students. Under law, classroom size for children with autism is nine for primary age and 13 for older children. Right now, children receive speech and occupational therapy sessions in closets. But CPS says McClellan is at a 64 percent utilization rate.
McClellan challenged CPS on their conclusion and asked for a recalculation. They did recalculate and now McClellan is at 69 percent capacity, just one percent shy of the 70 percent capacity threshold.
The parents of special education children met with a lawyer recently to share information and concerns regarding how the impact of the school closing will affect their children.
To top it off, McClellan has been designated as a "welcoming school," which means it is a school that accepted students from other schools that CPS closed. McClellan has seen a 12 percent growth in the last two years and has been classified as "on the rise," which means the school still meets the same or higher performance level. If McClellan closes this means some students and their families will have gone through multiple school closings in just a few years.
Currently McClellan is one of 129 schools on the close list. If CPS closes 129 schools more than 6,000 special education students will be moved. Two thousand five hundred eight homeless students will lose their school – the only real stability they have. Schools that fought for reduced class size (by using Title 1 funds) will lose this option.
CPS says there is no guarantee that displaced students will get to attend school near their neighborhood. There is no way CPS can move 40,000 students and ensure safe passage for them.
Many schools will become "welcoming" schools – while not truly having the space for newly displaced students. Overcrowding and loss of space for art and music classes will result. Dozens of closed school buildings will be left empty in already struggling neighborhoods. Mass closings are bad for children and bad for Chicago. You can't improve schools by closing them. We need your support! Please let your voices be heard. Call CEO Barbara Byrd-Bennett at 773-553-1500, the Board of Education at 773-553-1600 and your elected officials.
Raise Your Hand is having a press conference on March 19 regarding the closing list with high populations of students with special needs and what school closures will do to special needs children. Thirty-nine of the 129 schools contain a Special Education Cluster Program. Moving children could cause a disruption of their services. Do you think CPS can properly transition over 6,000 students with Individualized Education Plans?
Parents, teachers, school workers, students and community members are also gathering March 27 for a citywide march to save our schools & public education.
It's time to take back our schools. Fight back! Stop ALL school closings and end the privatization of public education. Give all of our children the education they deserve!
The author is a grandparent of two public school students and active in the coalition to keep McClellan and other schools open.
Photo: Parents, teachers and members of the Chicago Teachers Union, students and community groups march against school closings last fall (PW/John Bachtell)