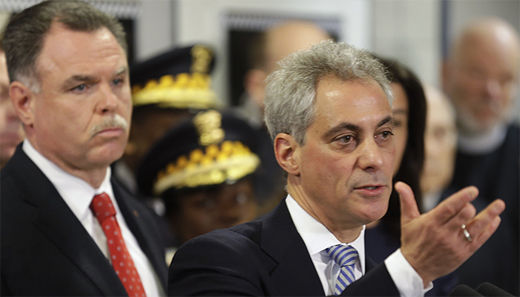 CHICAGO – It was announced Tuesday, Dec. 1, that Garry McCarthy was officially fired from his position as Chicago's Chief of Police. This news comes a day after Jason Van Dyke, the officer who shot Laquan McDonald 16 times, was released on bail after being charged with murder.
Chicago Mayor Emanuel and McCarthy met Sunday afternoon to discuss the direction of the police department. It was decided later that night that McCarthy would leave the post of top cop.
The mayor held a press conference Tuesday to announce the "resignation" and discuss ways in which the city plans to address police misconduct. The mayor disclosed that the U.S. Department of Justice is conducting an internal review to determine whether the investigation was handled properly by police authorities.
As part of a multiple step plan, he announced that he had assigned a team of "five respected Chicagoans who are leaders in the criminal justice system" to conduct an inspection on the oversight, accountability, training and transparency that is established within the department, "n order to bring our streets to the level of safety they deserve, people must have confidence in our system."
Despite the massive outrage over the prolonged process of charging Van Dyke for murder, Emanuel insisted that McCarthy had a "strong record" and created "real results" in his time as Chief of Police. Activists around the nation have voiced their anger over the political oversight in McDonald's death, many demanding that Emanuel also step down from his position.
He responded to these demands by stating that he was "just as responsible and accountable at working towards a solution" and that it was not a responsibility he took lightly.
The mayor is scheduled to fly out of town to Paris this week for the COP21 UN conference on climate change.
Meanwhile Cook Country State's Attorney, Anita Alvarez, has been left unaccountable for, what some deem, a massive cover up. In an official statement issued on Monday, Alvarez stated that she would "not be bullied by politicians who do not have a full understanding of the facts of this investigation." She went on to insist that she would "offer no apologies" for the "meticulous" work she has put into building the strongest possible case against Officer Van Dyke.
Photo: Mayor Rahm Emanuel, right, and Police Superintendent Garry McCarthy. AP Photo | M. Spencer Green
Mayor Emanuel cancelled his trip to COP21 in Paris. — Ed.