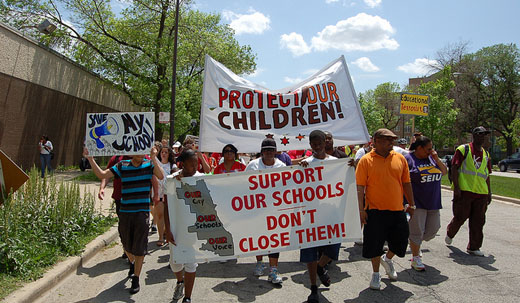 CHICAGO- "We are not going without a fight!" declared nine-year-old Asean Johnson, a third grader at Marcus Garvey Elementary School. "We shall not be moved today!"
Johnson was one of thousands of students, teachers, parents and community residents who ended a three-day march May 20 by ringing City Hall and demanding a moratorium on school closures. In an act of civil disobedience, 26 community activists were arrested earlier in City Hall when they blocked elevators.
The Chicago Public Schools (CPS) Board of Education will vote on Mayor Rahm Emanuel's plan to shutter 54 schools on May 22. (Story continues after video.)
While Emanuel insists the closures are necessary because the "status quo is not acceptable" opposition continues to mount. As public skepticism grows, CPS officials have imposed a news blackout at the affected schools.
Meanwhile, CPS continues to shift reasons for the closures. At first they maintained there was an underutilization crisis. But this was based on cramming 30-36 children to a classroom.
CPS declared the closures were necessary because of a budget crisis. But they were forced to admit the closures would result in no savings and in fact larger expenditures in the short run.
Now CPS says the reason is a combination of underutilization and low performance, but many of the schools slated for closure are improving or provide some outstanding programming.
One such school is Lafayette Elementary School that has a widely recognized student orchestra. It is not clear if there will be space for the orchestra in the school it will be merged with.
Lafayette parents say news of the closure hit them like a death in the family.
"CPS is ripping families apart," said Valerie Nelson who has two daughters at Lafayette. "This school is our family."
Nelson said Lafayette has 150 children with special needs including both her children. Like the orchestra, these children face an uncertain future.
"CPS knows how harmful this is," said Chicago Teachers Union (CTU) president Karen Lewis. "This is a movement from the neighborhoods and across the nation. No matter what happens on (May 22), it is not over."
The three day protest included two feeder marches past most of the schools slated for closure on Chicago's south and west sides. Ninety percent of the children affected are African American. This fact prompted a lawsuit by CTU, which asserts the closures constitute violations of the Civil Rights Act, in addition to the Americans with Disabilities Act.
Hundreds of high school students boycotted classes on Monday to join the march, despite threatening robo-calls from CPS officials to parents the night before.
"My old elementary school is being closed," said Pilar Castro, a senior at Thomas Kelly High School and member of Chicago Students Organized to Save Our Schools (CSOSOS). "Even though high schools are not being closed we are being affected. Our communities are being affected. Rahm Emanuel may not care for our communities, but we do."
Castro was one of five people arrested at a "die-in" on May 15 at the intersection of Cottage Grove and 61st Streets to protest the closures.
Students are increasingly taking to open rebellion against the changes in CPS. CSOSOS has mushroomed in high schools across the city.
"I'm here to fight for these schools," said Victoria Crider, a junior at King College Prep High School. "Three elementary schools I went to are being closed. These children being merged into other schools will have to cross gang lines. It will be more dangerous."
Crider helped lead a sit-in at King on Dec. 13, after the administration fired a number of teachers and refused to hear the concerns of students. The entire student body occupied the school foyer.
One of the schools where marchers rallied at was Williams Elementary School in Bronzeville. Students at the school had staged a sit-in on May 3. When the protest approached, administrators put the school on lockdown and refused to allow parents to check their children out.
One of those who had marched all three days was Cathaline Carter, a retired schoolteacher who had taught in CPS for 37 years.
"I'm protesting these closures by this unelected school board of millionaires and billionaires who have no interest in our children. Their interest is in privatizing education as they are privatizing everything else," said Carter, who was inspired by the community support all along the march route.
"There were so many churches that opened their doors to us with water, rest rooms and respite. I don't think we've seen that kind of thing since the civil rights movement. Churches of all denominations coming together."
"They may take a few schools off the list and think we will go away. We are not going to be satisfied until all the schools are kept open," said Carter.
Photo: Students, teachers, parents and community residents end a three-day march May 20 with protests at City Hall, demanding investment in schools not closings (PW/Earchiel Johnson).