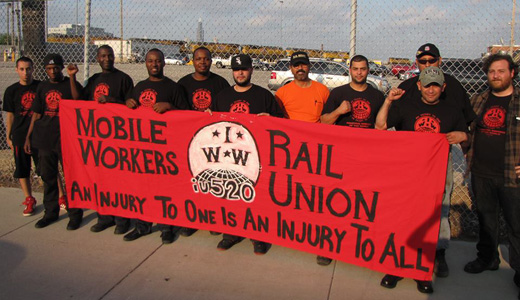 CHICAGO – Some 27 workers, who toil for Mobile Rail Solutions, a Chicago-area rail locomotive servicing firm, will vote on August 14 on whether to join the Industrial Workers of the World (IWW). But at the rate Mobile illegally fires workers who complain to the feds about hazardous conditions, there may be fewer voters by then.
That's because Mobile Rail fired three workers on July 26 and 29 after they complained to the Occupational Safety and Health Administration (OSHA) about job safety problems. All are IWW supporters.
The hazardous conditions and the firings prompted the organizing drive, IWW said. Its website urges backers of the workers to call the firm's president to protest. The rest of the workers started a strike on July 31, and have been out ever since.
Workers told OSHA they had no safety harnesses as they climbed 13-foot sand towers above the locomotives, no respirators available to prevent them from breathing toxic gases during refueling and no protective equipment. One punctured his thumb working in the shop on a piece of equipment he was not trained on, and was fired after he got treatment for the injury and reported it to OSHA.
The firm replies it didn't really fire the workers. It says it abolished their jobs and they can reapply – but they must get commercial drivers' licenses, which truckers need.
"Termination of these organizers is a direct attack on their union drive and apparent retaliation for their recent OSHA filings," IWW said. "Management then threatened to continue firing workers showing no respect for their employees or labor law.
"In response, the workers self-organized a strike and will be picketing at Union Pacific's Global 1 location in Chicago," where Mobile Rail services the UP locomotives. "They demand a meeting with Mobile Rail's general manager to discuss the recent wave of unfair labor practices and reinstatement of their three fired workers. With most workers coming to picket, they expect locomotive servicing will come to a halt." Other rail unions are honoring the picket line, IWW said.
Photo: IWW website.
UPDATE:
By a lopsided 17-5 margin, workers at Mobile Rail Solutions in Chicago decided August 15 to unionize with the Industrial Workers of the World (IWW).
Hazardous working conditions led to the IWW's organizing drive, and firings forced the workers to start a strike on July 31. Other rail unions honored the picket line.
Mobile Rail had a week to challenge the election returns. Three challenged ballots were left uncounted, because they would not affect the outcome.