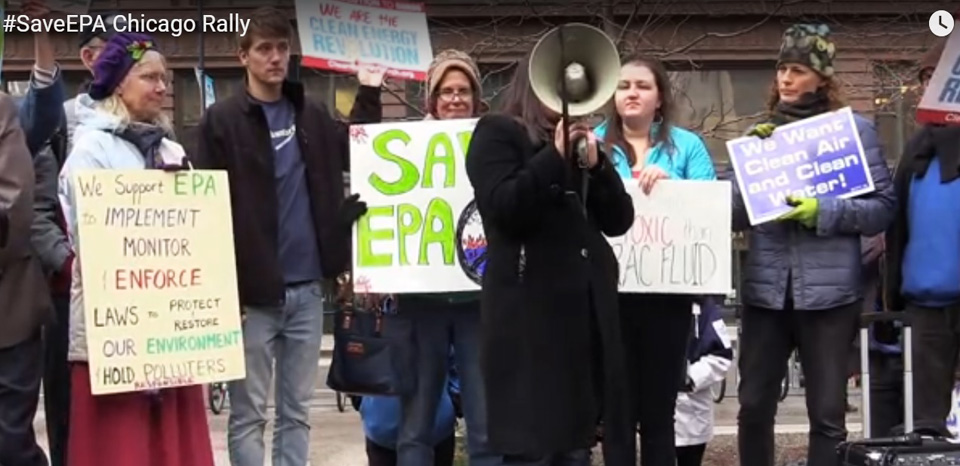 Hundreds of protesters gathered Monday morning at Chicago's Federal Plaza in opposition to Scott Pruitt, Trump's nominee for head of the Environmental Protection Agency (EPA). Former EPA employees, environmental advocates, and residents from across the city, spoke out against the President's suggested nomination, stating that the Oklahoma Attorney General was not fit to serve as the head of the EPA.
"These should not be partisan issues," said Illinois State Senator Daniel Bliss. "Clean air is not a partisan issue. Clean water is not a partisan issue. Slowing, and eventually reversing climate change so that our planet is eventually inhabitable, is not a partisan issue." Bliss has an extensive background working in environmental policy, economic growth, and political reform.
Activists warn Pruitt could do away with many of the EPA's vital functions, as he has been an active skeptic of climate change and human-caused global warming. According to the Washington Post, Pruitt has"challenged the agency's legal authority to regulate toxic mercury pollution, smog, carbon emissions from power plants and the quality of wetlands and other waters." He also has a long track record of legal battles against the EPA in attempts to get them to lessen restrictions on environmental regulations. In 2015 Pruitt lost a lawsuit that sought to challenge EPA's limited restrictions of mercury, acid gases and other toxic pollution from power plants. (story continues after video)
Several Chicago communities have expressed concerns over the long term effects such a decision would have on marginalized communities. Many low-income districts around the nation are among those most directly impacted by lack of clean water and air. Cheryl Johnson, executive Director of People for Community Recovery, spoke at the rally, "for 36 years we've been fighting for environmental justice, it would be a shame to lose the only protection that we have." Johnson's group and other environmental justice groups emphasize that race and income serve as crucial factors in determining whether one lives near contaminated air, water, or soil.
Furthermore, Pruitt has been rumored to have suggested ties with fossil fuel lobbyists. He has a long history of working with energy companies and other corporate interests. Jane Mayer of The New Yorker has reported that Pruitt received large amounts of financial contributions for his campaign from the fossil fuel industry. This raises serious concerns as to whether the Oklahoma Attorney General is too beholden to polluting corporations.