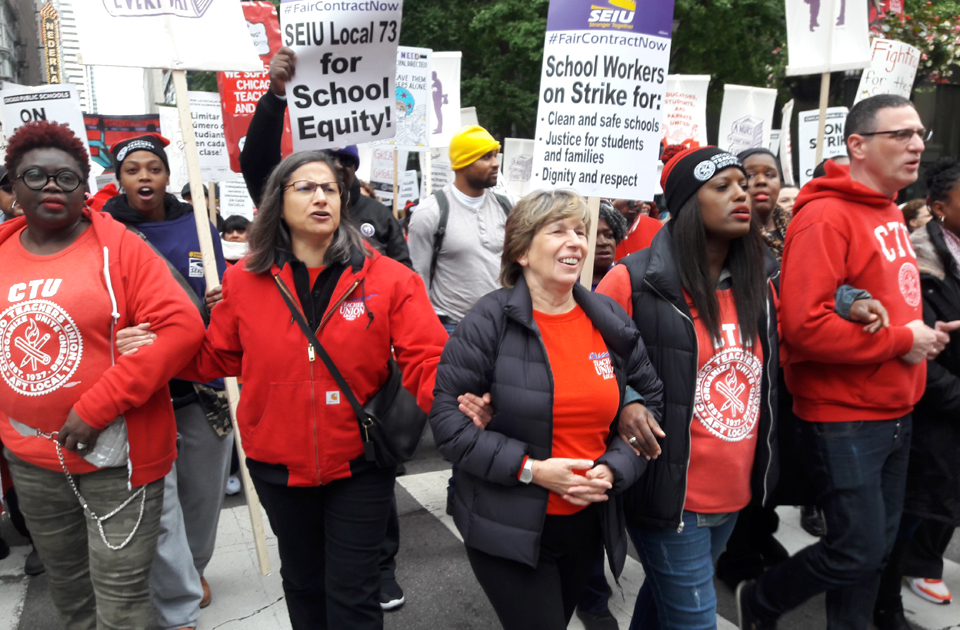 CHICAGO – The strike of over 30,000 teachers and support staff in the nation's third-largest school system entered its second day here Friday. After school-site picketing yesterday, thousands of workers, parents, students, elected officials, and others marched through the Loop in a massive show of solidarity.
The Chicago Teachers Union (CTU) and Service Employees Union Local 73 refused to budge on their demands for class size reductions and restoration of librarians, nurses, counselors, and social workers in every school. The city has offered wages in line with teacher demands.
Mayor Lori Lightfoot, who ran for mayor on a platform of education equity, has pledged to boost investment in neighborhood schools and increase staffing but refuses to put it in writing. She said there was no more money to put on the table.
However, CTU President Jesse Sharkey said the city had moved some on class sizes, although not as much as the union hoped. The CTU is demanding that class sizes be reduced from 28 students to 24 in elementary schools and from 31 to 28 students in high schools.
"What we really want is an improvement in our working conditions, which are the learning conditions of our students," said Sharkey. "What we're asking for is educational justice in the city of Chicago."
The demands of the unions are a bold effort to get to the heart of economic, social, and racial inequality in this city. Chicago student enrollment is 47% Latino and 37% African American with high rates of poverty. The demands seek a transformative solution to economic inequality and the social crisis of segregation and gun violence.
"We mean business," said Stacey Davis Gates, vice president of the Chicago Teachers Union. "It cannot be about politics and personalities. It's got to be about shifting and transforming the infrastructure of inequity."
The CTU is demanding the city build more affordable housing so students' families, CTU, and SEIU members can live in the city. Housing costs, including property taxes, are skyrocketing.
Although not a contract demand, the unions are also calling for the reform or elimination of the Tax Increment Financing (TIF) accounts and progressive taxation. TIFs are a scheme to divert property tax revenues earmarked for education and parks to projects that enrich real estate and other wealthy interests.
In 2018, TIFs took in $1.2 billion. Despite widespread opposition, this spring the city council approved TIF funding of the Lincoln Yards mega-development of new office buildings and luxury apartments.
Parent and community support for the strikers has been widespread as it was in the 2012 strike. One Dunkin' Donuts store in the South Shore neighborhood reported running out of coffee that was being bought by residents and delivered to the picket lines. Many restaurants are offering striker discounts.
Among the speakers at the massive downtown rally was Jaribu Lee, a leader of Kenwood Oakland Community Organization. The organization is one of many building alliances with the CTU. Lee reminded the crowd the fight against chronically underfunded schools has been going on for 25 years, when her parents were teachers.
"They were fighting for the same thing. Mayor Lightfoot has the opportunity to be on the right side of history. During the campaign, she was with us, and there have been some changes. This is an opportunity for her to come correct when it comes to investing in community schools, a diverse teaching force, and nurses. We need all of those things and will stand with our teachers and families until we get them."
The Chicago Public Schools have been looted over the past few decades by austerity policies, school closures, overcrowding, and stripping of support staff, including librarians, social workers, and nurses. Previous administrations drove a privatization agenda that saw the expansion of charter schools.
The city has witnessed a new wave of elected officials opposing these policies. Many have been visible in their support of the strikers.
"We need to let you know you are not alone," Chicago Treasurer Melissa Conyears-Ervin told strikers at a Lane Tech High School morning picket line. "I was raised by a single mother with three girls. She was a union worker and worked ten to twelve hours a day. And she still had to rely on Chicago Public Schools to educate her three girls. For me, this is personal. I needed those resources to make me the woman I am today. I would not dare sit at home while you are out here fighting for our children and their future.
"It's not a choice between a teacher, a nurse, a social worker. Regardless of a child's family income, they need all of those," said Conyears-Ervin.
Many Chicago schools are overcrowded. Teachers often have class sizes of over 40 children.
Illinois Federation of Teachers President Dan Montgomery, who brought the greetings of 100,000 teachers from around the state, spoke of his experience teaching in suburban Skokie. "We have never had 33 kids in a classroom. We've never had 35 kids in a classroom. We have counselors, nurses, phycologists, social workers, special ed paras. Why do you have to go to the streets to fight for what your children need?"
CPS is under state oversight for routinely delaying or denying special education services to students. The new budget calls for a small increase in funding.
"The CTU red and the SEIU purple. What are those colors?" asked Montgomery. "Those colors of fire, of flame. This city is on fire, and this state is on fire, this country is on fire with solidarity, with union power. With the fire of justice!"
"Every one of you, whether you are a teacher, an assistant to a special needs kid, a paraprofessional working paycheck to paycheck, you are an educator making a difference in the life of a child," American Federation of Teachers President Randi Weingarten told the Lane Tech strikers. "We signed up to be first responders to children, making sure they have a safe learning environment. And all we are asking is to be able to live in the city where we work and some help in ensuring a safe and welcoming environment for our children. This is about basic human dignity and common sense.
"This is a strike with demands about the schools we need. A nurse, social worker, class size less than 40 are about education justice. This is a righteous fight. You are walking a righteous path for the dignity of our kids," said Weingarten.
Video: CTU strike | Earchiel Johnson/PW