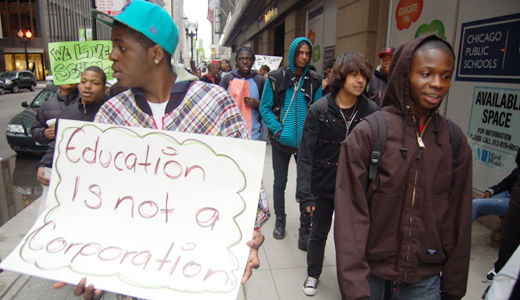 CHICAGO – More than 500 high school students walked out of classrooms at public schools city wide here Thursday, April 8, to protest municipal and state education budget cuts.
The students were joined by dozens of parents, teachers and community activists.
Speakers at the rally said education is a right, not a privilege and schools deserve an economic bailout, too. They add that the city, state and federal government should prioritize public education and invest in children's future, not slash the budget, which only makes matters worse.
Chicago Public School officials plan to cut non-varsity sports, after school and pre-K programs, bus and bilingual education services. CPS will also lay-off 3,200 teachers and increase classrooms to 37 pupils. Support staff and alternative education courses including honor, music and drama programs are also on the chopping block.
"These are things we really count on," says 16-year-old Amber Perry who attends Lincoln Park High School on the city's north side.
Her classmate, Dalilah Villafane, agrees, "I don't think it's fair that CPS officials are getting salary raises while our badly-needed programs are getting cut. We don't even have enough books and we're not allowed to take them home to study. It's not right."
Ashley Landa, 17, is a student at Little Village Lawndale H.S. on the city's southwest side and said cutting programs is not good for the community.
"That's why we're here to fight for our education because we deserve to be successful in life," she said.
Erin Hinton is a student at Uplift Community high and said she's upset that cutting school programs is even an issue. "Education is not a business," she said, "it's a basic right."
Also at the protest was Amber Johnson with her three-year-old son and three-month-old baby to support the students. "I'm here as a concerned parent because the city needs to hear our voices and if we are really going to invest in our children then they need to find the money to save these cuts," she said.
Community activist Abdul-Aziz Hassan said it's important that adults support young people who want to get organized and stand up for their rights, especially education. "There is an attack on education across the nation and it's usually the first thing to be cut," he said. "But what about the military spending or the amount of federal dollars being spent on the wars in Iraq and Afghanistan," he asked. "And it's always working class young people who end up paying the price."
Public school teacher Miguel Guevara said the whole situation "is a crisis and you can't just cut all these programs without any fallback." He adds the ramifications of these cuts are dangerous to all young people and their families, especially low-income communities already struggling with the lack of good jobs or recreation for youth.
"What we need is a bailout for education on a city, state and national level," said Guevara. "We are talking about people's lives."
Student activists at the rally said CPS must stop the destruction of public education. They should cut from the top and keep schools out of the hands of private corporations, they said. City, state and national lawmakers including CPS officials should stop blaming each other and should all advocate increasing public education funding by raising the corporate tax and cutting the military budget, they add.
Alvaro Obregon is a leader with Chicago Youth Initiating Change, the local group that organized the event. He said educational opportunities are critical for young people's lives because too many are dropping out, end up in jail or fall victim to community violence.
Photo: Pepe Lozano/PW