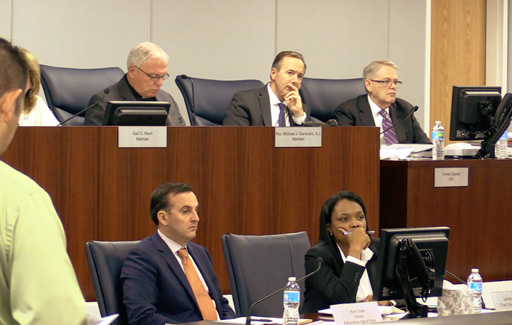 CHICAGO — After months of budget cuts and layoffs, The Chicago Teachers Union (CTU) is demanding answers from the city's mayor-appointed board of education. A press hearing was held August 24th at the Chicago Public Schools headquarters at 42 W. Madison St., where administrators had a chance to address concerns about the approximately 1,000 teachers, aides and support staff that were laid off district-wide earlier this month.
A collective of community leaders, parents, City Council members and educators showed up to speak on their personal experiences and hardships within the Chicago Public School (CPS) system; many claimed that the board had continually broken promises made to the public, and accused them of manipulating the media into vilifying the CTU. Listed speakers repeatedly went up to the podium and asked Frank Clark, the appointed president of the Chicago Board of Education, if he would support a City Council tax reform ordinance called a TIF that would provide CPS with hundreds of millions of dollars. TIF, which stands for Tax Increment Financing, has been a tax policy instrument that Mayor Emanuel has used in the past to divert property and other tax dollars to an unaccountable slush fund that only he controls. This new ordinance, like others that the CTU has supported in the past, would add new rules for transparency and accountability for those TIF dollars, ensuring that they actually reach the schools.
Members of the board repeatedly dismissed questions about whether they would pledge their support; they also had security escort several speakers back to their seats when they insisted on getting immediate answers.
Chicagoans worry about two major concerns: how the district will access more funds, and how equitably those funds will be spent. Just this month a $945 million bond issue that would be used to finance "the rehabilitation, renovation, construction and acquisition of school and administrative buildings and equipment" was proposed. The use of finance industry jargon and instruments, such as the term 'bond issue,' may be intended to provide false comfort to to some, especially parents who worry about the overcrowding in their children's schools. (story continues after video)
But the teachers' union was having none of it. Numerous CTU speakers called out the board for attempting to deflect from the real issues at hand and wasting money on fluff construction projects. Many considered it a slap in the face to the 508 teachers (including 262 tenured teachers) and 521 support staff, who received layoff notices in the past year. A number of individuals who were laid off from CPS were present at the hearing, many visibly frustrated. "Are you content?" asked Carlos Carrillo, an educator that was let go due to budget cuts. Carrillo challenged the board to resign from their appointed positions, saying: "We deserve a better city than this!"
When CPS closed 50 schools back in 2013, it was notably the largest single wave of public school closures in the nation's history- it also predominantly impacted black and Latinx communities. Maria Moreno, financial secretary of the CTU, spoke with People's World about some of the ways in which the Board of Education has ignored the needs of marginalized neighborhoods. "Communities in the South and West sides have not had the investments needed to help with jobs, infrastructure, economy growth," said Moreno. "The schools were not adequately funded, and so they deteriorated."
The union's demands
The union says it is no longer tolerating excuses; it is demanding that the city reprioritize funds in order to continue providing quality education and resources to students.
The ongoing struggle over the distribution of resources, unfair layoffs, and budget cuts is part of a larger systemic issue within the public school system. Many public schools and teachers are being rewarded or punished based on the academic performance of the student population. But it has been repeatedly noted that standardized testing gives an unfair edge to non-African American and Latinx students.
An additional result of testing-based budget decisions is that it is pushing teachers of color out of a job. When children in a school are unable to perform up to standards, the school system uses it as a justification for cutting resources and teaching positions. "They turn around and blame the teachers," Moreno said. "Then they have a turnaround process where they close schools and that disproportionately impacts veteran African American teachers."
Budget cuts and layoffs don't just affect educators and staff; they directly impact the most vulnerable of populations. Patricia Boughton, a representative of the Chicago Teachers Union, blasted the board's lack of foresight. "In certain communities there is such a level of violence that you don't see outside of a war zone. This has to have an effect on children in terms of experiencing PTSD [post traumatic stress disorder]." Boughton emphasizes the need to focus on funding special education: "They are citizens of the city and will eventually become tax payers. Special needs children have a right to be educated."
With tensions reaching a boiling point, and students returning to class September 6th, the CTU may indeed have to strike. Still, much uncertainty remains as around a thousand displaced educators seek alternative employment. In the meantime, the union continues to demand that that the board take serious action in reprioritizing city funds, and investing in the future of the city's children.
Photo: Earchiel Johnson/PW