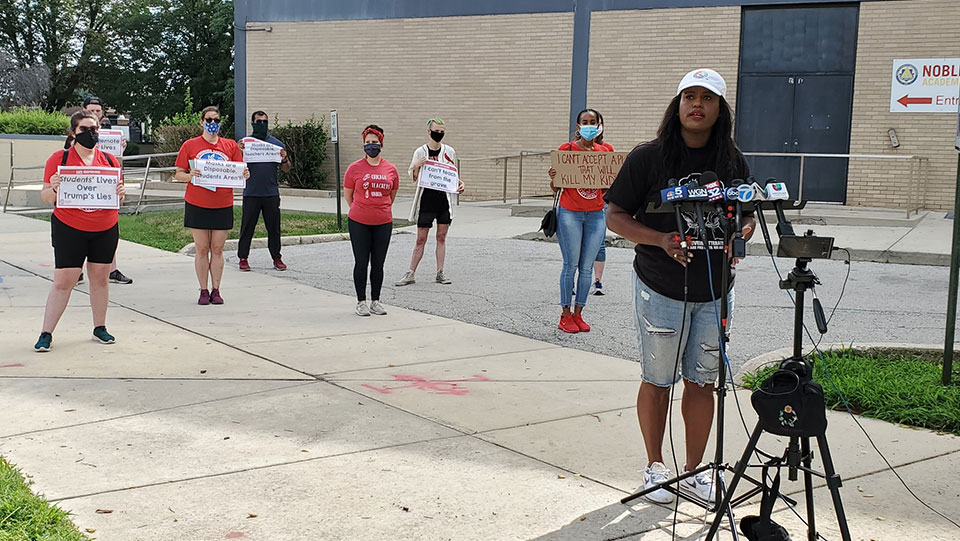 CHICAGO—"We call on the schools and the mayor of this city to have a heart. And make sure our students can be educated remotely until it is safe to bring them back to school buildings," declared Stacy Davis Gates, Chicago Teachers Union (CTU) vice president.
Gates spoke in front of CISC Chicago West Quest High School on July 22, flanked by other teachers socially distanced and masked up. Afterward, a caravan snaked downtown to the Chicago Board of Education to deliver the message. The BOE and CTU have been in negotiations over reopening terms.
Chicago Public Schools are under mounting pressure to rethink their school reopening plans, which center around a "hybrid learning" model of 2 days of in-person and 2 days of remote learning for the system's 400,000 students. Los Angeles and Atlanta school districts are among those starting the year fully remote. The Illinois Federation of Teachers is also calling for remote learning.
The CPS plan calls for "stringent health protocols," including daily temperature checks, universal masking, "social distancing to the greatest extent possible," and routine cleaning one day a week. Parents can opt-out of in-person learning, but educators say this discriminates against students whose parents are essential workers.
So far, CPS has kept teachers in the dark over the criteria used to determine reopening under the hybrid model instead of starting entirely remotely. Teachers must respond by Aug. 7 if they intend to teach or take a leave of absence. Moreover, those who fear their health would be at risk have no guarantee of a job if they opt for the leave of absence.
"We are in a pandemic. The city is shutting bars, restaurants, and the lakefront because of a resurgence," said Gates. "But we are led to believe we can open up entire school communities and children will be safe. Make it make sense, Chicago."
The CTU issued a detailed report outlining requirements for a safe and equitable reopening. Among other things, the report calls for providing every student with broadband and a computer or a sufficient device for schooling.
Teachers also have grave concerns about the HVAC systems in schools and air quality. "Our facilities don't match the needs of right now," said Gates.
But Mayor Lightfoot's school budget is "net neutral," meaning there is no extra money for COVID-19-related expenses. Chicago, like many school districts and municipalities, is facing an extraordinary budget crisis due to the pandemic. The Democratic-controlled House of Representatives passed the Heroes Act, which includes $60 billion for K-12 education, but the GOP Senate hasn't finalized any spending plans yet.
In addition to the pandemic, the country faces an economic depression and is dealing with grave racial injustices. Gates said CPS couldn't just "flip a switch" and everything will be all right. The situation calls for phasing in the reopening.
Gates called upon CPS to collaborate with educators and parents to improve on the spring experience with remote learning. "We have time to do that," said Gates. "What we don't have time for is to bring them into schools and cross our fingers and hope they will be safe."
Some studies suggest students will fall months behind in their learning, and mental health issues will increase, which administrators are using as justifications for in-person reopening. "We know remote learning isn't perfect," CTU president Jesse Sharkey told union members in a Zoom session. "But this is a matter of life and death."
Teachers maintain they can develop better virtual learning models if given time. "We have a lot of great ideas as parents and educators," said Dave Stieber, a teacher at Kenwood Academy High School. "We need to say, let's go remote and figure this out, put training in place for parents, students, and staff, and make it safe for everyone."
"Remote learning is the only way to keep our kids safe," said Stieber. "I'm not going to be responsible for a student or family member getting health issues, and at worse dying, because we're in school and didn't keep our kids safe and remote."
Eighty-four percent of CPS students and 50% of staff are African American, Latino, Native American, or other people of color. Their communities have experienced disproportionate infection and death rates from COVID-19. Many students are traumatized by the deaths, meanwhile schools lack nurses and social workers.
Teachers are also concerned with ensuring the cleanliness of schools. Special education teacher Erin Lynch recounted her Bronzeville school's experience with the privatized cleaning service Aramark. The company's slipshod work left schools filthy and created a massive crisis.
Rodents overran Lynch's school, and when they complained to CPS, they were told it "wasn't a big deal." CPS finally acted when parents protested, but still told students and staff to go into unsanitary classrooms. And despite 24-hour cleaning on multiple days, the school even failed numerous inspections.
"I have grave concerns about school cleanliness after that period and now with the pandemic," she said. CPS will directly hire 400 additional janitors to do extra cleaning.
Lynch doesn't believe this will be enough. "The system, which employs 30,000 workers, will be provided 40,000 tubs of sanitizing wipes. Again, that's not enough," she said. During the spring, many teachers had to buy their own sanitizing wipes.
"I ask CPS to put students, families, and staff's safety and health first," Lynch pleaded.