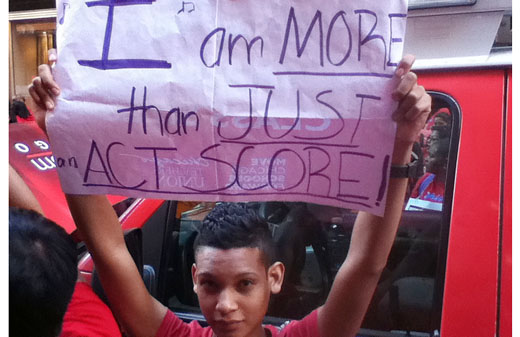 CHICAGO – Declaring "enough is enough," 28,000 Chicago public school teachers, paraprofessionals, clinicians, social workers and counselors went on strike September 10.
Jubilant crowds of red-shirted strikers set up picket lines at schools and busy intersections across the city. An outpouring of public support, well wishes, cheers, and constant blare of honking from passing motorists greeted them.
It is the first Chicago public school strike in 25 years. Strikers are fed up with the results of a corporate education reform model and years of severe underfunding that has severely degraded working and learning conditions in city schools.
In announcing the strike, Chicago Teachers Union (CTU) President Karen Lewis declared, "This is a difficult decision and one we hoped we could avoid. Throughout these negotiations I have remained hopeful but determined. We must do things differently in this city if we are to provide our students with the education they so rightfully deserve."
While the union and Board of Education are not far apart on compensation, big differences remain on health care, a teacher evaluation system and working conditions.
Strikers express a deep resentment toward the way Mayor Rahm Emanuel has dictated school reforms. They desire to have a voice, especially in working conditions including class sizes, air conditioning and the threat of a strict evaluation system tied heavily to results of high stakes testing.
This is unacceptable to teachers. Jill Hartmann a chemistry teacher at Roosevelt High School has 37 students in her classroom and 9 are without desks. "The kids are not able to focus. I don't even have access to the information about how many kids have special needs because we lack social workers."
"As a first year teacher it would be nice to get a raise. But for me it's about getting my students what they need."
The CTU estimates the proposed evaluation system will result in 6,000 layoffs a year (or one-third of teachers) and severely undermine its ability to defend teachers. The business model would eliminate experienced higher paid teachers in favor of churning lower paid inexperienced teachers who would last only a few years.
Hartmann doesn't agree. "Our students come into high school at such a low level that it is already hard to bring them up to where they need to be," she said.
"I can understand the test scores being part of the evaluation. But so many kids come to the school with serious problems, there is so much poverty," said Amanda Osborne, who teaches at Chopin Elementary School. Eighty-two percent of Chopin students come from low-income families.
"I want the best possible education for these kids, said Osborne. "A longer day is fine as long as we are giving them art, music and physical education. A happy teacher is going to be a good teacher. We need good working conditions and a decent wage for that to happen."
Many believe Emanuel misjudged teacher and community sentiment and opposition to imposing the business model and privatization. He began demonizing teachers soon after taking office, announced a round of school closures and privatization and imposed a longer school day without negotiation or additional compensation. This was the beginning of a huge fight.
Parent, student and community support, police and fire fighters moved Osborne. Many joined the picket line bringing donuts, coffee and tamales.
Chicago Federation of Labor President Jorge Ramirez told the World, "The entire labor movement is behind the teachers until they get a settlement. Labor and the community share what the teachers are expressing. They need to be respected in the workplace. That's what this is about."
"This strike affects not only teachers but students and families. We have to stick together. We have 4,200 students and 6 counselors. That's ridiculous," said John a student at Lane Tech High School who joined a block long picket line on two sides of the school campus. He was joined by 5 of his classmates.
"I'm in a class of 41 kids, 13 of which sit on floors. It's insane," said Les, a senior at the school.
After picketing in the morning, strikers, parents, students and community supporters overwhelmed el trains and headed downtown for a massive demonstration at the Board of Education. Afterwards they marched on City Hall, surrounding it.
Julie Dworkin, mother of a student at Goethe Elementary School told the crowd, "This (rally) is proof we are not fighting over small issues. We are fighting for a quality education for our kids. I don't want teachers to be evaluated over my kid's test scores. I want smaller classes and more social workers in the schools. I stand with you 100%, and as long as it takes.
"Our schools need the proper resources to give students an education," said Sarah Johnson, a senior at Roosevelt who had been on the picket line with teachers at 6:30 am. "One of my classes has 36 students. We need smaller class sizes. Isn't that right? A better learning environment leads to a better education."
Photo: (PW/John Bachtell)