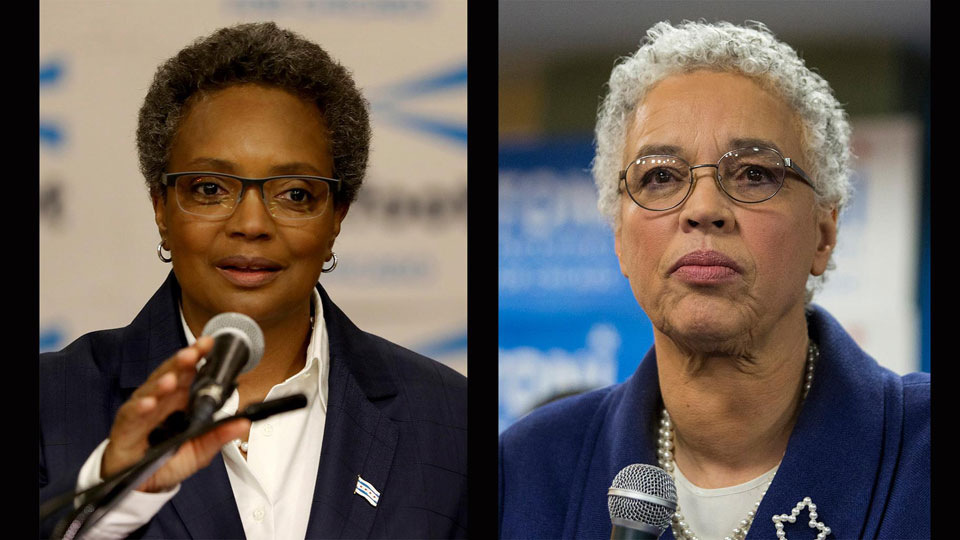 CHICAGO – This city is set to make history. On April 2, voters will elect Chicago's first African-American woman mayor when Lori Lightfoot and Toni Preckwinkle face each other in a runoff election. The two were the top vote-getters in the Feb. 25 municipal election in which no candidate received over 50 percent of the vote.
With the election of Ana Valencia as city clerk and the possibility Melissa Conyears-Ervin could be elected city treasurer after a runoff, women of color could fill every top city post.
Despite the near record-low voter turnout, the results reflect some fresh political winds blowing through Chicago, including by grassroots movements which forced Mayor Rahm Emanuel to drop his bid for re-election.
The national upsurge led by women, particularly African-American women, labor, LGBTQ and community activists, and the growth of left and progressive politics, heavily impacted the outcome.
Similar trends were also evident in aldermanic races where community activists won outright or forced run-offs.
Chicago has a reputation as the most segregated city in the country. Poverty, joblessness, gentrification, and gun violence have forced over 200,000 African Americans to leave the city. Politics in the city was dominated for decades by the Democratic machine and ward fiefdoms.
But decades of community and labor organizing and backing insurgent campaigns in the electoral arena continue to bear fruit. These developments have a compelling political history with roots in the historic multi-racial coalition led by the African American community that included progressive sections of labor and the movement for Latino political representation led by Rudy Lozano. This alliance resulted in the historic election of Harold Washington in 1983, an election which shook the machine to its core. The insurgence included the election of a grouping of independent aldermen. Tragically, shortly after the election, Lozano, a brilliant young leader and Washington ally, was assassinated.
This political base was key in launching the national political career of Barack Obama.
Lightfoot led a field of 14 candidates with 17.5 percent of the vote. She is a member of the LGBTQ community and a former corporate lawyer and federal prosecutor. She fashioned herself as an anti-machine political outsider who had never run for office before.
Support for Lightfoot surged in the closing days of the campaign after she received the Chicago Sun-Times endorsement and was perceived as a fresh face untainted by corruption.
Lightfoot came to prominence when she was appointed chair of the Police Board by Emanuel. In the wake of the police murder of African-American teenager Laquan McDonald and protests that roiled the city, Emanuel appointed Lightfoot chair of a Police Accountability Task Force to draft recommendations to reform the department. Lightfoot publicly criticized Emanuel for not carrying out most of the recommendations.
Preckwinkle, president of the Cook County Board, won 16 percent of the vote. A former high school teacher, she backed an elected school board and a moratorium on the expansion of charter schools. Preckwinkle has the support of the Chicago Teachers Union and Service Employees International Union.
Preckwinkle got her political start by defeating an incumbent machine candidate for City Council in 1991. She became part of a brewing political independence movement and helped found the Progressive Caucus in the Council. As Cook County Board president, she has overseen an expansion of Medicare under the Affordable Care Act and a reduction of the county jail population.
Preckwinkle favors a progressive tax but has been criticized for imposing an unpopular soda tax on sugary beverages to raise revenues for the cash-strapped Cook County. The measure was later rescinded. She is chair of the Cook County Democratic Party.
Bill Daley, a member of the legendary political family dynasty and the candidate of the real estate, corporate, and finance sector, came in third. Daley's defeat was a surprise because he benefitted from the best name recognition and the biggest war chest, including donations totaling $2 million from hedge fund founder Ken Griffin, Chicago's wealthiest resident. Daley was criticized for his ties to Griffin, who was also the major donor to Republican Bruce Rauner's failed campaign for re-election as Illinois' governor last year.
Voters had multiple concerns, including the city becoming unaffordable for working-class families, public school funding, gun violence, police-community relations, and government corruption. Property taxes have skyrocketed as the city has attempted to recover from a substantial financial and pension crisis created by the policies of Emanuel and Richard M. Daley before him.
A major scandal dogged the race after Alderman Ed Burke, Finance Committee chair and powerful political machine boss, was arrested on extortion charges. Both Preckwinkle and another candidate, State Comptroller Susana Mendoza, were tarnished by their association with Burke.
Meanwhile, anger is mounting over giveaways to corporations and financial and real estate interests. Two large high-end real estate projects to be subsidized with billions of dollars in public money are being rammed through the city council by Emanuel. These deals typify the power of the real estate industry in Chicago and the focus on downtown luxury high-rise development to the detriment of the working class, and African-American and Latino neighborhoods.
Several new aldermen were elected including Maria Hadden, an African-American LGBTQ and community activist who defeated incumbent 49th Ward Alderman Joe Moore. The critical issue was housing affordability. Once a leading progressive, independent voice in the city council, Moore was corrupted by real estate interests.
Mike Rodriguez was elected alderman from the 22nd ward. He is the former director of Enlace, a community organization founded by newly elected Congressman Jesus Garcia. For decades the 22nd ward Independent Political Organization, founded by the late Rudy Lozano, has carried the banner for progressive independent politics.
At least 15 aldermanic races are also headed to run-offs. They include the 47th ward where civil rights attorney Matt Martin could become the first African American elected in a majority white ward in Chicago. Another runoff was triggered in the 33rd ward, where community activist and Democratic Socialist Rossana Rodriguez-Sanchez tied with incumbent Alderman Deb Mell, daughter of a longtime machine-elected official. Grassroots activist Jeanette Taylor is advancing to a runoff in the 20th ward where machine incumbent Willie Cochran has been ousted. Taylor led a hunger strike which succeeded in preventing the closing of Southside Dyett High School in 2015.
United Working Families, a progressive grassroots political formation, was deeply involved in eight campaigns. Seven of the candidates they backed either won outright or advanced to the runoff.
In the wake of widespread police brutality and corruption, the movement to reform the Chicago Police Department and bring it under community control significantly impacted the election outcome. At least 68 candidates for alderman backed the establishment of a Civilian Police Accountability Council. Ten of those candidates were elected to city council, and another 10 are headed to runoffs.
An advisory referendum in support of rent control in 13 precincts in the 1st and 26th wards won the support of 72 percent of voters.
The race for city treasurer will also go to a runoff, pitting Conyears-Ervin against Ameya Pawar, the first Asian American elected to the city council. Pawar has called for the establishment of a public bank. The public bank would expand neighborhood businesses, finance affordable housing, fund new infrastructure, and refinance student loans. He has also spearheaded efforts to establish a universal basic income pilot project in the city.
Despite the history-making victories, the corrupt old political machine hung on. Burke won re-election despite his indictments. Alderman John Arena of the 45th ward, one of the council's most outspoken progressive voices, was defeated by right-wing forces who employed racist appeals. Arena had fought for an affordable housing development and took a strong stand against racist terror following the white supremacist march in Charlottesville.