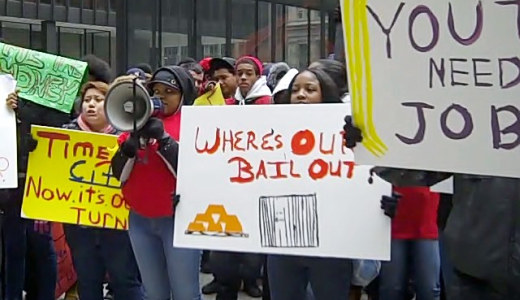 CHICAGO – "Jobs now" echoed across a frozen Federal Plaza as hundreds of youth rallied to demand passage of federal youth jobs legislation and voice their anger over being left out of the legislative process.
The March 1 rally also symbolized growing frustration at the slowness of the Obama administration and Congress in addressing the jobless emergency, and outright Republican Party and right-wing obstruction.
"I'm angry because the federal government gave $800 billion to the banks to rescue them, but what do you have so far?" asked Brian Brady, director of the Mikva Challenge, the rally sponsor. The crowd responded with an emphatic, "nothing!"
The youth came from high schools, colleges and communities across the city to demand passage of the Youth Jobs Act of 2010 (S2929), introduced by Sen. Patty Murray (D-Wash.) and co-sponsored by Sen. Roland Burris (D-Ill.).
"We feel like we are being ignored in the current jobs bills," said Brittanie Corner, 18, a freshman at Malcolm X College. "Youth need jobs too. For those of us in college, we have college fees. We want our voice heard."
Nearly the entire generation of African American teenagers in Chicago is out of work. In 2008 even before the current economic crisis only 15 percent of African American teens were working along with 30 percent of Latinos and 33 percent of whites.
Among 16- to 24-year-olds, 27 percent of Blacks and 17 percent of Latinos were out of school and work in 2008. Across the country over 5 million youth are out of work and school. In 2009, 60 percent of those who lost their jobs were youth.
Senate Bill 2929 would create 450,000 summer and full-time jobs nationwide for youth ages 14-24, at the cost of only $1.5 billion. The act provides job training and resources for youth and is seen as an economic stimulator.
"This bill won't solve the problem, but it will be an important start," said Paris Britton, 19, a sophomore at Daley Community College. "I go to school full time and work full time just to support my house. Without a job I don't know where I would be."
Justyna Obrzut came to the United States from Poland four years ago. She is a 19 year-old student at Loyola College, which is increasing tuition by 4 percent next semester. "I need a job to afford it," she said. "My friends are all looking for work. It's a bad situation."
City Clerk Dorothy Brown, who called for federal action, joined the youth. "Let them hear all the way to Washington D.C. that we want jobs! Having jobs for young people will help save lives. We need to be able to save you so you have a wonderful future."
"If we get jobs we can get youth off the streets and away from gangs," said Tony Astorga from Little Village Lawndale High School. "They will actually care about school, get a better job and help out their families. We need jobs where we can use the skills we learn in school."
The youth marched to Illinois Sen. Dick Durbin's office to deliver hundreds of postcards asking for passage of the bill. They will travel to Springfield to introduce a similar bill in the state legislature as part of an ongoing campaign.
The Mikvah Challenge is a nonpartisan, nonprofit organization that involves youth in the electoral and legislative arena. It is working with the Chicago LIFE Campaign, a coalition of youth serving programs in community centers across the city to build the movement for youth jobs.
Photo: PW/John Bachtell