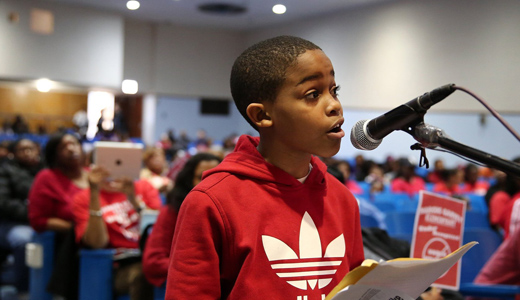 CHICAGO – Several Chicagoans have stolen the show at the American Federation of Teachers' national convention that runs through today at the Los Angeles Convention Center.
From student activist Asean Johnson and Jitu Brown, national director of the Journey for Justice Alliance, to Chicago Teachers Union President Karen Lewis, the city's tenacious public school advocates spoke out about their ongoing fight against Mayor Rahm Emanuel to preserve neighborhood schools and ensure high-quality public education for all.
In her speech Friday, AFT President Randi Weingarten highlighted Chicago as an example of a place where the community has come together to reclaim the promise of public education in America.
"We're seeing whole communities come together to combat discriminatory discipline policies and chronic student absenteeism, and to make schools the center of the community. No more 'us versus students,' or 'us versus community.' It's us with students and community," she said. "And then there was the Chicago school strike, which will be legend. … No one will forget that sea of red, when the people of Chicago stood with their teachers union to force the mayor to stand down."
Asean Johnson, a 10-year-old student at Marcus Garvey Elementary School in Chicago, was a key player in the fight against Emanuel's plans to close 50 of the city's public schools in overwhelmingly African-American and Latino neighborhoods. Asean spoke today about how the fight continues for students across the city and led AFT delegates in a chant of "Education is our right and that is why we have to fight."
"I know I can dream big. I know I need a great education to achieve these dreams," Asean said. "Let's march together, let's fight together and let's reclaim America's schools together."
Chicago Teachers Union President and AFT Vice President Karen Lewis, who led the successful strike in September, 2012 that attracted national attention, reinforced Asean's message.
"I don't care what our detractors say, but if the Chicago Public Schools can turn out young, dynamic leaders like Asean, I think that we are doing more than okay," Lewis said. "What most people don't realize is that there are thousands of Aseans in Chicago's public schools, and we are privileged to teach them."
Photo: Asean Johnson. AP