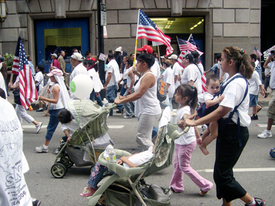 CHICAGO — Undaunted by record-breaking midday heat, tens of thousands of people marched for immigrant rights here July 19. Organizers said anywhere from 30,000 to 50,000 people participated. It was Chicago's third mass immigrant rights action since March.
Once again, labor unions, religious groups, elected officials and many immigrant rights organizations marched together, joined by thousands of workers, young and old, immigrant and non-immigrant. As they packed the hot streets carrying colorful signs and American flags, men passed out boxes of bottled water, Chicago firemen opened hydrants and children cooled off in the water.
Young people carrying clipboards asked the marchers if they were registered to vote. "One of the mottos is 'Today we march, tomorrow we vote,' so we have to take responsibility to actively make change," said Jesse Iniguez, who said he registered 15 people at the beginning of the gathering. "We're just getting started," he added.
Spanish FM radio station "La Que Buena, 105.1" was a major sponsor, spearheaded by popular disc jockey Rafael Pulido, also known as "El Pistolero." Broadcasting from Union Park, where thousands gathered before the march, the radio station entertained participants through loudspeakers. A banner above their stage bore a quote from Pulido: "We may not have it all together, but together we can have it all." Pulido later told the World, "It's a personal responsibility to pay back to the people, and as an immigrant to speak out for others." He added, "We're not illegal immigrants — this is what human beings have done for thousands of years who are only seeking to provide a better life for our families."
As he waited to speak at the lakefront rally following the march, SEIU Local 1 President Tom Balanoff told the World, "This is an issue of human rights and labor rights. Immigrant workers help build our nation and treating them like criminals is wrong."
Chicago Alderman Danny Solis agreed, saying, "We're keeping the cause alive in order to tell Congress to do the work of the people and pass realistic solutions."
Twenty-six year old Marco, who waits on tables, was born in Torreon, Mexico, and has been living in the U.S. for 11 years. This was the third immigration rally he attended since March. "I want to make my voice heard," he said. Marco expressed disappointment with Bush's war in Iraq and possible strike on Iran and asked why aid is not given to underdeveloped countries like Mexico instead.
Roberto Lopez, director of the immigrant rights group Centro Sin Fronteras and an organizer of the event, said the most important message was "to put a stop to deportations, and to stop the raids." While Congress debates immigration policy, immigrant families continue to be victimized and separated, Lopez said. A moratorium on these repressive measures is needed now, he said.
Rep. Luis Gutierrez (D-Ill.) told the rally crowd, "We are here in Chicago saying clearly you cannot divide us! We need to continue to register and become citizens and vote." Applauding the presence of youth, he said, "This is about future generations changing the course of history."
Although smaller than earlier marches, the July 19 outpouring showed deep support for undocumented families here.
"Chicago has been at the epicenter for the last decade in defense of immigrant rights," Gutierrez told the World. "We began in March and set a standard for the nation, and it is important that we continue until Congress adopts a fair policy for immigrant rights."