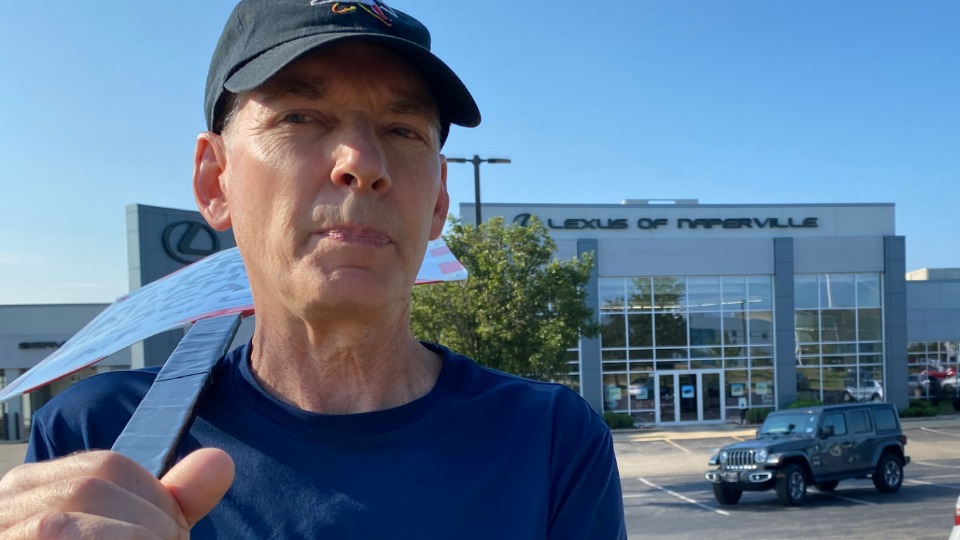 NAPERVILLE, Ill.—"It's a license to steal!" said auto tech Tom Sanecki. With 41 years in the trade, Sanecki was outraged at the proposal of the New Car Dealers Committee for a clause in the new contract that would allow dealerships to unilaterally lower wages or diminish conditions.
Sanecki, a technician at the Lexus dealership here, is one of 831 Chicago area mechanics who left their toolboxes locked this Monday morning, wielding picket signs in lieu of wrenches. After a 7 ½ week strike four years ago, Sanecki is not only a highly skilled mechanic, he's developed strike skills as well. The dealership's dozen or so mechanics arrived bright and early with tents, signs, and coolers, and an air of confidence.
Keri Rautenkranz, a fellow technician at Lexus of Naperville, prepared a memo with detailed instructions on best practices for preparing a durable picket sign. (Check out her tips here.)
The previous day, over 600 members of International Association of Machinists Local 701 gathered at a union hall in Hillside rejected what they saw as the NCDC's outrageous offer, and then voted as close as you can get to unanimous—597 to 6—to strike.
The workers are facing a splintered employer group. In the 2017 strike, they had faced a united committee of 129 dealerships; this time around, about 30 dealerships dropped out of the NCDC and formed a separate association, according to a press release from Local 701. The NCDC ruefully calls them "defectors." The "defectors" have signed a contract with Local 701. A second group of dealerships that don't belong to either group is sitting on the fence, having signed contract extensions with the local. The remaining NCDC dealerships—55—are taking the strike.
Auto mechanics are highly skilled technicians, Local 701 Business Rep. Ronnie Gonzalez told People's World. "Technicians have to be HVAC experts, know Bluetooth technology, be an all-around IT guy along with the traditional nuts and bolts of auto repair." Besides journeymen, the contract also covers lube techs, semi-skilled mechanics, and apprentices.
Gonzalez explained that another issue in the strike is support for continuous training. "New technology is coming out on a daily basis," he said, and the union has a training department at its hall. With the constantly increasing skills required to be a mechanic, along with the introduction of electric vehicles, all mechanics use the union's training, which directly benefits the dealerships, said Gonzalez, but the NCDC is balking at paying their share.
The NCDC is also demanding expansion of the right to reduce a journeyman's weekly pay guarantee if she or he does not generate a required income for the dealership. "Even though we're on the job 40 hours, they want the right to pay for only 36," said Rautenkranz.
Dealerships typically bill national manufacturers by the hour for warranty work, but some jobs take longer than the designated number of hours. So, a worker assigned many undervalued jobs can end up getting only 36 hours' pay for 40 hours' work. The dealership's right to do this would be expanded under the NCDC proposal. Gonzalez noted that myriad other conditions beyond the worker's control, such as the slowdown of business during the COVID-19 pandemic, could result in lower output than mandated.
Workers are also concerned that the NCDC is refusing to pay into the Health and Welfare Fund an amount sufficient to cover required contributions. This would require workers to have to make up the difference. "Our health and welfare is our pride and joy," Sanecki said, noting that they had struck in 1995 to protect it. "I never regretted it."
Mark Bilek, Senior Director of Communications and Technology of the Chicago Automobile Trade Association, said that a spokesperson was not available to answer questions from People's World. However, in an emailed statement, the NCDC Committee accused the union's leadership of putting "their own internal political interests ahead of the membership." It also warned that "the failure to recommend this contract to its members is a failure by the union's management and it will again cost dealers and their service technicians dearly."
Sanecki gave a thoughtful response to the NCDC statement in a follow-up interview two days into the strike: "Sometimes we have to take pain for the greater good." He noted that every tech in the area—in the non-union as well as union shops—looks to Chicago to set the standards. "Their pay and conditions are based on what we get. Their aim is to bust the union."
As for wages forfeited during a strike, Sanecki takes the long view: "Sometimes it falls on us to say we're not going to take it. I'm quite willing to sacrifice now in order to improve the working conditions for all techs."
Sanecki noted it was the workers who carried the employers through the coronavirus economic difficulties. "They need us," he concluded.