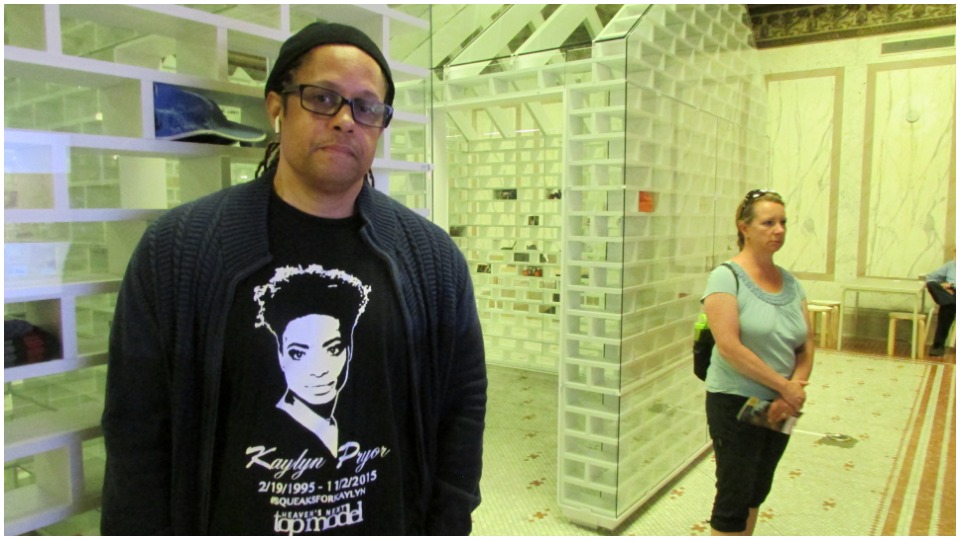 CHICAGO—"Kaylyn was visiting my parents. She was coming home when she was shot in a drive-by shooting," said Alan Scott softly, the painful memory plainly etched in his voice. His daughter, Kaylyn Nicole Pryor, was a student at Robert Morris College when she was killed in 2015.
Scott had come to the opening of the Gun Violence Memorial Project at the Chicago Cultural Center on Sept. 19. The memorial, with its treasured mementos, moving pictures, and loving stories, is a testament to lives cut short by gun violence. It is as emotionally overwhelming as it is uplifting.
Scott had shared some of Kaylyn's personal artifacts with the project and was solemnly absorbing the surroundings.
"Kaylyn was an aspiring lawyer and model. She was the first African-American girl to win Mario Tricoci's 'Mario Make Me A Model' contest, said Scott proudly. "She was a complete go-getter, successful at anything she put her hands into."
The memorial project, running through Jan. 5, 2020, seeks to create a permanent, national memorial honoring the lives and narratives of victims of gun violence with loving care and dignity. It was commissioned for the Chicago Architecture Biennial and designed by Hank Willis Thomas (who lost his brother Songha to gun violence). Mass Design Lab, Everytown for Gun Safety, and Purpose Over Pain, a Chicago-based group of gun violence survivors, also collaborated in the design process.
The memorial is a group of four transparent brick houses. Each brick serves as an individualized space for the personal artifacts of a gun violence victim. Each house contains 715 bricks, representing the average number of Americans killed each week by gun violence. The four houses together represent the monthly total.
Over 36,000 Americans die each year from gun violence, shattering families and communities and leaving long-lasting pain and suffering.
The project allows those lost to gun violence to speak, even in death. It offers families the opportunity to remember their loved ones, a way to heal from the trauma and continue to advocate on their behalf, urging the nation to urgently do something.
Remembered are those lost daily in neighborhood incidents, like Blair Holt, a teenager who was shot on a school bus shielding a friend from gunfire, and in massacres like Columbine High School. There are those like Gabriel Zimmerman, the congressional aide killed during the mass shooting which severely wounded Rep. Gabrielle Giffords. And Cipriano Livas, Jr., who suffered from schizophrenia and died by suicide.
The Boston-based Mass Design Lab worked with survivor networks to gather the artifacts and stories. The organization advocates for architecture that promotes justice and human dignity and designed the National Memorial for Peace and Justice in Montgomery, Ala., which commemorates the lives of enslaved black people and African Americans terrorized by lynching and police abuse.
Over 170 families have donated personal artifacts including photos, necklaces, awards, diaries, favorite music, stuffed animals, replicas of musical instruments, and work tools that reflect the lives and aspirations of loved ones.
Some include quotes, like this one from Jaycee Webster: "I may not change the world, but I want to inspire many."
Audio interviews with family, friends, and co-workers also play in each house. They include touching stories of victims of the Pulse nightclub massacre and Philando Castile, murdered by a police officer in a suburb of St. Paul, Minn., in 2016.
An accompanying video contains moving interviews with family members recalling their loved ones and the items they are sharing. The video is a trailer of the forthcoming full-length documentary about the ravages of gun violence, Comes the Light.
The idea for the project was born during the opening of the National Memorial for Peace and Justice. "That's when we met Pamela Bosley and Annette Holt, the mothers of two children lost to gun violence in Chicago," said Jha D Williams, senior associate of Mass Design and spoken word artist.
Bosley and Holt first raised the idea of a memorial to their sons and other victims. In the words of Bosley, "You hear those numbers all the time, but you never tie names to them. I wanted you to see who my son was."
An invitation to Mass Design to participate in the Chicago Architecture Biennial offered an opportunity to create the memorial. "We wanted a way to reflect the individuality and humanity of gun violence victims. We didn't just want to put forward the numbers, which are staggering," said Williams. "You don't hear the personal stories and have a chance to empathize and connect."
"Some of the families went into their children's rooms for the first time to select an object to contribute to this. They found this to be very powerful, and they want to be a part of it.
"We encountered people at different stages of their grieving process," said Williams. "At our first collection, we anticipated people would be sad, and it would be heavy. But we actually encountered some joy and laughing and smiling. We were taken aback. They were like, 'We lost somebody, but we also have an opportunity to celebrate somebody (who we lost).'"
Nearly every family has become active in the fight against gun violence, including giving support and comfort to others who have lost someone.
"It's unfortunate how such a tragic situation forces people into activism, but it is powerful to see how they are empowered by the situation rather than defeated by it. That was the story of almost everybody we encountered," explained Williams. "You have communities coming together determined to end this gun violence on their own corners and their own streets."
In fact, the anti-gun violence movement is being powered by the survivors, both of horrific mass shootings, and the gun violence that has become a daily part of life. They convey a moral authority, unlike anyone else.
Like every parent, Bosley never imagined she and her husband would have to deal with the pain of losing a child. Since then, she has devoted her life to stopping gun violence and building relationships between communities across the city. At a recent forum at The Hideout in Chicago, organized by Moms Demand Action, Bosley shared her story.
Her son, Terrell, was a musician and singer in the church choir. He was murdered on the church steps preparing for an event. "It was the worst thing I have had to experience. The entire week was horrible when I had to view Terrell in a casket. When I had to bury him is what moved me into activism," she said.
"I have two more sons. That's the reason I get out of bed for them and all children. Together with a group of parents who had lost children, we formed the group Purpose Over Pain. It is meant to empower the parents. We advocate for common-sense gun measures. We have support circles," explained Bosley. The group is housed at St. Sabinas Church, where Father Michael Pfleger, a national activist in the anti-gun violence movement, is a pastor.
"The group organizes various events and offers massages to help them get through this situation. I tried to take my life twice in the first year. We also mentor young men and women in violence prevention and teach our youth to be peacemakers," said Bosley, who is violence prevention manager at the church.
The parents are active in efforts to stop the flood of guns into their communities. As Bosley sees it, easy access to firearms is a huge problem.
"Registering guns is just holding people accountable. There are more guns in my community than candy and more guns than books. Eighty percent of kids know where to get guns. If we didn't have easy access to guns, my son would still be here."
The Aragon family lost their son and brother, Israel, in 2016. Since then, they have worked tirelessly to make sure he is not forgotten and to prevent future deaths. Israel's parents, Israel and Irma, have emerged as leaders of Moms Demand Action. His sister Dalia is helping develop a neighborhood memorial to Israel and other victims. His other sister Annette created a video about the tragedy.
The Aragons established "Israel's Gift of Hope" Foundation to support siblings, friends, and family members who have been affected by gun violence.
"His mother found (his diary) after he had died. We didn't even know he had it. He wrote down his priorities in life," said Israel Aragon, Sr. "We're hoping that by (placing items in the memorial), people will see these kids who have been taken down by gun violence, they had dreams, they were planning a future."
As to how he was coping with his grief, Kaylyn Pryor's father Alan Scott said, "My life is like a puzzle. It's in a thousand pieces, and I'm trying to put it back together. It's been three years, and it's still hard to make sense of it all.
"I hope no one else is a member of this club (of grieving parents). We're trying to make people more aware and be careful. Sometimes I feel frustrated that it doesn't stop, but I think of Kaylyn. I have to do what is right by her. I know she would want me to (keep fighting)," he said.