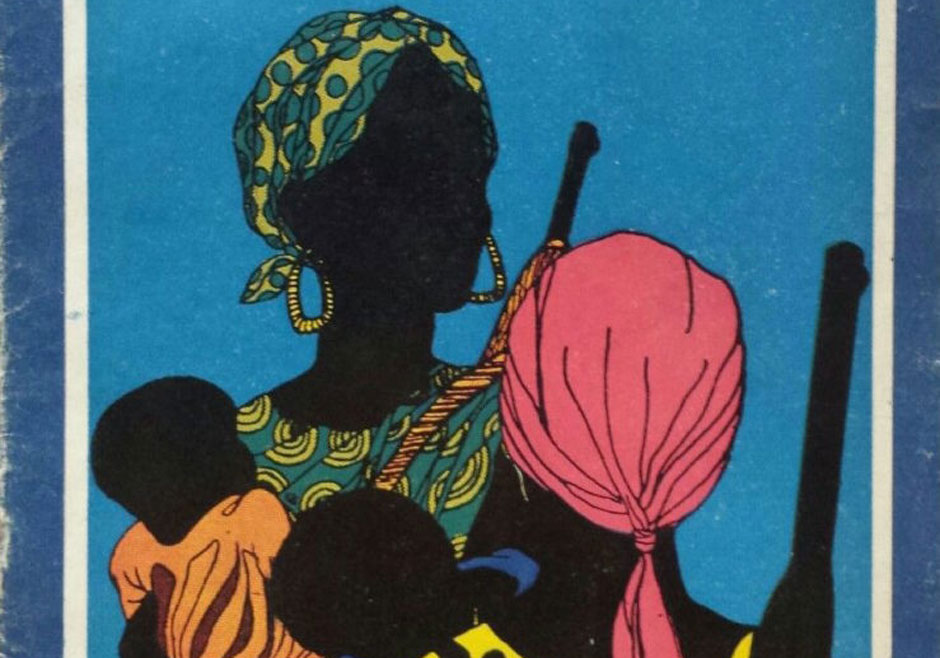 Tricontinental '66 And Other Acts of Liberation is a multi-disciplinary "instigation" produced by HotHouse with the support of the Rebuild Foundation, Chicago Filmmakers and O.S.P.A.A.A.L.
The intent of this project is to create a provocation examining acts of liberation from imperialism and colonialism through multiple avenues of creative expression both contemporary and from the revolutionary era of the 1960's and '70's. The project includes a rare exhibition, music performances, a film showing and other presentations.
The historical artifacts come from a time when many of the world's non-aligned movements came together to challenge empire, notably in the 1966 Tricontinental Conference in Havana, Cuba. The meeting in Havana and the speech there by Amilcar Cabral inspired Cuba's subsequent military involvement in S.W. Africa and ultimately led to the defeat of the apartheid regime in Pretoria and the liberation of Angola and Namibia. The significance of these events have been popularized in people's cultural expression and are here reemphasized and contextualized anew through film, music, discussions and the graphic arts.
The project features a rare exhibition of posters produced by and with the cooperation of Cuba's O.S.P.A.A.A.L. (Organización de Solidaridad con los Pueblos de Asia, África y América Latina). The display of the original posters and original copies of the Tricontinental Journals (which were contributed to the exhibit from O.S.P.A.A.A.L.) continues to give amplification and inspiration to aspirations of third world liberation movements and similar campaigns within in the U.S.
HotHouse is undertaking this project as part of its long commitment to creating projects that link social change and artistic expression. As a leading non-profit arts presenter in the U.S., now celebrating its 31st year, HotHouse has long worked to explore the terrain where culture challenges reactionary assumptions within capitalism. HotHouse is one of the primary organizers for international cultural exchange and has long championed the work of women, the African-American avant-garde and "inner city" youth expression.
The Tricontinental '66 And Other Acts of Liberation is an endeavor that builds on this work. The project seeks to resurrect and reexamine recent history while intending to provoke questions about "art as propaganda," art in service of higher aspirations, art as a collaborative process, and art inspired by social change.
The Organization of Solidarity with the People of Asia, Africa and Latin America (Spanish: Organización de Solidaridad con los Pueblos de Asia, África y América Latina), abbreviated as OSPAAAL, is a global political movement headquartered in Cuba with the stated purpose of fighting globalization, imperialism, neoliberalism and defending human rights. It publishes the magazine Tricontinental. The OSPAAAL was founded in Havana in January 1966, after the Tricontinental Conference, a meeting of leftist delegates from eighty-two countries, including Guinea, the Congo, South Africa, Angola, Vietnam, Syria, North Korea, the Palestine Liberation Organization, Cuba, Puerto Rico, Chile and the Dominican Republic. Mehdi Ben Barka, the Moroccan leader of the Tricontinental Conference, disappeared the year before. One of the main purposes of the organization is to promote the causes of socialism and communism in the Third World; for example, OSPAAAL strongly supported Hugo Chávez. Social development, which the organization says is a human right, is a recurring theme in OSPAAAL publications.
Tricontinental '66 Upcoming Shows
The Stony Island Arts Bank
6760 S. Stony Island Chicago, IL 60649
Bata ECA, Thursday, October 4, 6:30 p.m.
Bata ECA is a trio of seasoned cultural musicians, Enoch Williamson, Clifton Robinson & Atiba Walker. Each of them have 40 plus years of far reaching experience as drummers coming from an Alkebulan (African) frame of reference. Their music is a unique blend of Alkebulan diasporic customs and traditions, ranging from Jamaican folk music, Afro-Cuban music, African-American spirituals, Blues and Jazz Music, and the traditional Alkebulan music. Each for the people's spiritual well-being.
Movie showing: Sambizanga
Friday, October 5, 7 p.m., Free Admission
With Introductory remarks by Arif Smith
Sambizanga: 102 min., Sarah Maldoror, Angola, 1972
Set in the Angola of 1961, Sambizanga is Sarah Maldoror's first film, co-written by her husband, a leader in the Angolan resistance. The story focuses of a happy young African couple; one day the husband is arrested for political reasons and interrogated in the dreaded Luanda prison.
Arif Smith is a multidisciplinary artist and educator. His performance- and video-based work centers on diasporic citizenship and African-rooted performance practices, exploring notions of blackness, co-presence, and marronage. He is a member of Bomba con Buya and Iré Elese Abure.
Saturday, October 6, 3:00 p.m. Anne Garland Maher presentation: "From the Tricontinental to the Global South: Race, Radicalism, and Transnational Solidarity."
Anne Garland Mahler is the creator and director of Global South Studies: A Collective Publication with The Global South and a founding executive board member of the Modern Language Association's Global South Forum. Mahler is broadly interested in race and social movements in the American hemisphere, and especially in cold war politics and postcolonial and Global South theory.
Saturday, October 6, 5:00 p.m. Fundraiser! Chicago-Guantanamo Blues Exchange and instrument drive for school in Santiago de Cuba.
With Shanta Nurullah, Jaime Garza, Ben La Mar, Fred Jackson and others.
The Chicago-Guantánamo Blues Exchange is an ad-hoc cohort of musicians, scholars and educators that travel to Guantanamo, Baracoa and Santiago, Cuba, to perform and participate in educational workshops. The main purpose of the project is to facilitate cross-cultural awareness for genres of traditional music and related cultural practices that have migrated throughout the African diaspora.
This event will raise money to subsidize artists travelling in 2019 as well as collect instruments for a music school in Santiago de Cuba.