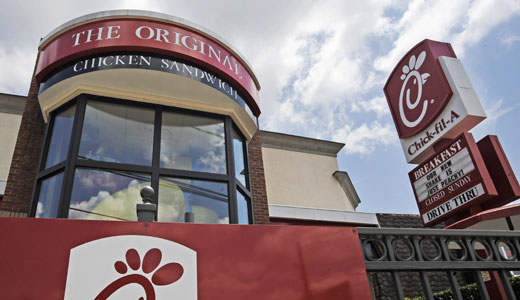 Chick-fil-A, a fast-food chain based in Atlanta, Georgia, has maintained a sharp anti-gay stance, feeding millions of dollars into organizations that oppose same-sex marriage. New controversy arose this month when company president Dan Cathy told news outlets he supported "the Biblical definition of the family unit." The chain is now seeking to expand its restaurants, drawing ire from officials in various U.S. cities.
Chick-fil-A consists of over 1,600 restaurants, $4 billion in revenue, and, as some put it, "unapologetic social conservatism." Those in the LGBT community who have observed the food chain's prejudice might also add, "unapologetic homophobia." The company reportedly donated more than $1.1 million between 2003 and 2008 to anti-LGBT groups and organizations that provide so-called "therapy" to change people's sexual orientation.
Cathy has made a number of religion-oriented, anti-gay statements that have fueled the controversy and caused hurt and outrage to the gay community. He recently noted he was "guilty as charged," when asked if he opposed same-sex marriage. He remarked, "I think we are inviting God's judgment on the nation when we shake our fist at him and say, 'we know better than you as to what constitutes a marriage.'"
Now, people throughout the U.S. are fighting back against the chain and its goals of expansion. In February in Boston, plans to bring a Chick-fil-A onto the campus of Northwestern University were scrapped when the student government denounced the chain as being a hateful enemy of gay and lesbian rights, including gay marriage.
The students were not the only ones there who stood up against the company. Boston mayor Thomas Menino also found their stance on gay marriage to be reprehensible. He said that Chick-fil-A "doesn't belong in Boston" because of its hateful attitude.
On July 20, Menino sent a letter to Cathy, in which he stated, "In recent days, you said Chick-fil-A opposes same-sex marriage, and said that the generation that supports it has an 'arrogant attitude.' … I urge you to back out of your plans to locate in Boston. Here – to borrow your words – we are 'guilty as charged.' We are indeed full of pride for our support of same-sex marriage and our work to expand freedom to all people." Boston's mayor had been referring to a previous statement by Cathy, in which he said, "I pray God's mercy on a generation that has such a prideful, arrogant attitude to think that we have the audacity to define what marriage is about."
Menino is not the only one who denounced the prejudicial "biblical values" of Chick-fil-A. Chicago alderman Proco "Joe" Moreno announced this week that he would block efforts by the chain to establish a presence on the city's Northwest Side.
"If you are discriminating against a segment of the community, I don't want you in the 1st ward," he remarked. "Same-sex marriage, same-sex couples, that's the civil rights fight of our time. To have those discriminatory policies from the top down is just not something that we're open to.
"We want responsible businesses. Because of [Cathy's] ignorance, I will be denying Chick-fil-A a permit to open a restaurant in the 1st ward."
Moreover, Chick-fil-A is not the only food chain to feed its customers religious bigotry.
Western U.S. burger chain In-N-Out has printed Bible passages on all of its packaging since the late 80's, and Tyson Foods have used their ideology to attack workers' rights. Tyson, the world's largest chicken company, is also a notoriously anti-union corporation. They have been linked with union busting, unpaid overtime wages, and illegal paycheck deductions. They have also disciplined workers for removing diseased chickens from the assembly line.
Back in the Windy City, Mayor Rahm Emanuel supported alderman Moreno's words. "Chick-fil-A values are not Chicago values," Emanuel declared. "They disrespect our fellow neighbors and residents. This would be a bad investment, since it would be empty."
Chick-fil-A had already obtained zoning for a restaurant in an empty lot near Home Depot in the Windy City's Logan Square neighborhood. However, they cannot move forward without council approval.
Photo: A Chick-fil-A restaurant in Atlanta, Ga. The food chain has pursued a vicious stance against gay rights. Mike Stewart/AP