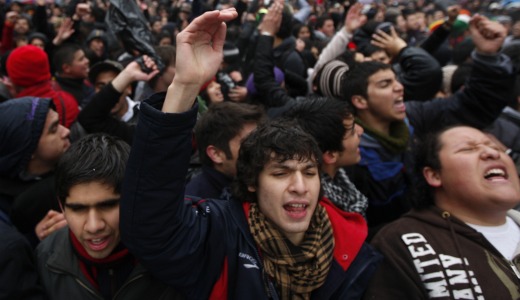 A multi-aged group of 50 self proclaimed, "rebel students" on September 12 attacked the Santiago offices of the Chilean Communist Party's (CP) Central Committee. The police delayed showing up for the hour it took for the intruders to injure four CP staffers, destroy windows and doors, and ruin or steal electronic equipment. Thugs had wrecked CP offices in Iquique two days earlier and in Temuco, two weeks earlier.
Other political formations extended solidarity. For the Christian Left party, "No provocation will separate the Communist Party from the heart of Chilean people." The Mapuche (indigenous) Left Assembly observed, "What bothers [rulers] most is the support the Party receives." The attacks took place after an emboldened student movement, joined by unions and social organizations, had set the stage over four months by making demands upon Chile's right wing government.
On the day of the attack, CP secretary general (and parliamentary deputy) Lautaro Carmona, joined by Political Commission members, went to the Interior Ministry to lodge a complaint. A police functionary, rather than a responsible official, received them in the corner of a large room. Everybody stood. Afterwards, the Interior Minister told the press that communists "have a polemical disposition causing them to warn of problems that don't exist."
Carmona told reporters, "When he says we see problems that don't exist; really I see problems manifested in the struggle for public education, and he doesn't see them. I see problems in the concentration of wealth and precariousness of Chileans' lives, Chileans' right of free expression in public places, and legitimate demands of CONFUSAM, and he doesn't see any of them."
On September 13, Chile's CONFUSAM municipal health worker federation launched a 48-hour strike for higher wages and against health care privatization. The 25,000 striking workers represented 90 percent of the federation membership. Health Minister Jaime Mañalich, rejecting further negotiations, reportedly wants to remove the underfunded and under-doctored public health sector from municipalities' control.
A day later, the Fenatrapech federation of petroleum workers issued a warning. Federation president Clemente Gálvez denounced state plans to privatize petroleum reserves in Magallanes that would "relinquish the national patrimony and potential from gas and oil reserves."
But mobilized students represent the main intrusion into a status quo serving moneyed interests, one inherited from the Pinochet dictatorship. For the 98th time this year, students marched on September 14 in Santiago, again for quality education available to all. A reduced participation of 30,000 students was attributed to national mourning over the recent plane crash deaths of 21 people. At a concluding rally, student leader Camilia Vallejo assured students that "if at the end of the day there are no agreements … we won't abandon our demands." Students, negotiating with the government, had just delivered a counterproposal to education officials.
Camilia Vallejo has become well known to leftists worldwide. The 23-year-old Communist Party member has received multiple death threats. Why the established order may regard her, and implicitly the Communist Party, as threatening is clear from excerpts of her remarks to students and reporters provided by Dominican observer Narciso Isa Conde.
A selection follows:
"We believe the key to success for the student movement is to put the [student] federation in a vanguard position at a national level, interweaving social networks with townspeople, workers, social organizations, and unions"
"We must break with that university bubble that instills individualism, competition, and personal success as a guide for our behavior over fundamental ideas and concepts like solidarity, community and collaboration among ourselves.
"Our eyes are open enough to realize that there's a whole world to conquer, that this world requires our commitment, our effort, our sacrifice. Our eyes are open to social inequalities that stand out in every corner of our city. We find it impossible to … close the door and act as though we've seen nothing."
"As a woman, I can see and experience in my own flesh the current forms of oppression of which we are victims in society's present machismo configuration." In Chile 'a history of oppression and sexism hides behind a facade of economic progress.'"
Isa Conde detects a "quasi – telepathic" connection between Vellejo's ideas and those of the martyred Julio Antonio Mella, the charismatic youth who helped form the Cuban Communist Party in the 1920's. In any event, continuing Communist Party involvement in popular struggle and Communist leadership of epochal challenges to the status quo, filled as they are with turmoil, are reliable predictors of red scare revival and the trashing of Communist offices.
Communist and other progressive parties from around the world have been sending in messages denouncing the attacks on the Chilean comrades.
(AP Photo/Roberto Candia)  Chilean students demonstrate during a protest in Santiago, Chile, Aug. 18. Students had been striking for more than two months and continue to march by the tens of thousands calling for free and equal quality education.