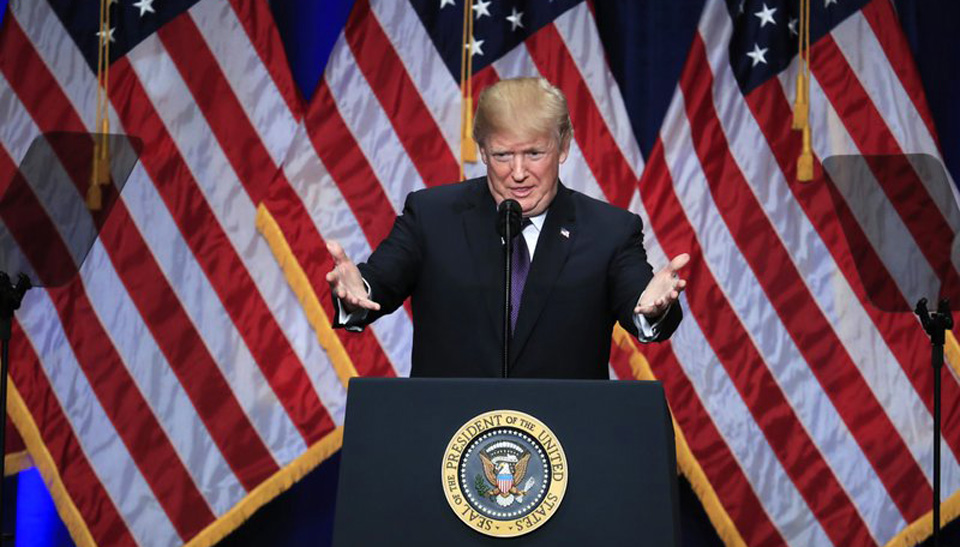 China and Russia reacted angrily today to the White House's new national security strategy report that accuses them of "challenging American power."
The national security plan unveiled by President Donald Trump on Monday complains that both countries are "developing advanced weapons and capabilities" and investing in developing nations "to gain competitive advantages" over the United States.
It identifies Europe, the Indo-Pacific, and Latin America as areas where Beijing is upsetting the apple cart by "investing in key industries" and offering "state-led loans."
These initiatives are part of a drive to "displace the United States" and "expand the reaches of its state-driven economic model," the report says.
It also accuses China of stealing U.S. intellectual property worth hundreds of billions of dollars and says Russia uses "subversion" to undermine U.S. credibility with its allies.
Chinese Foreign Ministry spokeswoman Hua Chunying urged the U.S. "to stop deliberately distorting China's strategic intentions and abandon a Cold War mentality.
"Otherwise it will injure others and damage itself," she warned.
China's Washington embassy described the U.S. stance as "selfish" and contrary to "the mutual interest of the international community.
"The Chinese side is willing to have peaceful coexistence with all countries. The U.S. should also adapt and accept China's development."
In Moscow, presidential spokesman Dmitri Peskov said the report revealed an "imperial" attitude and displayed Washington's "aversion to a multipolar world," but he added that there were some encouraging parts to the document which suggested that Trump was willing to cooperate in areas of mutual interest.
Morning Star