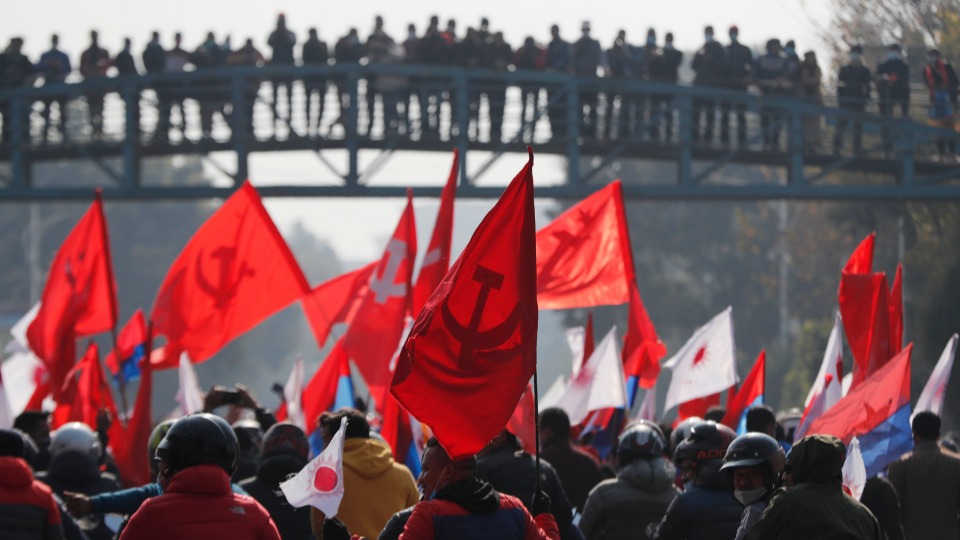 Political unrest and protests have shaken Nepal as Prime Minister K.P. Sharma Oli of the ruling Nepal Communist Party (NCP) called for the dissolution of the parliament on Dec. 20 and for new elections to take place on April 30 and May 10.
Prime Minister Oli cited an inability of the NCP to govern because of a lack of cooperation within the ruling party, caused by an internal rift between its two sections.
The NCP originated as a merger between the Communist Party of Nepal (Maoist Centre) and the Communist Party of Nepal (Unified Marxist-Leninist) in 2018 following election success the previous year. The merger has not been able to stop infighting among the two wings that joined to create the party, however, and conflict has persisted.
Oli, who is a longtime leader of the Marxist-Leninist wing, has been accused by the Maoist wing of corruption, inept handling of the COVID-19 pandemic, and of unconstitutionally dissolving parliament. Seven ministers out of a total of 19 have quit Oli's government in protest following his decision to call for new elections.
A vote of no confidence in Oli was to be held that would have likely resulted in Pushpa Kamal Dahal, the leader of the Maoist wing of the party, being asked to become Prime Minister. Some have hypothesized that Oli's decision to dissolve parliament is an attempt to remain prime minister while simultaneously blocking Dahal from power.
At least 10,000 protesters were estimated to have taken to the streets of the capital, Kathmandu, to protest the dissolution of parliament. "The prime minister has no authority to dissolve the parliament under the constitution. Therefore, he should reverse his decision immediately," said student Rajesh Thapa while holding the hammer and sickle flag of the ruling NCP. The Supreme Court of Nepal will hear petitions against Oli's decision in January but has already asked the PM for an explanation of why he opted to bring down his own government.
On Dec. 22, two days after he announced the parliamentary decision, the NCP's Central Committee voted to elect Madhav Kumar Nepal as chairman, replacing Oli. Speaking on national television, a party spokesperson declared that "315 Central Committee Members have voted in favor of Madhav Nepal" and said the NCP is planning to take internal disciplinary actions against Oli.
The following day, Dec. 23, the party appointed Dahal as its parliamentary leader.
Days after the decision to dissolve parliament, China's government sent Guo Yezhou, vice-minister of the Communist Party of China's International Liaison Department, to Kathmandu. Guo was sent in order to meet with both groupings in order to help alleviate tension and uncertainty within the ruling party and the country.
China sees Nepal as a crucial ally in Asia and hopes to see an increase in stability with its fraternal party and neighbor. China has invested billions of RMB into Nepalese infrastructure as part of the larger Belt and Road initiative designed to encourage trade between the two countries. The "Trans-Himalayan Multi Dimensional Connectivity Network," agreed to in October 2019 during a state visit from Chinese President Xi Jinping, would use Chinese investment in the areas of railways, ports, roads, air travel, and communications to strengthen the Chinese-Nepalese trade relationship.
Zhao Lijian, a spokesperson for China's foreign ministry, said China hoped "all the various parties in Nepal can put national interest and the overall situation first, and proceed from there, while properly handling internal differences and working towards political stability and the country's development."
India has traditionally held a dominant position in Nepalese politics and trade, but in recent years China has been strengthening its relationship with the country. India has viewed this as threatening its geopolitical position. Nepalese complaints about India include the latter's imposition of an unofficial month-long blockade of Nepal in 2015 after India felt slighted that it was not consulted on the creation of a new Nepalese constitution.
Some in Nepal have also expressed anger over the building of embankments by the Indian government that are believed to have caused flooding within Nepal. Most recently, while India has been involved in its worst border dispute in decades with China in the Himalayas, Nepal simultaneously raised border concerns with India.
These complaints have led Nepal to look for allies elsewhere, and they have found an enthusiastic partner in China. Nepalese-Indian relations remain on shaky ground, but the potential removal of Oli could see a shakeup of relations either with India, China, or both.
Certain questions still remain as to whether the Nepal Communist Party will formally split, whether the Supreme Court of Nepal will reverse the PM's decision on dissolving parliament, and whether Oli will be able to retain his position.