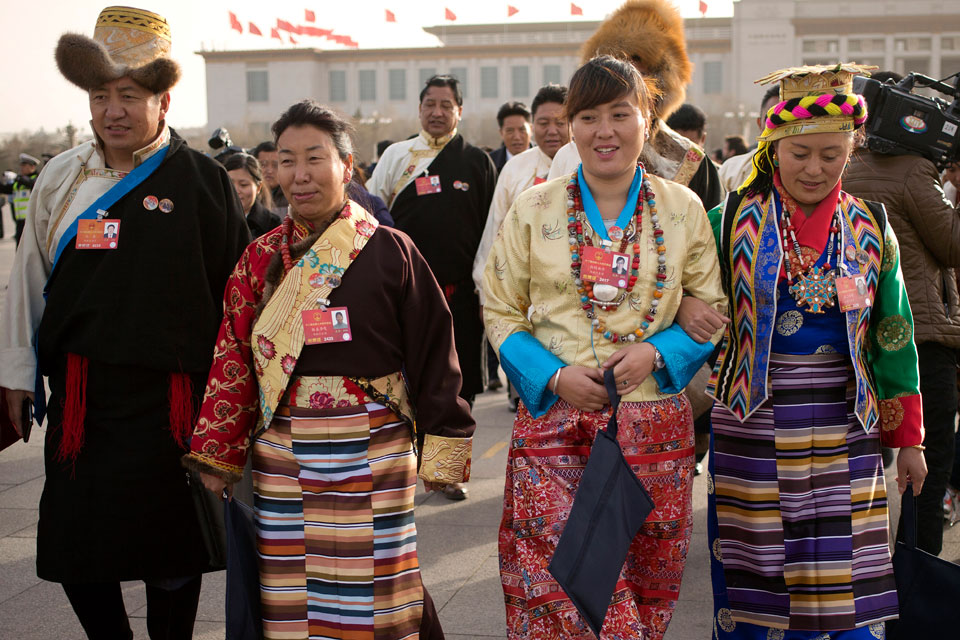 Chinese President Xi Jinping has called for continued efforts to build a "new modern socialist" Tibet "that is united, prosperous, culturally advanced, harmonious, and beautiful." Xi spoke at the two-day seventh Central Symposium on Tibet Work, which ended in Beijing on Aug. 29.
Xi stressed efforts to ensure national security and enduring peace and stability, steadily improve people's lives, maintain a good environment, solidify border defense, and ensure frontier security in the autonomous region in southwest China.
Tibet-related issues concern China's sovereignty and territorial integrity, which involve the country's core interests. "Some Western governments and politicians have long been inciting anti-China separatist activities, with the malicious intent of fanning up instability in the region and using Tibet as a bargaining chip for their political gain," Xi stated.
The premier stressed that the Communist Party of China's conceptions of "socialism with Chinese characteristics" and regional ethnic autonomy must be upheld in Tibet. "Tibetan Buddhism should be guided in adapting to the socialist society and should be developed in this context," he said.
Combating separatism remains important in developing a prosperous Tibet, Xi insisted. An international movement has demanded Tibet's independence from China, which liberated the region from feudalism in 1950. The U.S. has imposed travel bans on some Chinese officials it accuses of restricting foreigners' access to Tibet. The U.S. insists that it supports "meaningful autonomy" for the region.
Many Tibetan independence campaigners want to see the return of the Dalai Lama, who fled in 1959 following a failed CIA-backed uprising and has been living in India ever since. But China has successfully resisted "reactionary separatist movements," bringing significant social and economic progress to the autonomous region which was languishing in medieval conditions at the time of the 1949 revolution.
Today's Tibet is in its best period of development. In 2018, the region's GDP was 147.76 billion yuan ($21.11 billion USD), about 192 times the 1959 figure of 174 million yuan, calculated at comparable prices. The region's GDP reached nearly 170 billion yuan in 2019.
As one of the main grounds in China's nationwide campaign against poverty, Tibet has basically eradicated absolute poverty, after lifting the remaining 150,000 people out of poverty and taking 19 counties off the poverty list in 2019. In view of the adverse natural conditions on the plateau and underdeveloped social conditions in Tibet, the Chinese government considers this an extraordinary feat.
A number of major infrastructure projects and public service facilities are planned for the region, including the 1,000-mile Sichuan-Tibet railway, Xi said. The Chinese president stressed that a long-term commitment to Communist Party Central Committee policy was needed from Tibet to ensure that it maintains support from the central authorities and assistance from the rest of the country. Political and ideological education need to be strengthened in Tibet's schools, Xi insisted.
Shining the light on eco-protection, Xi said conserving the ecology of the Qinghai-Tibet Plateau is the most significant contribution to the survival and development of the Chinese nation, emphasizing that scientific research should be further advanced on the plateau.
Making ecological conservation a priority, Tibet has invested 11.7 billion yuan over the past decade under a project on environmental protection.
In May, a Chinese survey team reached the summit of Mount Qomolangma (known in the West as Mount Everest) and re-measured the height of the world's highest peak, which straddles the China-Nepal border, with its northern part located in Tibet's Xigaze.
This article features content from Morning Star and Xinhua News. Barbara Russum of People's World also contributed.