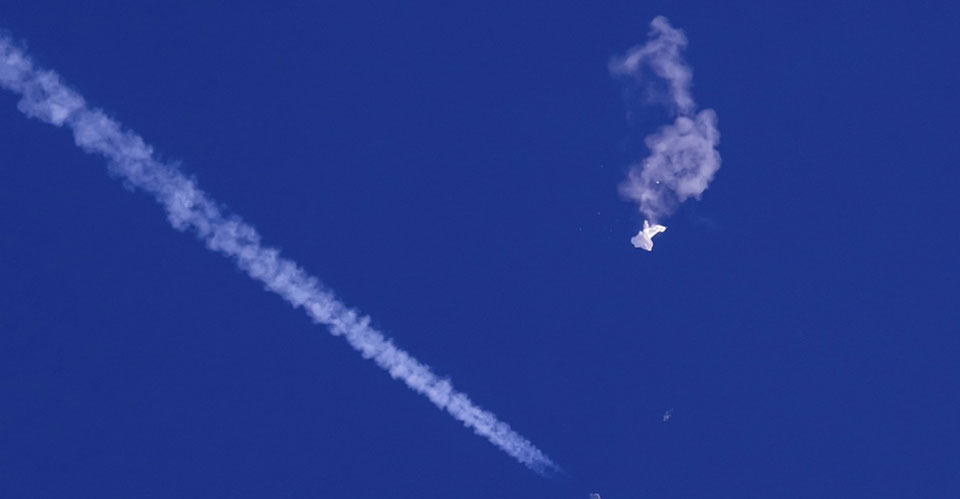 China says it reserves the right to take additional action after the U.S. shot down what it claimed was a spy balloon off the South Carolina coast.
The U.S. claimed the balloon, which was drifting over U.S. territory, was illegally spying. China says it was a weather balloon blown off course.
U.S. officials waited until it blew over the Atlantic before shooting it down on Saturday, on the grounds that it might have hurt someone it landed on otherwise.
The Chinese Foreign Ministry warned today that "China will resolutely uphold the relevant company's rights and interests and at the same time reserves the right to take further actions in response."
It said the balloon had been blown over the U.S. "completely by accident" and registered "strong dissatisfaction and protest against the U.S.'s use of force to attack civilian unmanned aircraft."
Pentagon officials admitted that they did not see how the balloon would provide Beijing with any intelligence it could not gain anyway from satellites, though President Biden praised the air force for successfully shooting it down.
While the war hawk South Carolina Republican Senator Lindsey Graham likewise thanked "the men and women of the United States military" for downing the balloon and praised the Biden administration for doing "the right thing," other Republicans such as North Carolina's Thom Tillis and Mississippi's Roger Wicker expressed outrage that it had not been shot down earlier.
"Allowing a spy balloon from the Communist Party of China to travel across the entire continental United States before contesting its presence is a disastrous projection of weakness by the White House," Wicker raged.
Chinese social media erupted with mockery of the U.S. for its paranoia and fear of an air balloon, but the incident's real and serious consequences included the cancellation of a projected visit to Beijing by U.S. Secretary of State Antony Blinken, squandering a chance to defuse tensions which have risen over U.S. sanctions on Chinese technology and maneuvers of U.S. warships off Asian coastlines.
Following the cold war, the U.S. and Russia signed the Open Skies treaty allowing overflights of each other's territory as a way of building confidence that the parties were not attempting to hide military activity from each other, but the U.S. withdrew from the agreement in 2020 and Russia withdrew the following year. China was never a signatory.