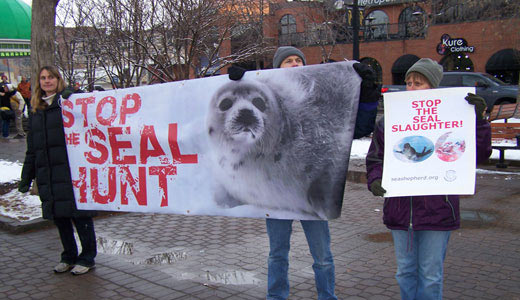 In an open letter to the Canadian Senate, 50 Chinese environmental and animal welfare groups have asked that the exportation of seal products from Canada to China be stopped immediately. The letter made it perfectly clear that activists found the practice of killing seals for fur and meat barbaric, and – as more and more countries around the world ban seal products – unnecessary.
Not counting natural causes, the commercial seal-hunting industry accounts for approximately 97 percent of Canadian seal deaths, while just around three percent is due to hunting by indigenous tribes. The commercial industry itself has profited from the deaths of over 70,000 harp seals this year so far, a level more than twice as high as the year before. Most believe the higher catcher level is directly related to the opening of markets in China.
"We are writing to the Senate because we are disappointed in the Canadian government," said Madame Qin Xiaona, director of the Beijing-based Capital Animal Welfare Association, in the letter. "We want Canadian senators to realize that Ottawa's promotion of seal products in China is unwise and short-sighted; it has caused irreparable damage to Canada's reputation in China. Our campaign against seal product trade will continue until the Canadian government ceases its efforts to promote these products of cruelty in China."
Adding insult to injury for activists, Canadian seal hunting industry representatives remarked that China ought to welcome seal products – especially seal meat – with open arms, because "Chinese people will eat anything."
Statements such as that, Xiaona wrote, are "offensive to say the least, and highly misleading. In China, seals are a protected species, and seal meat is not a part of our tradition. Despite the massive subsidies invested by unwilling Canadian taxpayers for over three decades to promote seal fur and meat in China, significant markets have never emerged."
Lack of marketability and profit is what is currently being cited in a piece of proposed legislation called S-210 as reason for ending the Canadian seal hunting industry once and for all. The bill, introduced in the summer by senator Mac Harb, would, if passed, also provide compensatory work for hunters in the industry as it transitioned them into another career, thus stamping out industry representatives' argument that ending seal hunting would kill jobs.
Activists in China are also strongly supporting the bill.
People for the Ethical Treatment of Animals, meanwhile, argued that the industry was recently losing more money than it was making, at the cost of taxpayers' dollars. They noted that around $7 million each year is fed into the industry, while only $1 million is actually made domestically during that time.
"Why are we wasting scarce resources lobbying foreign markets when the majority of people around the world have sent a clear message that the hunt is an outdated and unviable activity?" said Harb.
"Chinese consumers care about animal welfare and food safety, and we strongly oppose trade in products from commercial seal slaughters," Xiaona wrote. "Please be assured that China will never become a dumping ground for products that the rest of the world has so overtly rejected."
Photo: Activists in Alberta, Canada demand an end to seal hunting. Robert Thivierge/Flickr