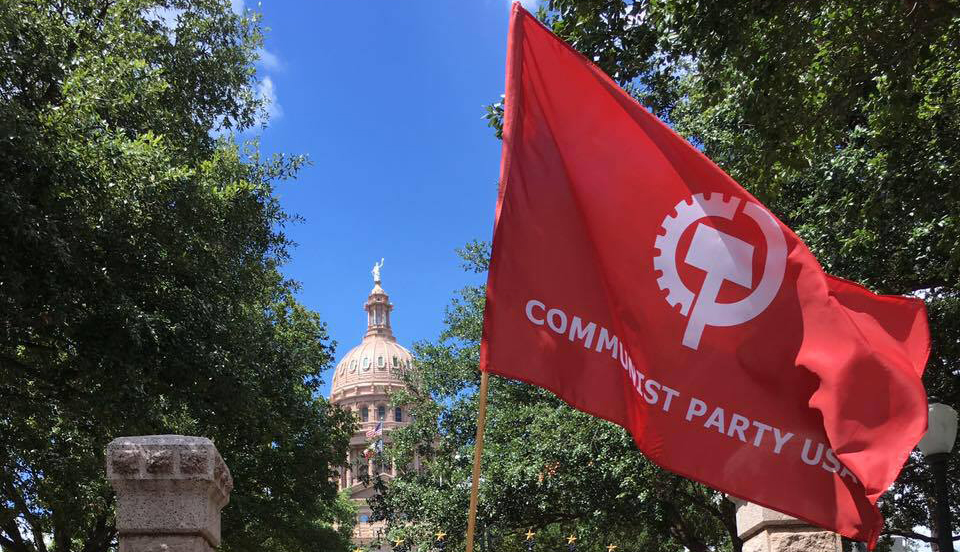 Xinhua News Agency, the primary news service of the People's Republic of China, published an interview with John Bachtell, national chairman of the Communist Party USA, on April 14. In it, Bachtell discusses the relevance of Marxism and the CPUSA's participation in the movements against Trump administration policies and for long-term social change. It is reprinted here for People's World readers. The original can be read here.
CHICAGO (Xinhua)—The top leader of the U.S. Communist Party (CPUSA) has said in Chicago that Marxism is a "vibrant philosophical" outlook that leads the struggle of the Communist Party USA for now and in the future.
Vibrant outlook
In a recent exclusive interview with Xinhua, John Bachtell, CPUSA's national chairman, said that Marxism is a revolutionary "guide to action" for the party as far as strategy and tactics.
It is a "growing body of work," said Bachtell. "It's always open to new experience and therefore it's always changing and developing itself as a body of theory and thought."
He noted that Marxism has to constantly embrace what's new, including what the U.S. democratic movements have produced.
"For example, I feel very strongly that we have to embrace…what the class struggle in the United States has produced and what the democratic struggle has produced," such as the experiences of the civil rights movement from the 1960s, he said.
"That has a really important bearing in terms of strategy and tactics," Bachtell added. "Non-violent peaceful resistance is a very important form of struggle."
Compared with armed struggle, the party chief favored political means to achieve revolutionary change.
"It will be what we call a democratic path. One that utilizes the electoral arena but also other democratic venues where we're constantly trying to expand our rights," he said.
In this process, it's Marxism that will serve as an "essential outlook and tool" for every revolutionary party and every working-class activist, he said. "We intend to make it something which is the property of everybody."
Tough struggle
Founded in 1919, the CPUSA has some 5,000 members spread across the country. The party has been active in a range of political and social movements, from workers' rights to environmental protection and peace issues, according to Bachtell.
We hope to "help spur discussions about the need for socialism in the United States and how capitalism is ultimately the root of a lot of our problems," he added.
"It takes the form of protests in the streets, organizing, lobbying, and demonstrations. But it also takes cooperation in the electoral arena where we have an alliance of organizations" so as to avoid being "extremely isolated," he said.
The leader further explained that U.S. Communists faced a really difficult time amid the McCarthyism of the 1950s and the anti-communist narratives that have persisted ever since. The CPUSA was once persecuted to the point of illegality and had to engage in a long-term fight to restore legality and present a true image of itself.
"There are still some anti-communist law and things on the books which we constantly have to deal with," he said, "but we're turning a kind of a corner on Marxism so to speak," pointing to the thriving growth and development of his party in recent years.
"It's really growing, as a political force," he said. "A lot of people are joining the party in the recent period. Many of them come from small towns all across the country. We hope they become more active."
Bachtell also noted that the Trump administration's current plan to raise tariffs on imported steel and aluminum products was a "fraud" and "phony populism."
"They're doing everything in the interests of the richest people, and, in the end, the biggest corporations," he said. "The tariff issue…is a damaging move" that gives false hope to merely a tiny section of the working class, pitting them against U.S. farmers as well as workers from other countries.
Fraternal ties with Chinese Communists
Speaking of China, Bachtell said the CPUSA and the Communist Party of China (CPC) have forged "fraternal" ties.
"We try to find time to get together and to have bilateral meetings. We also have cooperated on the academic level. But it's not enough," Bachtell said, adding that his party would like to see "a higher and closer relationship" with the CPC, including mutual visits.
He explained that the CPC's ability to find a path of socialist development under very difficult circumstances is the main thing that impresses him, citing the effort to transform China from "a very under-developed country to a modern country, and the strides that China has made in the last 15 years to really become a global power."
"I think going forward China will influence more and more every aspect of life, not just because of its sheer size and influence in the global economic system, but also because of its focus on uplifting working people, eliminating poverty, and providing a basic material standard of living to every person," he said.
Bachtell further noted that the CPC's performance in governance and leadership will continue to be an important example of what can be done.
"We may not have the same concept about our models of socialism [given our country's] different reality, different material circumstances, and different history, but China's developing. Certainly it's an important example, and we can draw upon the experiences that you have," said Bachtell.
"I'm sure that there will be plenty of opportunities in the future for us to work together, absolutely," he said.