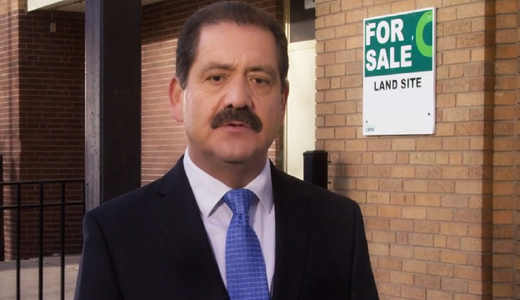 In a bluntly worded statement, Chicago mayoral candidate Jesus "Chuy" Garcia's new campaign ad challenges the school policies of incumbent Mayor Rahm Emanuel. The ad links Emanuel's education policies to a privatization drive that benefits some of his biggest campaign contributors.
"This used to be a school until the mayor shut it down and 49 schools just like it," says Garcia, a "For Sale" sign appearing over his shoulder. The signs hangs from the brick front of the now-closed Marconi Elementary Community Academy on Chicago's West Side.
Emanuel "took money from these schools and gave it to elite private schools founded by his big campaign contributors," Garcia charges.
Thirty-one charter schools have opened in Chicago since the mayor's appointed school board closed the 50 schools in 2011. It was the nation's largest ever one-time school closing. Marconi also had a pre-K program and served an elementary school population almost 100 percent African American. It is in the city's predominantly African American and Latino west and south side neighborhoods that nearly all of the now-abandoned schools are located.
Along with the ad, the Garcia campaign issued a list of Emanuel campaign donors who stand to profit from the on-going privatization campaign. The list documents the fact that charter school supporters, companies that fund charter schools, and those companies' employees have poured over $718,700 in contributions into Emanuel's campaign. (Story contnues after video.)
In the ad, Garcia vows to stop privatizing public schools and questions the democracy of the decision to close the schools.
"I'll let you elect the school board," he pledges. Chicago voters have spoken strongly on that issue. In a non-binding referendum in February, Chicagoans voted by a 90 percent margin for restoration of their right to elect the Board governing their children's education. This is a right lost 20 years ago. In 1995, a Republican-controlled Illinois state legislature, at the behest of then-Mayor Richard Daley Jr. and the business community, singled out Chicago to be the only municipality in the state to give power to the mayor, rather than the voters, to appoint the school board.
Emanuel's appointed board is heavy on bankers and corporate executives, but light on teachers and public school parents. Critics point to conflicts of interest, such as that of Deborah Quazzo, an Emanuel appointee who runs an investment fund for companies that privatize school functions. Chicago Public Schools contracts for more than $25,000 require central office approval, but companies in which Quazzo has part ownership have avoided that oversight, scoring many $24,999 contracts since her appointment, according to the Chicago Sun-Times.
The Chicago Teachers Union website points out that while the Chicago Board of Education is composed primarily of corporate executives, "The Chicago school district is 92 percent students of color and 86 percent low-income students whose communities have no role in school district decisions."
While Marconi Community Academy sits empty, its page on the "Great Schools" website survives, a reminder of young lives disrupted. A 2010 comment from an enthusiastic 6th grader there seems eerie, like a note on the school's gravestone, and leaves one wondering about the fate of its author, one of 12,000 Chicago Public School students displaced in 2011. He or she would be 17 now, almost old enough to vote.
Posted November 03, 2010:

Marconi is not all that but there you can learn while having fun. I go to Marconi we have success not failure. Marconi has lots of afterschool Programs and alot of good teachers. Marconi is a very ok school you learn & have fun at the same time. I am in 6th grade I have a nice Reading Math & science teacher. We learn alot in one day. We have a good volleyball team too. You can only be on all sports teams if you have good grades. I love Marconi even tho they have a few flaws. We have encellent students and teachers and we have alot of parent involving activities and leaders at our school. We have excellent teachers too. I love you Marconi XOXO, one of your student. "