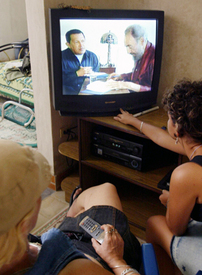 U.S. intelligence head John Negroponte announced Aug. 18 the creation of a new Central Intelligence Agency mission to oversee intelligence operations in Venezuela and Cuba at the strategic level. J. Patrick Maher, a 32-year CIA veteran with supervisory experience in Colombia and the Caribbean, was named as acting mission manager.
According to Negroponte, "Policymakers have increasingly focused on the challenges that Cuba and Venezuela pose to American foreign policy." He noted Washington's concern about the close ties between the two countries and failure on Venezuela's part to cooperate with Washington's "anti-terrorist campaign."
The change comes in the wake of Raul Castro's temporary accession to the presidency of Cuba on July 31 and coincides with preparations in Venezuela for presidential elections set for Dec. 3.
As a measure of the seriousness with which the U.S. government regards Cuba and Venezuela, the new post is one of only six agencies operating at the strategic level within the intelligence bureaucracy. One of them covers Iran and North Korea — the only other countries with a mission manager — and four others deal with counter-proliferation, counterterrorism, counterintelligence, and weapons of mass destruction.
Negroponte gave Maher responsibility "for ensuring that policymakers have a full range of timely and accurate intelligence on which to base their decisions." That objective, analysts suggest, portends a buildup of agents and field officers in both countries.
Stepped-up U.S. intelligence attention to Cuba comes five weeks after the Bush administration released an update of its plans for returning Cuba to capitalism. Fidel Castro's departure from power was supposed to have signaled the time for implementation to begin, facilitated by $80 million set-aside for Cuban government opponents. That clock, of course, has started.
Intelligence operations in Venezuela are intensifying just as new indications of massive U.S. spending to get rid of President Hugo Chavez are in the limelight. According to an Associated Press report on Aug. 26, the U.S. Agency for International Development since 2002 has distributed $26 million via 220 grants to Venezuelan recipients under a "Venezuela Confidence Building Initiative." The data emerged from a survey of 132 contracts detailed on 1,600 pages made accessible under the Freedom of Information Act.
Within USAID, an "Office of Transition Initiatives" sees to spending in Venezuela and other "priority countries" such as Iraq, Afghanistan, Bolivia and Haiti. Reportedly, OTI funding is free of stipulations applied to other USAID grants, and funds are available on short notice because they originate from "disaster assistance" appropriations.
As a parallel program poised to complement U.S. intelligence activities in Venezuela, the National Endowment for Democracy has distributed some $2.9 million over a four-year period for technical training in organizing of political parties and for voter education.
If other Latin American experience holds true, U.S. undercover work will try to influence the media in Venezuela, a fertile field inasmuch as opposition newspapers and television stations there are far from silent.
On Aug. 25, for example, a few newspapers throughout Latin America, among them La Nacion of Buenos Aires, carried an article by Simon Romero of Caracas claiming that Venezuela has collaborated with Iran in a uranium enrichment program.
Journalists working with that paper and others told the Association of Media Professionals in Argentina that the CIA had fostered that line. They alleged that U.S. "diplomats" had offered them bribes to present the U.S. side in stories covering Venezuela's admission into the Mercosur trade group and Brazilian President Lula da Silva's bid for re-election in October.
The exposé by Victor Ego Ducrotto, appearing on the Rebelion web site on Aug. 25, claimed that CIA personnel worked "elbow to elbow" with the representatives of the right-wing Inter American Press Society, based in Miami.