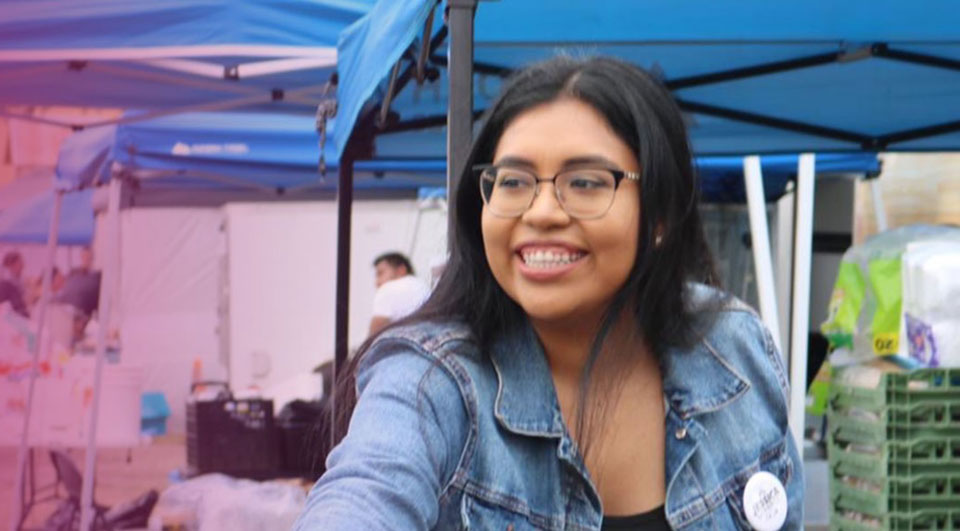 LAREDO—For progressives in Texas and some nationwide, the March 1 primary between pro-worker immigration lawyer Jessica Cisneros and incumbent Democratic Rep. Henry Cuéllar tops the list of electoral contests in the Lone Star State.
And this time, Cisneros, 28, who narrowly lost to Cuéllar two years ago—and who is again being outspent—is more confident of winning, due to her troops on the ground and Cuéllar's reputation as former GOP Oval Office occupant Donald Trump's favorite Democrat. Scorecards show Cuéllar backed Trump 70% of the time over four years.
It also doesn't hurt that in January, for so-far unspecified reasons, FBI agents carted off records and computers from Cuéllar's campaign and congressional offices.
"Our seat is very blue and deserves a member of Congress who represents the district—and not a pro-corporate one," Cisneros, a Laredo resident, told the Progressive Change Campaign Committee on February 3.
The primary between the two is not the sole one energizing progressive forces in Texas.
The PCCC also backs incumbent Rep. Veronica Escobar of El Paso. The state AFL-CIO endorsed both Cisneros and former Rep. Beto O'Rourke, who has a more moderate record and is bidding to unseat Trumpite GOP Gov. Greg Abbott.
O'Rourke, who, when he represented El Paso, sometimes sided with Big Oil. So does Cuéllar. Cisneros refuses corporate campaign contributions and backs the Green New Deal. PCCC is silent, so far, about O'Rourke.
Though the Texas primary will occur on March 1, with mail-in voting beginning a week before, the Cisneros-Cuéllar race could extend beyond that. A third candidate, former community organizer Tannya Benavides, could deny either of the others a majority, forcing a May 24 runoff between the top two finishers.
The Cuéllar-Cisneros race takes place against a backdrop of nationwide pundits proclaiming U.S. House Democrats will lose their narrow majority there—which, given the leanings of pundits, may be a self-fulfilling prophecy designed to depress progressive turnout.
Aimed at communities of color
It also takes place against a Texas background, common in other deep-red states, of voter disenfranchisement and repression, aimed at communities of color.
That includes a new congressional district map shortchanging Spanish-speakers, the dominant group in the deep-blue San Antonio-to-Laredo district. Latino population growth in Texas was so huge in the last decade the state gained two U.S. House seats.
The GOP-gerrymandered legislature responded by awarding Spanish-speakers neither of them while throwing voters of color—Black, Latinx, Indigenous, and others—together into other districts, all with the objective of maximizing White right-wing GOP districts. The U.S. Justice Department is suing in federal court to overturn the map, arguing it violates the Voting Rights Act through deliberate discrimination against voters of color.
None of that fazes Cisneros, who drew 48.2% of the primary vote against Cuéllar in 2020. She lost only after Democratic heavyweights, including House Speaker Nancy Pelosi and Majority Leader Steny Hoyer, came into the district to bail him out.
So far, according to Ballotpedia, only Hoyer has endorsed Cuéllar. Progressive heavyweights, including Sens. Bernie Sanders, Ind-Vt., and Elizabeth Warren, D-Mass., and Rep. Alexandria Ocasio-Cortez, D-N.Y., back Cisneros. So does the district's largest newspaper, the San Antonio Express-News, which supported Cuéllar two years ago.
Ocasio-Cortez, leader of the House progressives' "Squad" headlined a Feb. 13 rally in Austin for progressives statewide, including Cisneros. Her appearance set off a Twitter tirade from Cuéllar, with a reply from her, highlighting Cisneros' pro-choice stand—and Cuéllar's stance against it.
"The voters will decide this election, not far-left celebrities who stand for defunding the police, open borders, eliminating oil and gas jobs, and raising taxes on hard-working Texans," his campaign office said.
"Well, since he decided to bring me into this…Did you know Cuéllar is an anti-choice Dem in a state where women & LGBTQ+ rights are under attack?" Ocasio-Cortez retorted in a tweet. "This district has only gotten bluer, too. It's 2022. We really don't have to settle for rock-bottom. Vote @JCisnerosTX."
Cisneros also hits Cuéllar as a career politician who won his first elected office "before I was born."  His first term in the Texas House was in 1987, where he served for 14 years. He's in his ninth two-year term in Congress and emphasizes bipartisanship, he says.
"It's time our community had a voice in Congress who will put working families first!" responds Texas AFL-CIO President Rick Levy (AFT) in a quote from 2020's endorsement that remains atop the state fed's website and its endorsement of Cisneros.
"That's why, unlike her opponent, Jessica Cisneros supports raising wages and better working conditions for all workers, and why she rejects corporate PAC contributions. Working families will never have to wonder if Jessica Cisneros will side with us because she is one of us. We need Jessica Cisneros in Congress!"
"We convinced people to envision the impossible," and plan to do so again, Cisneros told the progressive group. That includes voting for a candidate—her–who would campaign for real change in U.S. policies, including Medicare For All and the Protect The Right To Organize Act, labor's #1 legislative priority in Congress.
Forced big changes
The coronavirus pandemic, which forced big changes in how Cisneros and her volunteers campaign, also exposed the need to redo the U.S. health care system, she said. "We don't even have average medical infrastructure" in Laredo, which is heavily Spanish-speaking, "to deal with Covid," she said, using the virus's official name.
"We have a handful of doctors in a city of 300,000."
Her progressive stands even extend to advocating the Green New Deal and thus taking on Texas's dominant industry: The oil companies.
Cisneros emphasizes converting the U.S. economy to lesser dependence on carbon-generating fuels such as oil and gas. Contrary to stereotypes, she told the thousands of PCCC members gathered for that February Zoom session, that appeals to Texans.
That's because area families frequently suffer from the pollution the oil and gas plants cause. "It's been really fun talking about this" on the campaign trail, Cisneros said. "That's because people recognize climate change is real, and ask 'Why not address it?'"
Cisneros is also not afraid to tackle another hot-button issue in Texas: Immigration reform. It's her field. As an immigration attorney, she's spent her career defending people caught up in the tangle of rules, regulations, and Trumpite anti-immigrant policies that ensnare people who want to enter the U.S.
The daughter of immigrants, Cisneros said comprehensive immigration reform "is not just about legislation" in Congress but about tackling conditions in the field. "It's about working with Mexico" and advocating for and helping "thousands of these migrant families stuck on the Mexican side" of the southern border.
But Cisneros faces one more big hurdle: Voter repression. The GOP-dominated state legislature, with Abbott's goading, approved a comprehensive voter bill designed to suppress turnout by people of color even more than Texas tried to do in 2020.
Cisneros's answer: Shoe leather and phone banking.
"Our strategy changed because of the pandemic," she explained. "We've trained a lot of volunteers to do phone banking," she told PCCC, appealing for more of its members from around the U.S. to join. "This time, it's the #1 way to reach voters.
"We'll knock on doors, too, but only after we train people to stay far away" from voters they contact, to prevent even the risk of transmitting the virus.
She's also looking at the bigger picture. For years, Texas Democrats and outside demographers have predicted the state would again become competitive, due to the growth in its Texas-born Spanish-speaking population—the children of the migrants. It hasn't happened, yet. The GOP, through its repression, is determined it won't.
"If we ever want to flip Texas, the key is South Texas, because we have a lot of counties that are adding a lot of people," Cisneros says.