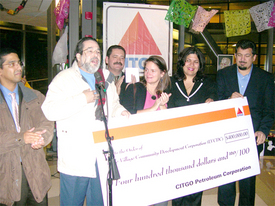 CHICAGO — Citgo Petroleum Corp., the U.S.-based subsidiary of Venezuela's publicly owned oil company, announced Nov. 2 it was giving $400,000 to help kick-start a new health clinic at Little Village Lawndale High School on the city's southwest side.
Citgo President Felix Rodriguez made the announcement during a Mexican Day of the Dead celebration at the school, an event filled with food, music and poetry, attended by teachers, parents and students. The school is 70 percent Latino and 30 percent African American.
"Citgo has a social responsibility, like all companies should," Rodriguez said, "and we want to help youth and students and give to those who do not have." Citgo wants to help the people of Chicago, he told the crowd, saying, "This is very important for Venezuela, to develop relationships with the people. Our employees need to be involved in the community."
Rodriguez told the World that Venezuela is working on organizing people-to-people exchanges between the two countries. He pointed out that "a lot of people don't know that Citgo is a Venezuelan-owned company." Citgo's parent company is the state-owned Petroleos de Venezuela (PDVSA).
The event was organized by the Little Village Community Development Corp. In a press release, the group said, "The school-based health center will make it easier for students to receive the type of health education, awareness and services they need to lead healthy lives and do well in school."
Jesus Garcia, the group's executive director, related the history of the collaboration, saying he set up meetings with Citgo representatives, gave them a tour of the neighborhood and showed them a list of projects in the planning.
"They asked 'how can we invest?' and liked the clinic idea," and were interested in outreach to the Latino and African American communities, Garcia said. "We hit it off. They were very down to earth people, easy going, and wanted to connect with the community to make a difference. So we created a partnership with three-year installments." Garcia said he hopes this is the beginning of a long-lasting partnership.
Dr. Juliet Bradley of the Dr. Jorge Prieto Community Health Center, a partner with the project, told the gathering of the importance of the school-based clinic. "Students every day deal with migraines, asthma, seizures, eating disorders, anxiety and depression, and they need somewhere to go during school hours," she said.
One of the school's four principals, Martha Irizarry, thanked Citgo for the donation. "We are a part of a struggle," she said, "and now I see we are being supported, our dreams continue. Thank you so much. So many lives will be touched because of this."
Student Melanie Caldera, 16, said Citgo's contribution is "great for our school … because they are helping us out, and it's about time that we are being recognized as a school and a community."
Lolita Jackson, a parent from the North Lawndale neighborhood, called Citgo's partnership with the health clinic a "wonderful idea and a blessing." Jackson's daughter, a sophomore at the school and on the honor roll, is asthmatic and has frequent attacks. "She needs the clinic," said Jackson, because sometimes she "leaves her inhaler at home and ends up missing school." Noting that "education is very important, the more you have the more successful you are," Jackson said she is thankful for the clinic.
Venezuela's general consul in Chicago, Martin Sanchez, told the World that this project is an "expression of friendship and solidarity between the two people."
Sanchez said ideas are being discussed for programs in which U.S. families will host Venezuelan families for a few months to learn English and share cultures.
Last winter Citgo launched an "oil-for-the-poor" campaign with programs in New York and Massachusetts that delivered millions of gallons of heating oil at 45 percent below the market price to low-income communities in need.
"People to people connecting is very important to Venezuela and that needs to be strengthened," Sanchez said.