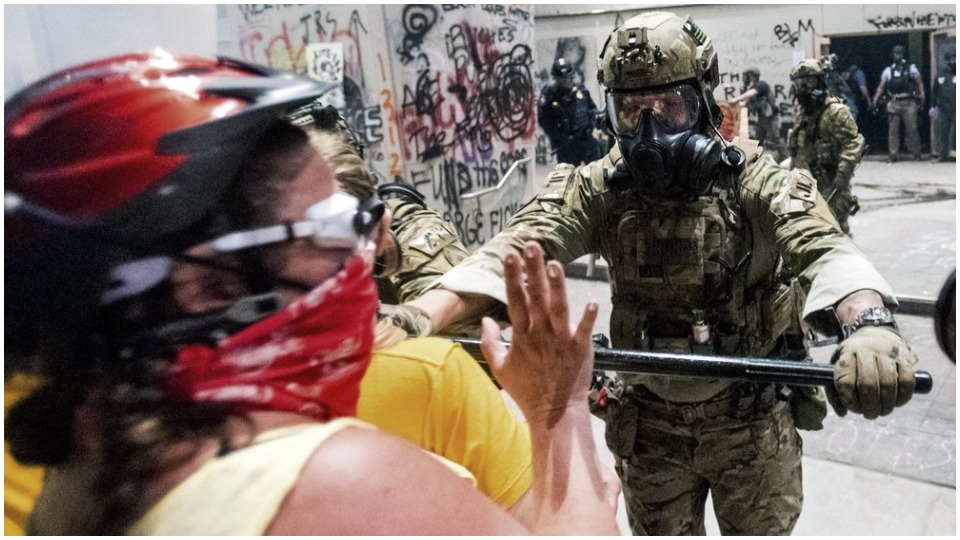 OAKLAND, Calif. – Outrage is growing throughout the country over Donald Trump's use of federal law enforcement against protesters in Portland, Oregon, and his threats to dispatch federal officers to other U.S. cities.
On July 20, Trump told reporters he might send federal "law enforcement" to cities he claimed were experiencing heightened violence, naming cities including New York, Chicago, and Oakland – calling the latter "a mess."
On July 22, he said federal agents were being dispatched to Chicago, Kansas City, MO, and Albuquerque.
Following Monday's announcement, four California mayors – Oakland's Libby Schaaf, Los Angeles' Eric Garcetti, Sacramento's Darrell Steinberg and San Jose's Sam Liccardo – joined the mayors of Portland and 10 other U.S. cities in sending a powerful protest to U.S. Attorney General William Barr and Acting Homeland Security Secretary Chad Wolf.
The July 20 letter, also signed by the mayors of Seattle, Atlanta, Chicago, Washington DC, Boston, Philadelphia, Denver, Tucson,  Phoenix and Kansas City, MO, called such deployments "unprecedented" and said they violate "fundamental constitutional protections and tenets of federalism … This abuse of power cannot continue."
The mayors declared, "Deployment of federal forces in the streets of our communities has not been requested nor is it acceptable … We urge you to take immediate action to withdraw your forces and agree to no further unilateral deployments in our cities."
Lawmakers and elected officials in the Bay Area also reacted quickly.
U.S. Representative Barbara Lee, D-Oakland, tweeted, "We cannot allow the Trump admin to continue its attacks on our cities." Calling it "no coincidence" that the targeted cities are "run by Democrats" and "have large Black and Brown populations," Lee said, "Get out of Portland. Stay out of Oakland. We will keep fighting this."
Mayor Schaaf said in a statement, "Oakland needs COVID relief – not troops – from our President. He should stop slandering diverse, progressive cities like Oakland in his racist dog whistles and divisive campaign tactics. We are not experiencing any civil unrest right now," she added," but I can think of nothing more likely to incite it than the presence of Trump-ordered military troops into Oakland."
The Oakland Police Department said it will not request federal assistance to address crowd management.
California Governor Gavin Newsom was asked during a July 20 news conference if he had heard from federal officials about troops assigned to Oakland. "The answer is no," he said, and added that "we would reject" such intervention.
U.S. House of Representatives Speaker Nancy Pelosi, D-San Francisco, tweeted, "Trump & his storm troopers must be stopped."
At a Sacramento City Council meeting July 21, where the Council planned to send federal authorities a letter telling them not to send the city any federal agents, Mayor Steinberg said the president "ought to spend  his time focusing on the coronavirus and the national problem his lack of leadership has made worse, and stop intervening in the good and important work that's going on in our cities."
Mayors and many lawmakers have also been calling for Senate passage of the $3 trillion Heroes Act already passed by the House, saying that it will do a lot more to help cities than sending in secret police that are not needed. The GOP and Trump are trying to drastically reduce the help cities would receive in the House-passed plan. Instead, GOP Senate Majority Leader Mitch McConnell has talked about reducing the $600 per week unemployment lifeline to as little as $100 when the benefits expire at the end of this month.
At a July 21 news briefing, leaders of the National Lawyers Guild's San Francisco Bay Area Chapter put Trump's secret police deployments in legal, historical, and social context.
NLG Mass Demonstrations Attorney John Viola called the activity in Portland "patently illegal," adding that "using federal troops to scare people away from voicing criticism, from assembling, that's a serious violation of the freedom of speech."
Targeting cities with many Democratic elected officials and with large communities of color raises serious equal protection concerns, he said, and using federal agents who have hidden their identity to conduct operations "tantamount to kidnapping" should concern everyone. But "what people should be most attentive to is the threat to democracy itself."
Saying the NLG "is rooted in histories of opposing the kind of fascist moves Trump is making," San Francisco Bay Area Executive Director Sara Kershnar pledged the organization's commitment "to deploy every tool we have in defense of our movements and front-line communities" that are fighting back against injustices that are particularly evident with the current administration.
"On the one hand," she said, "racism and undemocratic process has been a feature of this state since its founding. On the other hand, we have won, largely through the leadership of those most impacted – and especially Black-led movements – many protections that while limited, are important."
Board member Leila Sayed-Taha, staff attorney with the Arab Resource and Organizing Center, emphasized the importance of people being involved in issues facing communities of color, including police shootings of Black and Latinx people, gentrification and housing. "Thinking about the small things, figuring out what issues are really impacting the people around you – that's making a statement to the Trump administration."
Sayed-Taha said seeing the situations the protesters encounter reminds her of the arguments she makes on behalf of immigrants seeking asylum, because the protesters are experiencing the same things her clients have faced in their countries of origin.
Civil Rights Attorney Walter Riley emphasized that at the time of the NLG press conference "we have not heard that this attack is coming to Oakland." But he pointed out that Trump has sent to Portland "the most racist, reactionary forces that he has," likening them to "storm troopers" who will treat protesters in much the same way southern opponents of the Civil Rights Movement like Bull Connor treated demonstrators 60 years ago.
"To the extent that we see what's happening in Portland and don't rise up in solidarity with the people there," Riley said, "we will face the same circumstances in Oakland, in Los Angeles and every place that Trump calls 'these liberal places.'"
But, he said, "We can come from this country built on exploitation, slavery, and genocide of Native Americans and try to build something better. Our legal work is to find the spaces to make it possible for people to make change."
Like free stuff? So do we. Here at People's World, we believe strongly in the mission of keeping the labor and democratic movements informed so they are prepared for the struggle. But we need your help. While our content is free for readers (something we are proud of) it takes money — a lot of it — to produce and cover the stories you see in our pages. Only you, our readers and supporters, can keep us going. Only you can make sure we keep the news that matters free of paywalls and advertisements. If you enjoy reading People's World and the stories we bring you, support our work by becoming a $5 monthly sustainer today.