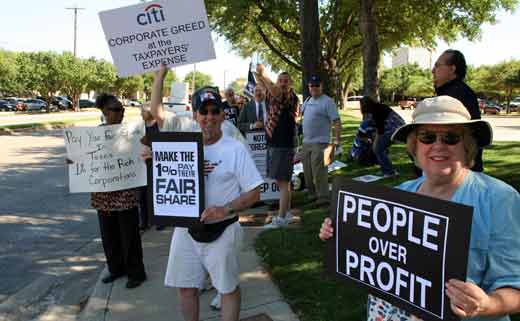 DALLAS – MoveOn members picketed a Citigroup stockholders meeting taking place at a local luxury hotel here April 17, designated Tax the 1% Day.
According to the Associated Press, Citigroup claims 4,600 branches in 40 countries. Their first quarter earnings set records: $2.9 billion.
Even though CEO Vikram Pandit says the bank is on firm footing, the federal regulators aren't so sure and won't let them hand out a big dividends to stockholders.
Pandit got an official slap in the face from the meeting inside the hotel when stockholders recorded an advisory vote against a quick $25 million dollar payday for him. He may get it anyway, as the vote was not binding.
If the 99%, as represented by protesters outside, had its way, the bank and the CEO would be facing a "fair tax."
The same day, North Texas postal workers from the American Postal Workers Union made sure that the many last-minute taxpayers received a message about saving jobs. They picketed the main post office and handed out fliers that said, "What will you do if your post office closes?"
According to the union, if Congress doesn't do something to fix the United States Postal Service's finances by May 15, the USPS plans to close 3,600 post offices, consolidate 223 mail processing centers, layoff 100,000 workers, eliminate overnight delivery of first-class mail and periodicals, change two-day delivery to three days, and end Saturday delivery.
"These closures, consolidations, layoffs and service changes will create massive disruptions for consumers, small business, our communities and our economy," the leaflet said.
They asked taxpayers to call the Capitol Switchboard at 202-224-3121, and "tell them to fix the USPS without destroying service or eliminating 100,000 jobs!"
Joining MoveOn and APWU for the Tax Day demos were Jobs with Justice, Occupy Dallas and Code Pink activists. A big contingent of United Auto Workers members was evident as a large blue UAW flag was waving for all the passersby to see.
Photo: PW/Jim Lane