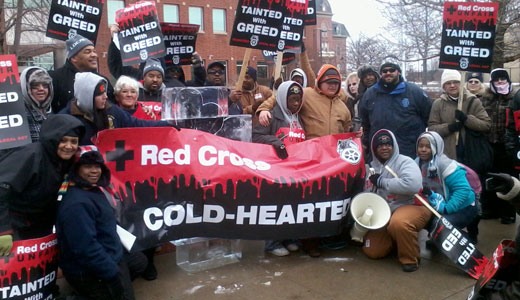 CLEVELAND – After nine months of futile negotiations, 250 workers at the Red Cross, members of Teamsters Local 507, walked off the job Feb. 14. They held a spirited noon rally at the main headquarters here and set up picket lines at sites in Parma and Youngstown as well as at blood donation locations throughout northern Ohio.
"What do we want – Contract! When do we want it – Now," the workers chanted as they milled around the front entrance carrying signs reading: "Red Cross – Tainted With Greed."
The strike was provoked by the agency's insistence on an "irresponsible" health care plan and a speed-up drive that compromises the safety of blood donors, said union Principal Officer Al Mixon.
These policies have caused strikes at 14 other locations around the country in the past year, he added.
The staff, he said, are paid by the number of pints of blood they collect and must meet unreasonable goals. They end up working through their lunch breaks and inevitably make mistakes.
"We even get disciplined for going to the bathroom," said Terry Harvilic, a blood technician.
Due to chronic problems with blood safety, Red Cross has been under a federal court consent decree since 1993.
"They have been fined $50 million by the FDA for endangering the safety of donors and the blood supply," Mixon said. "They want to make that up by imposing an inferior health care plan on our members. They want high deductibles, high co-pays and an end to vision and dental care."
"The want us to take pay cuts, but they have also given big bonuses to the higher ups," he added.
The strike forced Red Cross to cancel its Valentine's Day drive, the largest blood collection event of the year. Both the union and the agency said the cancellation would not endanger the region's blood supply because of high inventory and the fact that blood would be trucked in from outside the area.
Photo: Rick Nagin/PW