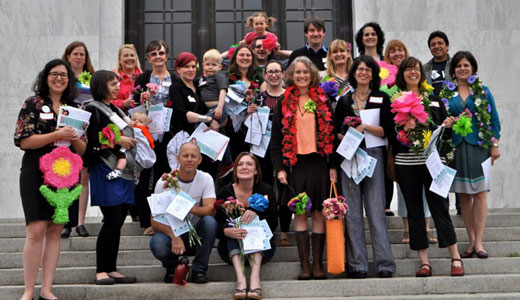 PORTLAND, Ore. (PAI) – On Jan. 1, more than a quarter of a million Portland workers gained a human right – the right to stay home when they're sick.
That's when a city ordinance passed last March took effect, guaranteeing up to 40 hours of sick leave per year for all employees who work at least 240 hours a year in Oregon's largest city. It will be paid sick leave where there are six or more employees, and unpaid where there are five or fewer.
Employers are supposed to display workplace posters explaining how the sick leave policy will work. Employees become eligible for sick leave after they've been employed 90 days. They earn an hour of sick leave for every 30 hours worked, and may use up to 40 hours a year when they or a family member are sick or have a medical appointment. Leave can be used to cover all or part of a scheduled shift.
In November, the City issued administrative rules governing how the mandated sick leave will be implemented. Some of the rules addressed concerns by building trades union leaders that the ordinance was a poor fit for the union construction sector, where workers may rotate through multiple employers over the course of a year, and where union-affiliated trusts, rather than employers themselves, administer benefits.
Under the ordinance as amended by City Council in November, building trades unions won't need to change their existing benefit structure if they have systems of paid time off, including vacation pay accounts, that may also be used as sick leave pay. The city also clarified that employers can calculate the 40-hour-a-year sick leave requirement using contract year as well as calendar and fiscal year.
Though most union members have sick leave, the policy will be a big improvement for many. Under the local multi-employer contract with United Food and Commercial Workers Local 555, grocery workers haven't been allowed to use paid sick leave until the third day of an illness. But the ordinance trumps that, and now Local 555 members working within city limits will have the right to paid leave on the first day. Local 555 was part of the coalition that pushed the council to pass the ordinance.
The ordinance might have taken effect sooner, but city council sponsors wanted to give the Oregon legislature a chance to pass a statewide sick leave law. Some business critics of Portland's sick leave ordinance said it would be a hassle to have different sets of rules for Portland and for the rest of the state. But a bill to extend sick leave to all Oregon workers didn't make it out of a state House committee in the legislative session that ended in June.
After the session ended, State Sen. Elizabeth Steiner Hayward and State Rep. Jessica Vega Pederson, both D-Portland, led an interim legislative task force to look at the issue. Backers initially hoped to reintroduce the paid sick leave bill in the legislature's upcoming 1-month session in February 2014, but concluded it wouldn't have enough support in the Oregon Senate to pass.
Andrea Paluso of the group Family Forward Oregon said legislators also felt the 1-month session was too short to enact a policy that would be controversial with employers. Paluso led the labor-business coalition that campaigned for the Portland city ordinance.
"It's not a session designed for public input," Paluso said. "Moving forward in 2015 would allow for a better process, and also allow Portland to work through implementation." Family Forward Oregon's political arm, Mother PAC, will press legislative office-seekers in 2014 to commit to a statewide sick leave law.
The city is engaged a modest public awareness campaign about the sick leave ordinance. It sent out brochures to all 45,000 businesses that have a city business license, and it's conducting free training for employers on how to administer the law.
City officials announced that in the first few months, it will go easy on employers who violate the law unknowingly: They'll have to make employees whole for violations, but they won't be assessed additional civil penalties or fines for first-time violations.
Enforcement will be driven by employee complaints, however. Paluso said she encourages union members to spread the word to their coworkers, friends, and relatives: Workers need to know their rights, and then use sick leave when they need it, she added.
Don McIntosh is Associate Editor of The Northwest Labor Press.
Photo: Family Forward Oregon Facebook page.