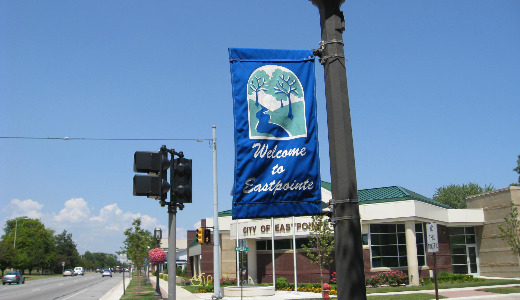 EASTPOINTE, Mich. – We may be living in the 21st century and have an African American president, but racism still survives. It leads to intimidation and violence. Last week, African American families living in Eastpointe, on the border of Detroit, saw it firsthand.
Black residents living on Sprenger Street received letters threatening death if they did not leave the city.
When police arrived in response to an initial call about one of the letters, other residents on the street, 17 in all, approached them with similar letters.
Adding to people's alarm is that two days later a suspected arson took place on the street in a home occupied by an African American. No one was home at the time. Police said they found no direct link between the letters and the fire, but noted the suspicious timing.
What is different from an earlier period is that people of goodwill are not allowing these threats to go unanswered.
In a phone interview, Eastpointe Mayor Suzanne Pixley said, "We work really hard to make everybody feel very well-accepted in our city." She called the hate-fueled letters "horrible" and said the city was alarmed that anyone would dare to send a letter like that.
Eastpointe is a diverse community with 23 different languages spoken. About a quarter of the town's population is African American. President Obama won over 70 percent of the vote in the 2008 presidential election.
The mayor said, "Police and our police department chaplain went up and down Sprenger and reassured every single one of the residents that police are watching it very closely, that they are on top of it, and that they were going to find the person that did this." She said the city, community leaders and churches are participating in a number of activities to support the Sprenger Street residents and to reinforce the sense of community.
One such activity took place last Sunday. Members of the Immanuel United Methodist Church went door-to-door to deliver homemade cookies, cakes and pies to homes on Sprenger Street to show the residents they are welcome in Eastpointe.
On Tuesday this week, Mayor Pixley said, a meeting of Police and Community for Equality (PACE) discussed the incident. PACE was formed 11 years ago and Pixley says the group is "where city, police and community leaders from the churches and schools sit down on a monthly basis to discuss issues and have events that show more of a unified approach to community problems." The threatening hate mail was the main point on the agenda.
One idea discussed at the meeting was to hold a large picnic in a town park. The mayor said it would be patterned after the recent multi-church-sponsored "Praise in the Park" event that brought 2,000 people, a cross section of the community, together. Now, she said, they are thinking it would be good to "do something like that, without a church service, just to get people to sit down and eat and talk to one another."
Next week a local homeowners association has invited the police to come and discuss the hate letters.
Individuals are also spontaneously responding to the incident. A United Auto Worker union member in a nearby community sent an e-mail blast asking people to express their support for people in the neighborhood by e-mailing state and local elected officials (he included all of their e-mail addresses) "demanding they make sure the letter writer(s) is caught and prosecuted to the fullest extent of the law."
Pixley said the city has spent time developing an appreciation of diversity. "It has been taught both in the schools and in the community, the city employees and so forth; a lot of work has been done with diversity issues."
She also said Eastpointe, like many towns in Southeast Michigan, is being hit very hard by the economic crisis, from joblessness to foreclosures. The city is developing a range of programs including counseling and creation of a resource book to help its residents. "How can we work together," is how Pixley sees the town's responsibility to its residents.
The Michigan State Police, Eastpointe police, the FBI and the U.S. Postal Service are all working on the case. The mayor said law enforcement agencies made an announcement on Monday that they had "some suspicions and were working with it."
Photo: PW/April Smith