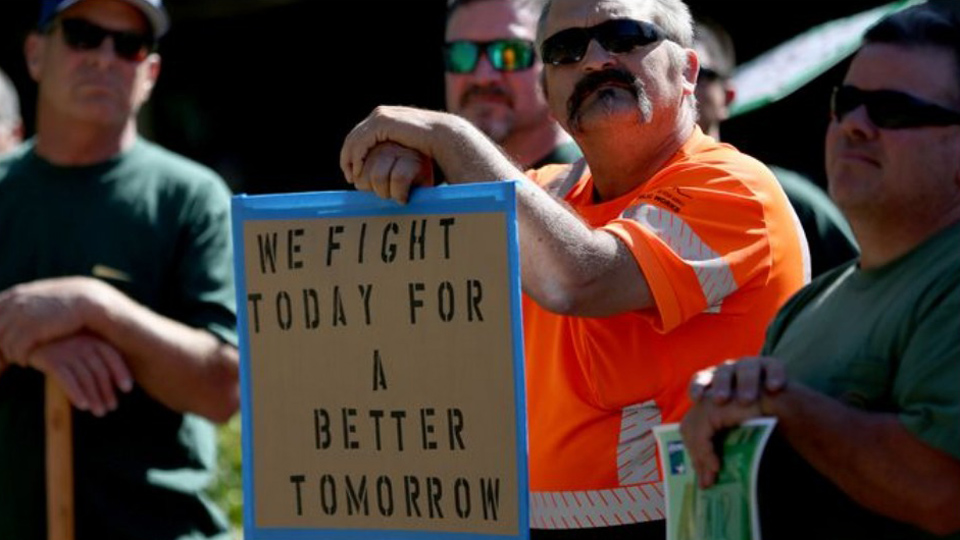 SALEM, Ore.—City workers here represented by AFSCME Local 2067 are attempting to reach a new collective bargaining agreement as the Supreme Court's anti-union Janus decision barring fair share dues deductions and a tough contract negotiating climate take hold. The local represents about 600 workers. Their contract expired at the end of June.
At a union rally on July 19, several hundred union members and their supporters gathered for a bargaining update from the local's negotiating committee and to make some collective decisions about negotiations. This was the first rally since negotiations opened and the first major union action in Salem since the Janus decision came down. Salem is the state capital and the Marion County seat as well. Public workers make up the largest single occupational category and drive much of the local economy. Healthcare workers, retail sales workers, and agricultural workers make up much of the rest of the area's working class.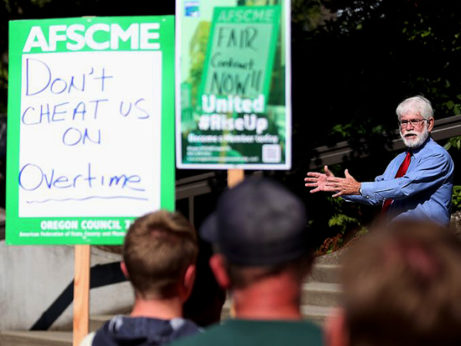 Rank-and-file union members led the rally with union staff. Union members led a spirited march around the central city park during rush hour. One of the lead chants was "Hey, hey! Look around! Salem is a union town!" Salem Mayor Chuck Bennett and State Rep. Paul Evans were among the special guests invited to address the rally.
Bennett has been excluded from contract negotiations, but recently weighed in to stop the decertification of a union-represented worksite. He is no stranger to unions, having been a newspaper reporter and a State Hospital worker in the past. The mayor credited unions with having done much to improve the lives of working people locally and urged AFSCME members to encourage all of their co-workers to join Local 2067. He also highlighted the great work AFSCME members have done this summer as Salem has experienced an on-going water crisis.
Evans spoke not only in his capacity as a state representative but also as a member of the Oregon Education Association and past member of two blue-collar unions. He focused on expressing full solidarity with Local 2067 and urged labor unity.
Also attending the rally was Deb Patterson, one of the region's leading progressive voices and a candidate for State Senate District 10. Patterson came wearing an SEIU Local 503 t-shirt in a show of unity.
Members of the Communist Party, Democratic Socialists of America, and Salem's Racial Justice Organizing Committee (RJOC) attended, as did some Oregon AFL-CIO staff. Besides supporting AFSCME members in Salem and other union efforts, the Oregon AFL-CIO is joining with Causa Oregon to defeat Measure 105. The proposal is a racist, anti-immigrant, and anti-labor ballot measure which, if passed in November, will roll back Oregon's key protections for immigrant workers and give a green light to racial profiling. DSA, RJOC, and Oregon Causa are partnering in Salem to move the fight against Measure 105 forward.
The Salem rally drew from the predominantly blue-collar city departments, and participation from women and workers of color was particularly strong.
According to Local 2067 President Matthew Starbuck, "Everyone I work with is frustrated at how slow this [negotiation] process is going. The city filled its proposals with takebacks that are completely out of line with where we are in this day and age and here in Oregon's capital city."
Salem IT employee Kathy Knock said, "Many of the city's proposals have been divisive and ridiculous. Making proposals that move the city backward is unfair for us and won't help Salem attract the employees it needs for the future. And when the union makes proposals, the city's chief negotiator often just says that the city is 'just not interested.'"
Knock's points are well taken. The city's Human Resources department has been caught skirting the law on several occasions and the number of grievances being filed over simple issues like timesheets has been extraordinary. At stake in negotiations are dozens of management takebacks from current standards on pay, rights, and benefits. The city is seeking to change to how overtime is calculated and paid, the dental insurance plan, union members' ability to file class action grievances, and how comp time banks work. They are also seeking to block improvements for part-time exempt employees.
The city and union are far apart on wages. The two sides met all day on July 18, but the city did not make a wage proposal. Overtime and on-call pay issues have been a thorn in the side of Oregon public worker unions for many years. AFSCME-represented professional workers at the Oregon State Hospital recently won a victory on on-call pay, and an AFSCME member-leader from the State Hospital spoke at the rally and promised solidarity with Local 2067.
The negotiations in Salem come in the midst of a flurry of labor activism in Oregon. The state's AFSCME affiliate recently won a contract at Volunteers of America after a hard and dramatic fight. The union struck at Lane County last year and stayed out for over a week. Faculty at Oregon State University won a union election in June of this year. Doctors employed at PeaceHealth Sacred Heart in Springfield are fighting against the hospital's attempts to contract out work and break their union.
A National Labor Relations Board (NLRB) decision issued in May of this year certified the Machinists union as representing a group of 100 highly skilled welders employed at Precision Castparts in the Portland area. This is a "non-majority" union, and the NLRB decision will impact workers across the United States. The Burgerville Workers Union, affiliated with the Industrial Workers of the World (IWW), was certified as the first formally recognized fast food union in the United States last April. Contract negotiations, union organizing, and a strike have made great progress at some of the fast food chain's locations.
At the end of the Salem rally, union members voted unanimously to back their negotiating team, reject management's wage proposals, and to not agree to a tentative agreement until certain union goals have been met.
Like free stuff? So do we. Here at People's World, we believe strongly in the mission of keeping the labor and democratic movements informed so they are prepared for the struggle. But we need your help. While our content is free for readers (something we are proud of) it takes money — a lot of it — to produce and cover the stories you see in our pages. Only you, our readers and supporters, can keep us going. Only you can make sure we keep the news that matters free of paywalls and advertisements. If you enjoy reading People's World and the stories we bring you, support our work by becoming a $5 monthly sustainer today.