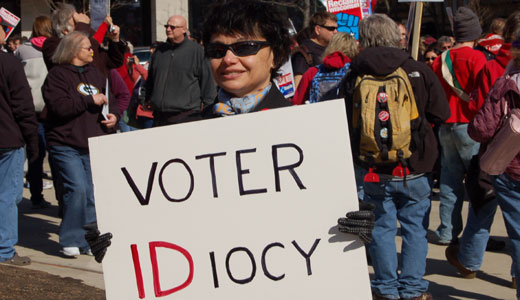 An online petition campaign-gone-viral this week has triggered an exodus by giant corporations out of ALEC, the right-wing legislative group behind hundreds of voter suppression, anti-union and "stand your ground" laws across the country.
Within hours after the launch of a petition campaign yesterday by the progressive advocacy group Color of Change, Coca Cola and Kraft Foods announced they were pulling support from the American Legislative Exchange Council, the right wing group that has pushed successful voter restriction bills in more than 26 states. After only a few hours online the petition drew close to a quarter of a million signatures.
Trying to distance themselves from the extreme right wing legislation, Coca Cola said, in a statement, "Our involvement with ALEC was focused on efforts to oppose discriminatory food and beverage taxes, not on issues that have no direct bearing on our business." The soft drink giant's decision to pull out of ALEC came only five hours after Color of Change announced its petition, which read:
"ALEC has pushed voter ID laws which disenfranchise large numbers of Black voters. Along with the NRA (National Rifle Association), ALEC also pushed a bill based on Florida's 'shoot first' law – which has shielded Trayvon Martin's killer from justice – into two dozen states across the country."
The statement by Coca Cola said nothing, however, about the company having backed the anti-union measures pushed by ALEC, or, of course, the targeting by anti-union death squads of workers at its plants in Colombia.
On the heels of the abandonment of ALEC by Coca Cola, Kraft Foods also withdrew from the group. Pepsico had withdrawn a few weeks earlier.
Applauding Kraft's decision to bail, Color of Change Executive Director Rashad Robinson said, "Kraft's announcement is proof that as more corporations come to understand what they are supporting through membership in the American Legislative Exchange Council, they don't want to be associated. We continue to call on all major corporations to stop supporting voter suppression through ALEC and our members are prepared to hold accountable companies that continue to participate in ALEC."
Robinson said that Trayvon Martin's death, and the law that prevented his killer from being arrested, "is another example of how ALEC's agenda is dangerous for people of color. The National Rifle Association and ALEC exported Florida's stand your ground' law to more than 20 states across the country, jeopardizing the safety of Americans nationwide."
Fox News, as could be expected, was one of the first outfits to come out and defend ALEC.
Fox News anchor Megyn Kelly provided ALEC with a forum, essentially, to paint itself as a harmless non-partisan lobbying group. Kelly failed, in her interview with ALEC communications director Kaityln Buss, to avoid asking anything about funding ALEC receives from the notorious Koch brothers, anything about why the group pushes for voter ID laws even in the absence of any evidence of voter fraud and anything about why the group is pushing the 'shoot first' gun laws.
On MSNBC, Ed Schultz said corporations are learning first hand from this that "they cannot expect to profit from the hard- earned money of African Americans on the one hand and undermine the rights of those same people with their other hand."
Photo: Wisconsin voter protests ALEC-inspired voter ID law passed in that state. Blake Deppe/PW