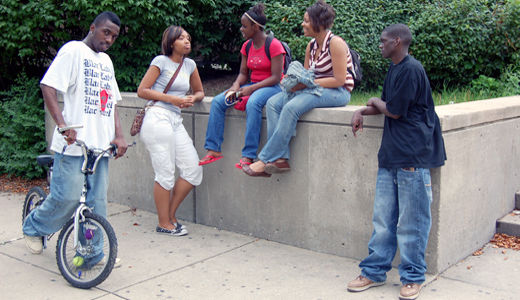 The Department of Education's Office for Civil Rights has received a record-breaking number of complaints this year arguing the civil rights of students are being violated.
Nearly 7,000 civil rights complaints were filed this fiscal year marking an 11 percent increase from the previous year, the largest jump in at least 10 years.
"These are all cases that have to be resolved and systemic policy solutions put in place if we are going to protect every child's rights for an opportunity to learn," said John Jackson, president of the Schott Foundation for Public Education to the Associated Press.
The complaints vary from racial disparities in discipline having to do with strict zero-tolerance policies and suspension, to inadequate education for English language learners and unequal treatment of students with disabilities.
As an example, the Christina School District in Delaware is said to have suspended more than three times as many Black male students as their white male counterparts.
In the same district a third-grader whose grandmother sent her to school with a birthday cake and a knife to cut it was expelled due to zero-tolerance.
English-language learners in Los Angeles said they were segregated in separate classes for years, while they fell further and further behind their peers.
In Alabama, 10 districts were accused of discriminating against students with disabilities by assigning them transportation schedules that shortened their school days.
In May, Secretary of Education Arne Duncan announced he was reviving the department's Office of Civil Rights to begin investigating violations in schools nationwide. He said the investigations would focus on the higher rates of discipline of students of color, and racial disparities in college-prep courses in certain high schools.
Currently the DOE is conducting 54 compliance reviews of school districts and higher education institutions. The investigations are intended to figure out whether districts have policies that protect students and whether they are being implemented and enforced. Those that are found to be breaking the law could lose federal funding if they don't comply.
"The Department of Education's commitment to enforcing long-neglected civil rights laws is obviously resonating with students and their families and tapping into a deep well of pent-up demand for quality education," said Wade Henderson, president and CEO of the Leadership Conference in a statement. "Education is a civil and human right for all children. But 50 years after Brown v. Board of Education, more than 40 percent of African American and Latino students still don't graduate from high school on time and approximately 2,000 schools are responsible for about 75 percent of minority drop outs."
Civil rights groups say disparities in educational opportunities having to do with the dropout rate among minority youth, and the school-to-prison pipeline are major concerns.
Critics note zero-tolerance policies are ineffective and are partly to blame for the growing disparity between white and black discipline rates.
"By following through on their pledge to make civil rights enforcement a top priority, Secretary Duncan and Assistant Secretary Russlynn Ali are helping to bring to light many of the problems that undermine our educational system and deny our children the future they deserve," added Henderson.
Others note the investigations are a good start but holding school districts accountable could be more challenging. The DOE has said that it will consider turning to the Department of Justice and taking legal action against districts that are breaking the law. Earlier this year, the DOE ordered a Mississippi school district to stop allowing its students to segregate its high schools.
Photo: Students talk after class at their south side Chicago high school. Pepe Lozano/PW