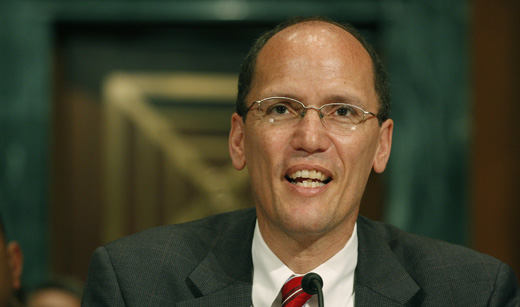 According to Thomas E. Perez, 48, assistant attorney general for the Civil Rights Division of the U.S. Department of Justice, enforcement of employment, disability rights and other anti-discrimination laws have been stepped up.
Justice Department officials say the division has filed 29 cases in the first 17 months under President Barack Obama, mostly having to do with employment discrimination.
Only one case was filed during the same period under the previous Bush administration.
Between 2003 and 2007 nearly 70 percent of the lawyers had left the division during allegations that the George W. Bush administration was politicizing hiring.
Critics say the division's former head refused to hire lawyers he labeled "commies" and even had one transferred for writing in "ebonics."
Civil rights groups nationwide said the department had lost its historic civil rights focus.
But all that is changing say justice department officials.
"We had to do some healing," said Perez to the Washington Post. Perez is a former Maryland official and deputy assistant attorney under both Democratic and Republican presidents.
"We had to restore the partnership between the career staff and the political leadership," added Perez. "And frankly, certain civil rights laws were not being enforced."
The Civil Rights division was created in 1957 to assist Freedom Riders and students seeking to integrate public schools.
Today hate crimes and police misconduct has become a renewed focus for the division.
Several section chiefs from the Bush era have left and officials say more than 30 people have been or are about to be hired as part of an 18 percent budget increase this year, the largest in the division's history. Some 102 new people are expected to be hired.
Recently the division has taken a leading role in preparing for a possible lawsuit by the Obama administration against Arizona over the state's new controversial and anti-immigrant law.
"I think we have positioned the division to carry out its traditional mission of enforcement and be nimble enough to respond to emerging challenges," said Perez.
For example Perez notes a $6.1 million settlement with AIG subsidiaries to resolve allegations of discrimination against African American borrowers and the creation of a fair-lending unit in response to the economic crisis. The unit has 49 active investigations.
Attorney General Eric H. Holder Jr. has said a heightened focus on civil rights enforcement is a top priority for the justice department.
During his January State of the Union address President Obama vowed that on his watch the Civil Rights Division would prosecute civil rights violations and employment discrimination.
Among recent cases, the division won the largest-ever settlement of rental-discrimination claims under the Fair Housing Act: 2.7 million from the owners of Los Angeles apartment buildings for discriminating against African Americans and Latinos.
Prosecutors are also investigating growing threats to civil rights groups on the Internet as well as other emerging areas where enforcement is required.
Perez notes restoring relationships with historic civil rights groups are part of revamping the division's mission.
John Payton, president of the NAACP Legal Defense Fund, said his group's relations with the division have improved.
"When we call them, they listen," Payton told the Washington Post. "I think they're on track and on mission. It's just too early to tell what will happen."
The Senate Judiciary committee held a hearing for Thomas Perez nominated to the post of Assistant Attorney General in the Civil Rights Division on Capitol Hill in Washington, April 29, 2009.(AP Photo/Harry Hamburg)