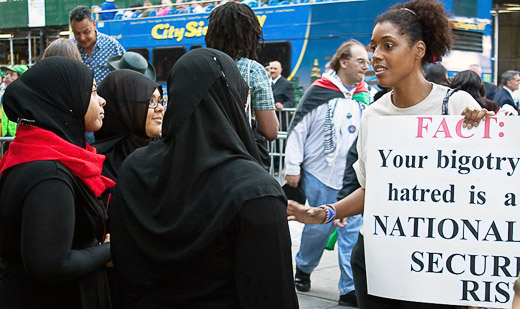 A new campaign is being undertaken to stop the spread of racism on the airways with the announcement by colorofchange.org of a petition drive to convince MSNBC to fire commentator Pat Buchanan.
Buchanan has written a new book that predicts among other things the '"end of white America."
In a letter promoting the effort, Gabriel Rey-Goodlatte says, the one-time GOP campaigner for president "has passed off white supremacist ideology as legitimate mainstream political commentary. And MSNBC continues to pay him and give him a platform on national TV to do it."
Colorofchange.org along with many other civil rights groups successfully led a drive to curtail advertisers from supporting Glenn Beck's now cancelled show on Fox News.
Mediamatters,org who is supporting the campaign with its own letter says, "Pat Buchanan's bigotry has been on full display these past weeks as he appears across the media promoting his latest book about the harms he thinks America will suffer as it becomes more racially diverse. Buchanan's recent inappropriate remarks are nothing new for him – they are part of his long history of bigotry."
They go on to note that the Anti-Defamation League labeled Buchanan an "unrepentant bigot."
Buchanan recently appeared on a radio show that represents itself as "pro-white and against political centralization."
His new book, Suicide of a Superpower is, according to Talking Points Memo, replete with racist and "crazy ideas." Among them are the coming "death" of the people of European decent. Buchanan says, "When the faith dies, the culture dies, the civilization dies, the people die. That is the progression. And as the faith that gave birth to the West is dying in the West, peoples of European descent from the steppes of Russia to the coast of California have begun to die out, as the Third World treks north to claim the estate."
Buchanan in the past has defended Hitler and said that both sides were right in the Civil War.
The petition can be signed here.
Photo: Victor Nagornny // CC 2.0