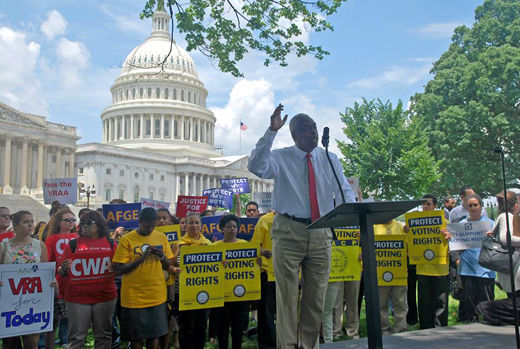 WASHINGTON – Wade Henderson, president and CEO of The Leadership Conference on Civil and Human Rights, issued the following statement in response to remarks made today by House Judiciary Chairman Bob Goodlatte calling a restoration of the Voting Rights Act not "necessary."
"Chairman Goodlatte has paid no attention to the rampant voting discrimination still happening throughout the country, most recently seen in the 2014 midterm elections. If he were 'listening,' as he claims, the chairman would recognize the clear need to restore the Voting Rights Act to ensure that all voters are allowed to cast a ballot. In the immediate aftermath of the Supreme Court decision to gut the Voting Right Act, states and localities rushed to enact regressive and discriminatory voting laws. In Texas alone, a federal judge found that the state's voter ID law is tantamount to a poll tax that discriminates against more than 600,000 qualified Texas voters.
The now-weakened Voting Rights Act lacks the ability to protect voters from discrimination before they are denied the right to vote. The remedies that the chairman says still exist are costly and time consuming to pursue through the courts and decisions in these cases often come long after voters have been excluded from elections that they had every right to participate in.
As Roll Call noted, working to restore the VRA should be a priority of the House Republican leadership. We strongly encourage the chairman to listen to the American people and the voices of other Republicans like former Judiciary Chairman James Sensenbrenner, who strongly believe that we as a nation need to restore the Voting Rights Act."
Photo: Wade Henderson speaks at a Rally for Voting Rights, June 26, 2014. The Leadership Conference on Civil and Human Rights's Facebook.