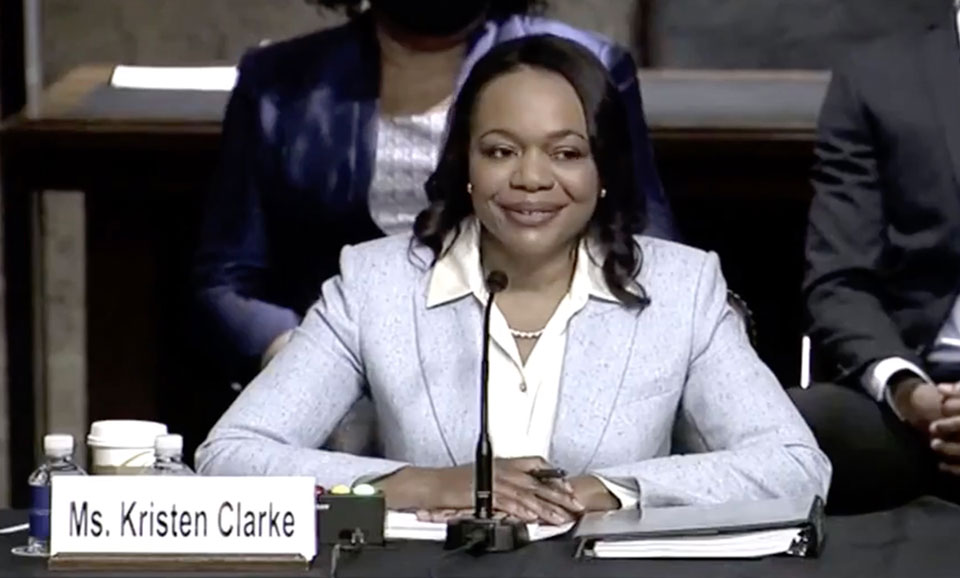 WASHINGTON – Civil rights issues hit Capitol Hill in a big way on April 14. As might be expected, congressional Republicans were on the wrong side of all of them.
One House panel approved statehood for D.C. Another considered statehood for Puerto Rico. A third voted late at night for a bill to study reparations for exploitation of African Americans during and after slavery. And fireworks erupted in a Senate hearing on who should run the Justice Department's key Civil Rights Division—and how active it should be.
The Government Employees (AFGE) back, but the GOP opposed D.C. statehood. They lost a 25-19 party-line vote in the Government Reform Committee. At the Natural Resources Committee, GOP witnesses called for a fourth referendum on Puerto Rico's status—though three elections in the last decade in the majority-Spanish speaking commonwealth have gone statehood's way.
And GOP caterwauling against physical distancing and mask-wearing, both mandated for lawmakers to help battle community spread of the coronavirus pandemic, stalled a House Judiciary Committee vote on the reparations study bill, HR40, among others, all day. It passed after 10 p.m., on a party line vote of 25-17.
The biggest uproar came at the Senate Judiciary Committee's hearing on President Biden's nomination of union-backed woman Kristen Clarke, the African American president of the Lawyers Committee on Civil Rights, to head the Justice Department's Civil Rights Division.
And all this took place against the background of the ongoing occurrences of cops killing unarmed Blacks around the country.
The background included the continuing trial of former Minneapolis cop Derek Chauvin on second-degree manslaughter and other charges for killing George Floyd last Memorial Day. It also includes the April 12 killing of 20-year-old Daunte Wright by Brooklyn Center, Minn., cop Kim Potter. She resigned April 13, as did the city police chief, and she was charged on April 14 with second-degree manslaughter, too. The D.C. hearings didn't touch on such cop violence.
But opposing people of color ran through all the sessions, and more. The Senate GOP has opposed all women of color for Cabinet and other top jobs: Clarke, fellow civil rights lawyer Vanita Gupta, California Labor and Workforce Director Julie Su, Center for American Progress President Neera Tanden, and Reps. Marcia Fudge, D-Ohio, and Deb Haaland, D-N.M.
Gupta is Biden's pick for the Justice Department's #3 job, Su is nominee for Deputy Secretary of Labor. Tanden was Biden's choice to head the Office of Management and Budget but had to withdraw. Haaland, a Native American, won the Interior Secretary's job 51-40, and Fudge, a Black lawmaker from Cleveland, won 66-34. All "no's" were Republicans.
In Clarke's case, the Republicans screamed she repeatedly challenged and sued the GOP Trump regime over curbing voting rights, anti-immigrant edicts and policies and its plan to omit undocumented, i.e. Spanish-speaking, people from the Census, among other issues.
Trump's Justice Department also used grants to local police departments as a club to unsuccessfully try to undo policing reforms the Obama-era Civil Rights Division championed.
"Is Ms. Clarke going to use her perch at the Civil Rights Division to strategically defund the police by other means?" Sen. Charles Grassley, R-Iowa, the panel's GOP leader, asked, voicing another canard. "Will Ms. Clarke continue to view efforts to secure our elections as voter suppression when she's in charge of enforcing our voting laws?" he charged.
Clarke, supported by letters from a wide range of organizations—including the National Education Association, the Congressional Black Caucus, AFSCME, the Utility Workers, and the AFL-CIO Union Lawyers Alliance—pushed back, calmly, against the accusations.
"Our nation is a healthier place when we respect the rights of all communities," Clarke told senators. "I have worked with and for people of all backgrounds, regardless of race, national origin, religion, or disability status. I've listened to all sides of all debates, regardless of political affiliation. There is no substitute for listening and learning."
After 20 years as a civil rights lawyer, "I remain committed to the promise of working every day to build a world of equal opportunity for all, a world where no 16-year-old"—her son's age—"is the target of hateful language, where no young man is racially profiled."
NEA Government Relations Director Marc Egan's letter praised Clarke's "expertise in key civil rights issues, including voting rights, hate crimes, human trafficking, disability rights, fair housing, education, employment, and police-community relations." She appreciates "the diversity that makes our nation strong, and worked tirelessly to fulfill the promise engraved above the entrance to the U.S. Supreme Court: equal justice under law."
He also told senators their votes on her nomination may be part of NEA's legislative scorecard for the 117th  Congress.
"Too many Americans continue to face racism and discrimination that result in disparities across a wide range of issues such as in community development, fair lending, public accommodations, educational opportunity, judicial diversity and with the administration of justice in the courts," AFSCME Government Relations Director Bailey Childers wrote. He'll "help to improve the condition that many working families face and prepare our nation for the challenges of the future, particularly for some of the most vulnerable members of our society."
Over in the House, the Government Employees (AFGE) went to bat for HR51, the D.C. Statehood bill. Statehood for the 715,000 residents of the nation's capital has become a top civil rights cause. D.C is 45.4% Black, 42.5% Non-Hispanic white and 11.3% Latino/Latina.
"States are the fundamental basis for our system of government and to deny a population the ability to form a state denies them the ability to fully participate in self-governance," AFGE President Everett Kelley, whose union represents D.C. government workers as well as more numerous federal workers, wrote to the House panel.
"Any solution short of statehood would simply continue the two-tiered system of citizenship the residents of the District of Columbia have endured for 200 years."
But at that work session (markup) Republicans opposed D.C. statehood, again. They claim, falsely, that D.C. lacks characteristics of a state, lacking everything from industry to car dealers. Their real fear is D.C. would elect three Democratic people of color—two senators and one representative—to Congress. Three-fourths of D.C. voters are registered Democrats.
At the House Natural Resources Committee, Puerto Rico Gov. Pedro Pierluisi led the advocates for statehood for the 3-million person commonwealth. Backers of a competing bill demanded yet another popular vote between statehood, commonwealth, or independence. There have been three in the last decade, Pierluisi testified. Statehood won each time.
"There should be no room in the American family for colonialism," said Pierluisi, of the pro-statehood New Progressive Party.
The Judiciary Committee's Republicans delayed, all day, the vote on the reparations study bill, HR40, by prolonged squawking over continuing physical distancing and mask-wearing requirements in the committee room. Those rules, following medical advice, are both designed to combat community spread of the coronavirus pandemic.
HR40 would set up a 15-person commission to study whether reparations should be paid, not just for the impact of slavery, but for repression since then, and how much. The panel would offer alternatives, not a single recommendation.
Those reparations would be broader than the first city reparations ordinance in the U.S., in Evanston, Ill. It will distribute up to $10 million, collected from taxing recreational pot sales, to descendants of Blacks who lived in Evanston's segregated section, west of Green Bay Road, from 1919-69, or who were redlining victims then and since. The money would be targeted for housing improvements and job opportunities. The council voted 8-1 on March 24 for $400,000 for the first grants, of $25,000 each.
Senate Republican leader Mitch McConnell of Kentucky, whose party holds half the seats there, says reparations are a non-starter nationally. He says current generations shouldn't be held responsible for slavery, because it ended more than 150 years ago.
"For the first time in the history of the United States, the horrible negative impact of slavery will be front and center in the United States Congress," sponsoring Rep. Sheila Jackson-Lee, D-Texas, countered via tweet. "This is a real and positive opportunity for healing and restoring, in particular, the African-American community—and the entire nation." Biden told the Congressional Black Caucus on April 13 that he backs the commission, she said.