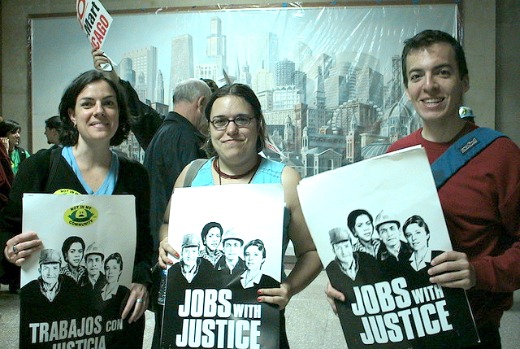 CHICAGO – Marina Yolanda Faz-Huppert is a non stop bundle of energy. As UFCW Local 881 legislative and political director she has become ceaseless advocate for working families, and is well known in City Hall for helping lead the fight against Wal-Mart and passage of the Sweet Home Chicago Ordinance that would redirect money from the Tax Increment Financing (TIF) funds to build affordable housing.
Faz-Huppert is the "pride of Local 881" as one union member told me.
Now Faz-Huppert is running for city council from the 45th ward at the urging of retiring Alderman Patrick Levar, himself a trade union member. The municipal elections are Feb. 22. Her experience, says Faz-Huppert, means she will not need any on the job training.
Faz-Huppert's campaign, and that of 43rd ward aldermanic candidate Carmen Olmetti, 26 year-old Business Representative for Teamsters 727 and others typify the battle lines being drawn over the direction of the city and who will bear the brunt of the current economic and budget crisis.
It's a battle that pits organized labor, the many racially and ethnically diverse communities, their organizations and small businesses against the big financial and corporate interests in the city.
With as a sizeable block of the 50 seat council up for grabs, the Service Employee International Union (SEIU) termed these elections "the most important in two decades for Chicago's working families."
Big business interests appear to hold the same view. On January 9, Greg Goldner, a former campaign manager to Mayor Daley and Rahm Emanuel announced the formation of A Better Chicago PAC to fund pro-business aldermanic candidates. It has already raised $1 million.
There is some concern if Emanuel wins a majority vote and avoids an April runoff, he will use some of his enormous $8 million campaign fund to back anti-labor council candidates.
While most of labor has declined for the moment to make an endorsement for mayor, labor leaders envision a stronger city council, with a larger block of progressive, independent minded aldermen who won't be a rubber stamp for the new mayor.
The question is will the new mayor and council continue the Daley policies of downtown development at the expense of working-class neighborhoods and services, diversion of funds from public education, mass transit and parks to subsidize corporations, privatization of public assets, and scapegoating of public employees to solve the city budget crisis?
Faz-Huppert and other candidates backed by the city's labor movement and advocacy organizations oppose this direction. They would represent a stronger voice for working families and small businesses and as a firewall against the influence of the city's big moneyed interests.
"True prosperity will not return to Chicago unless the city council has strong advocates for working families," said Tom Balanoff, President of the SEIU Illinois State Council, which represents 170,000 workers. "City Council must be an active participant in shaping Chicago's future, not a rubber stamp. These (labor-backed) candidates understand that."
The labor movement hopes to build on its unprecedented electoral work in 2007 which resulted in the election of 9 labor backed candidates, including several trade union activists. As one source told me, labor's influence was evident when labor and its allies forced Wal-Mart to sit down to discuss wages, benefits and their treatment of workers before they opened any new stores in the city.
Labor will be fighting hard to re-elect several aldermen who won in 2007 and its staunchest veteran allies including Pat Dowell, Toni Foulkes, Joanne Thompson, Freddrenna Lyle, Joe Moore and Ricardo Munoz.
"There is an incredible opportunity to elect additional thoughtful leaders to serve on the City Council who understand job growth isn't just about the number of available jobs. Creation of quality, living wage jobs must be an essential component to job growth and economic recovery, said UFCW Local 881 President Ronald Powell.
"We are especially proud of 15th Ward Alderman Toni Foulkes, a 19-year Local 881 member and Marina Faz-Huppert," he said.
SEIU is targeting for defeat some of the most anti-labor aldermen including Bernard Stone, Howard Brookings and Daniel Solis.
The new mayor and city council will inherit huge municipal crises including what some are calling a "public pension time bomb." Four city worker pensions are short $14 billion. Emanuel has already thrown down the gauntlet insisting on cuts in pension payments.
"I would ensure that any new pension benefit structure, including any dedicated revenue stream, is the result of negotiations and dialogue with organized labor to ensure municipal employees are entitled to their pensions and that the City meets its obligations," says Faz-Huppert.
Photo: Jobs with Justice lobbies the Chicago City Council for the Big Box Wage Ordinance in 2004.( Sara Brodzinsky)