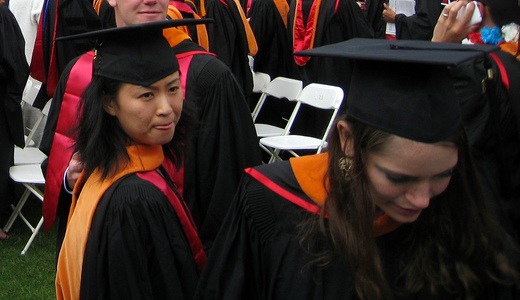 Students graduating this year face the worst labor market ever encountered by a graduating class.
Generation X and succeeding generations have known for years that they are the first wave of Americans who can't expect to be richer than their parents. However, a new report shows that the situation is even more dire. Any job at all is out of reach for millions of young people.
According to the report, released yesterday by the Economic Policy Institute, 2010's unemployment rate for young workers was the worst in history, and 2009 wasn't much better. So the prospects for this year's graduates are bleak.
The only possibility that the report's authors see for reversing the trend is government stimulus spending – something reviled by Republicans, especially their tea party arm.
The jobless statistics for young people, according to the report, are the worst recorded since 1948, when the government began keeping records.
The unemployment rate for high school graduates less than 25 years old increased a whopping 10.5 percentage points, to 22.5 percent, meaning that more than one in five are out of work.
College, long considered the ticket to a brighter future, is less help than it used to be as well. In 2007, college graduates under 25 faced a 5.4 percent unemployment rate. In 2010, however, they were looking at 9.3 percent, only slightly better than the overall average of 9.6 percent. Those over 25 faced a less severe 4.7 percent unemployment.
"In 2007," the report states, "70.2 percent of high school graduates who were not enrolled in school were employed; in 2010, only 59.5 percent of them were working."
If the same trends held true for the American workforce as a whole, there would have been 14 million more people without work.
The overall unemployment rate for those aged 18 to 24, regardless of education, was 18.24 percent.
And while there is enough economic pain to go around for all young workers, historically oppressed groups feel an even greater pinch. White high school graduates were 20.3 percent unemployed in 2010, but the corresponding figures for Latinos and African Americans were 22.8 percent and 31.8 percent respectively.
The report, "The Class of 2011: Young workers face a dire market without a safety net," shows that youth aged 16-24 who aren't employed or in school – so-called "disconnected youth" – have increased their numbers from 14.5 percent of their age group in 2007 to 17.6 percent in 2010.
Further, says EPI, "Young workers often lack an individual safety net, such as savings accrued from years of employment. They often have significant amounts of debt as well." The group also added that young people are less likely to qualify for other forms of help, like welfare or unemployment insurance.
The report, by EPI's Heidi Shierholz and Kathryn Anne Edwards, also shatters the myth that college-age young people are able to seek "shelter" in college, that is, to stay in college as a means to avoid the wretched job market. Despite the increase in unemployment, there has not been a significant increase in college enrollment.
The report's authors argue that the only remedy is "strong job growth that characterizes a strong recovery." The policy implications are clear: "The fact that the unemployment rate for 16- to 24-year-olds has been well over 16 percent for two years straight underscores how premature is a deficit debate that fixates on deep cuts in federal spending. To give a fighting chance to young people who through no fault of their own are entering the labor market during the aftermath of the Great Recession, we should focus the discussion on substantial additional stimulus spending to create jobs."
Of course, as House Republicans have made clear, they and the GOP as a whole have no intention of funding any stimulus programs. The Congressional Progressive Caucus has called for a balanced budget that includes increased stimulus spending.
"Now is the time – as President Obama has said – to invest in education, in technology and in our nation's crumbling infrastructure," AFL-CIO president Richard Trumka said earlier today. This, he said, is "the key to national competitiveness, manufacturing revival and, most importantly, good jobs."
Image: Saket Vora // CC BY-NC-SA 2.0