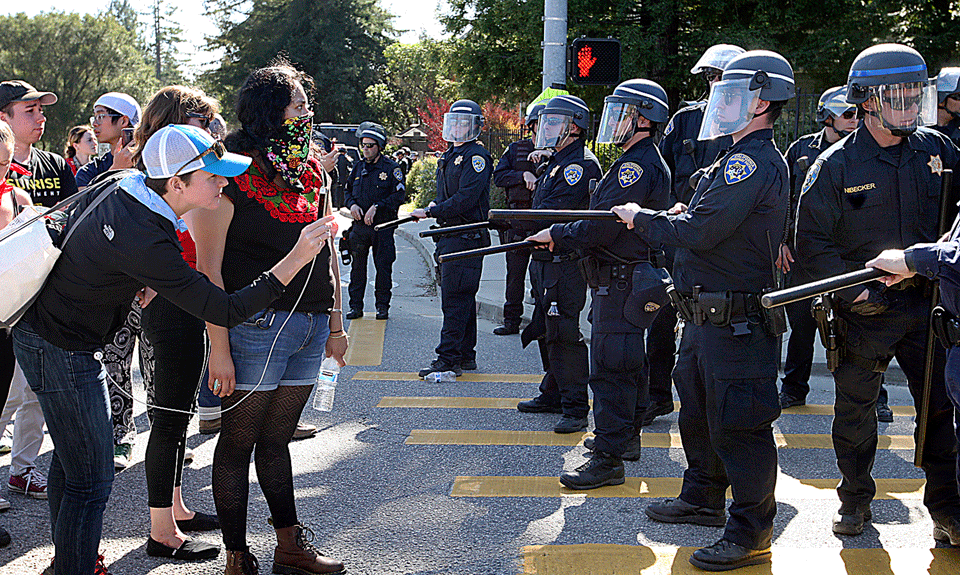 The critical piece missing from discussions about intersectionality is the intersection of class. Since the terms intersectionality and identity politics were coined by known Black feminist scholars Kimberlé Crenshaw and Barbara Smith, respectively, the establishment (including mainstream media, the military-industrial complex, and educational institutions), has watered down their powerful ideas. Bought out by private corporations, these terms are now weaponized against liberation movements for women (and particularly Black women), pretending to be "allies" without actually challenging exploitation and systems of oppression.
As Emeritus Professor Angela Y. Davis summarized in a 2014 talk, "it is often assumed that diversity is equivalent to the end of racism…we sought to name the process of moving toward justice and it seems that when the word diversity entered into the frame, it kind of colonized everything else…sometimes it means to integrate different looking people into a process that remains the same!"
She goes on to point out that this is why diversity and inclusion was so quickly taken up as a corporate strategy by saying that corporations, "don't reorganize the exploitative caricature of capitalist production, [they] just make sure that more Black people, more women, and more Latinos can actually profit from that exploitation." With the obvious flaws in this capitalist approach, only a broad lens that encompasses a fight against all forms of domination can be our true source of liberation.
The long and important history behind the intersectionality analysis began with a mostly unknown immigrant Black woman named Claudia Jones. Jones' life as a rising leader, writer, journalist, editor, and theoretician for the Communist Party led her to develop an analysis for Black liberation and women's liberation in the overall struggle against capitalism. Well before her time, Jones also chastised white liberals and progressives for failing to recognize Black women's role in the labor movement and challenged their male-supremacist attitudes toward gender. Racial capitalism is the main foundation of this super-exploitation and the ruling-class (e.g. white male CEOs of large corporations, corporate board of directors, and majority shareholders) use racism and misogyny to heighten this triple burden on Black women workers.
The tenets of that same class struggle can be felt acutely in the world of graduate STEM education.
The same questions arise at every technical or minority-based conference I have attended, "How do we bring more Black students into our program, retain them, and ensure success?", or, "How do we get more Black faculty, leading scientists, and engineers?"
Meanwhile, obtaining a doctorate had always been a pipe dream of mine, but once I got to graduate school, I felt I did not belong. Working nearly 80 hours per week while making a salary equivalent to 20 hours per week is on par with the hyperexploitation Jones spoke of in the 1940s.
On top of this, many graduate students of color endure continued mental and physical abuse as a result of striving to be a part of a predominantly white, elite intellectual class. Severe depression, anxiety, and the burden of student debt create an impossible maelstrom. Even the promise of prestigious fellowships can worsen the situation, leaving graduate students to decide between food insecurity or a debt burden for years to come.
University administrators hide this exploitation by saying that tuition and fees are covered, so the degree is "free." Yet, after the 2008 financial crisis, the rising cost of housing plus rapid gentrification from the tech boom led to massive displacement of working people across the country.
The astronomical cost of living spike was especially harmful to students seeking advanced degrees from working class and underrepresented (Black, Chicanx/Latinx, and Indigenous immigrant and non-immigrant) backgrounds. Drawing on the history of class struggle, this problem is currently being challenged by the #COLA4ALL (Cost of Living Adjustment) movement.
Starting as early as September 2019, an unofficial work stoppage (i.e. a wildcat strike) was staged by a group of graduate students and supporters at the University of California, Santa Cruz, along with solidarity strikes happening throughout the UC system. The movement's demands include a cost of living adjustment for every graduate student (regardless of residence, visa, documentation, employment, or funding status), to offer some relief from the crushing rent burden—without raising tuition or campus fees and with a guarantee of non-retaliation from the administration.
Militant actions such as a grading strike and a full-on teaching strike have taken place in pickets across UCSC, UCSB, UCB, UCD, UCI and UCSD. Back on Feb. 12, 2020, UC police violently arrested 16 peaceful student protestors on the Santa Cruz campus. Shortly following those arrests, 82 teaching assistants were fired from the Santa Cruz campus for withholding their Fall grades, jeopardizing their employer-based health care and pay for housing even further. The graduate student union, UAW Local 2865, along with other labor unions and progressive groups across the state of California have since been putting pressure on UC President Janet Napolitano to open bargaining negotiations with the graduate students, with minimal success.
Can we imagine a world where we actually care for the needs of the working class by letting working people have control over their own lives?
The graduate students across this country need a guaranteed housing program, where, if they are paying more than 50% of their salary for rent, they are provided funds by their universities to rent a place to live. The same goes for academic postdoctoral researchers, who are also heavily underpaid and exploited and receive less access to student resources due to their status as staff.
These gains will not come overnight and will take a mass movement led by graduate student workers to begin moving toward an anti-capitalist future for all.
The success of the movement would allow more students of color, women, and undocumented students to attend graduate programs at prestigious institutions, grant these same groups access to STEM programs where they could begin to dismantle white supremacy, and create a workforce that increasingly prioritizes green energy infrastructure, a high standard of living, and eliminates poverty, homelessness, and all forms of discrimination that hold us back from our true power.