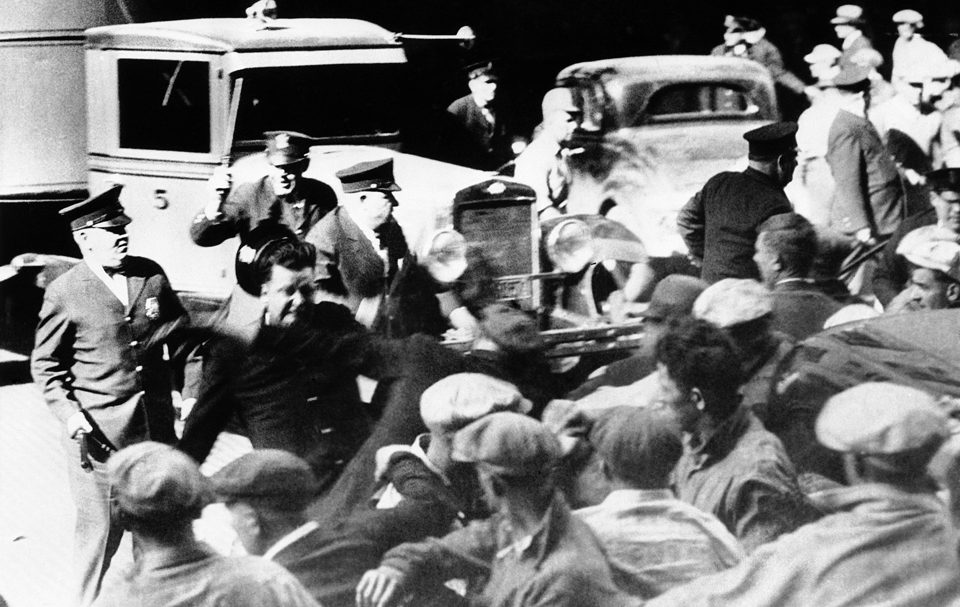 Is this really happening? Like millions of Americans, I was watching South Minneapolis burn last weekend. It was hard to watch. I was born in South Minneapolis and considered the city my home from age 17 until I moved to Tucson at age 34. Even so, I've been back to visit every summer to see my son and my sister, their families, cousins, and many old friends. I'm still a Minnesota Twins fan.
Minneapolis was founded where navigation upriver on the Mississippi encounters the first waterfalls. The European farmers who settled Minnesota and the Dakotas after the ethnic cleansing of the Native farmers needed to get their produce to Minneapolis to be loaded on riverboats for New Orleans. Power from the waterfall was harnessed to grind the grain, and Minneapolis developed into the world's leading flour producer.
As the flour mills and other industries grew, so did class struggle between the bosses who profited and the mostly immigrant workers who toiled away for poverty wages. And Minneapolis has a rich history of class struggle. As a young man, I took part in some of these struggles.
I lived and worked in the very areas I'm now watching on TV. For three summers in the 1960s, every morning I walked a half mile down to Chicago and 38th Street to catch a bus to work—the very intersection where Mr. George Floyd was murdered by four Minneapolis cops last week.
Ten years later, I was working at Flour City Architectural Metals, a factory that produced wall panels for skyscrapers. I would get off the Lake Street bus on 27th Street for a three-block walk to work. I passed by the 3rd Precinct police station. It was moved to a new building a block away since then, a building which was set on fire last Friday. It was a familiar neighborhood, much of which has been destroyed.
Class struggle runs deep in South Minneapolis. These neighborhoods supported some of the best Communist-organized unemployed councils in the country. My father, who was very involved, told a story of a mother refused the small county welfare grant because her husband was in jail. The unemployed movement mobilized 50 people from her block and went down to the county offices to protest. When refused, they came back with 500 people. Only when they returned with 5,000 angry demonstrators did the county decide that if a man is in jail his wife and kids need not starve.
In 1935, the same metal factory, then named Flour City Ornamental Metal, was the scene of one of the biggest organizing battles in town. Pitched battles were fought on 27th Avenue between striking workers and city police in armored cars. Striking workers, bystanders, and nearby residents were beaten and shot. Two men were killed by police bullets.
And when I worked there 40 years later, I helped lead a militant struggle against the new greedy bosses who fired workers right and left, refused to hire women, and ran a very dangerous production floor with eight times the serious injuries of comparable shops. We had one of the best rank-and-file shop newsletters in town and made some gains with a six-week strike. The experience of these struggles at Flour City led me to join the Communist Party USA.
Class struggle takes many forms. In the 1960s, Minneapolis had the largest urban Native American population of any city in the country, which was concentrated around Franklin Avenue near the same area. South Minneapolis is where Native American activists in 1968 founded the American Indian Movement (AIM), an organization which has played a leading role in the liberation struggle of Native peoples.
Class struggle grows and ebbs, and sometimes it explodes into chaos, but it's always taking place. The people of Minneapolis helped elect Farmer-Labor Party governors from 1931 to 1939, as well as members of both houses of Congress. Minneapolis was a leading center of opposition to U.S. aggression against Vietnam and other imperialist wars.
Minneapolis also sends some of the best representatives to Congress, like Don Fraser in the 1960s, Keith Ellison, who co-chaired the Congressional Progressive Caucus, and now Congresswoman Ilhan Omar. Look to Minneapolis for a leadership role in getting rid of Trump.
Like all of our country, Minneapolis has also had to struggle with white racism. Equal housing laws passed in the 1940s did not benefit people of color. Only after 1970 were African-American families able to move out of ghettoized neighborhoods. Discrimination in hiring was common, and public schools in Black neighborhoods were underfunded.
But worst of all were the police. In spite of being relatively liberal and progressive, Minneapolis has had a particularly racist police culture. It was horrible 50 years ago, and I'm sad to see it hasn't changed. The struggle must go on.